Meet Nottingham promoters- I'm Not From London
Blog by Louise Dodgson under Live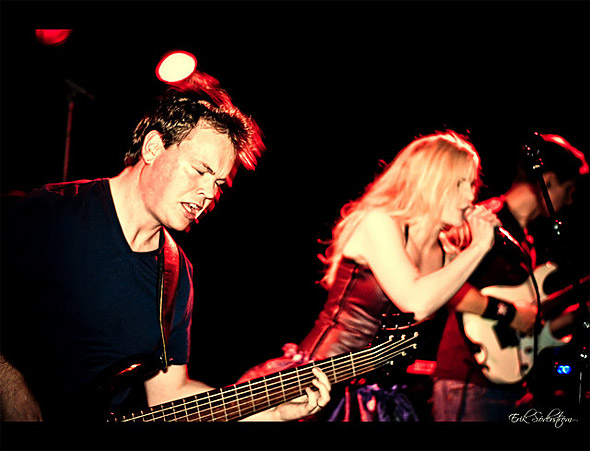 Most promoters book a few bands, organise equipment and take charge of money and stage times, but for local promoters I'm Not From London it takes a lot more to stand out and to be recognised as one of the best. The collective put on a variety of shows and have used hundreds of eccentric helpers such as burlesque dancers and Mexican wrestlers. So what does founder Will Robinson have to say to the bands of Nottingham?

What tips do you have for new Nottingham bands that are looking to play their first gig?
Be nice and helpful to promoters. Every week I get bands asking me for slots and I try to help them all out but when it comes to the gig, they always end up asking me last minute for either a drum kit or a bass amp. If a band was to contact me saying they had a drum kit and bass amp and were prepared to lend the other bands one or both of these I'd put them on in a shot.

The same goes for promoting themselves, often bands will assume that this is the sole job of the promoter and not do any work themselves. The bottom line is no one's going to promote your band better than you and any help is appreciated when the promoters are taking a risk. Also if you can't seem to get a slot with a promoter, go out and put your own gig on. It will teach you about how these things are run, and venues and promoters will look favourably on the can-do- DIY attitude of your band. Get a good recording up on your MySpace page and set up a Facebook group.

How can bands get the most out of their local scene?
Be positive! Look at the good aspects of your contemporaries and try and play down the inter-band slagging- it looks childish, unprofessional and doesn't help your local reputation on the bigger scale. If more bands from the city supported each other, more people outside the city would take notice. Stick around and watch the other bands after your set has finished. Don't leave or spend the rest of the night in the beer garden.

What have been your worst and best experiences with bands?
Sometimes the worst experiences turn out to be the funniest ones you remember. We had a band come up from London whose lead singer wore a gimp outfit and had naked ladies dancing to support him. Then he smashed up the microphone I had hired and broke the other band's guitar pedal. The band marched him to the cash machine in his gimp outfit. Me and my partner went back to the venue and were thinking it had gone terribly, but when we arrived back in the venue everyone was clapping us and said it was the best thing they'd ever seen at a gig!

We ran Wire & Wool at the Loggerheads and now we keep it going at The Alley Café. We have so many different acts on at the same time, like a mini festival, and everyone mixes and ends up starting side projects; working and supporting each other through playing together. When the vibe is one of a community, it makes me feel like the job is worthwhile and I get the best experiences from those kinds of situations.

What's the Nottingham music scene like in your opinion?
The recession and the smoking law has had a big effect on the amount of people going to midweek gigs but I think that's a national problem anyway.

Personally I think Nottingham's music scene is as diverse, and stronger than ever before. We have an awesome hip-hop scene and there are gigs going on every night of the week and new, fresh promoters cropping up wherever you look.

Events like the Hockley Hustle have really helped showcase what Nottingham has to offer and the Dot To Dot festival draws a lot of bigger bands into the city and industry people from other parts of the UK are starting to pay attention. It's a slow progress and more could be done but it's definitely much better than when I started putting nights on 5 years ago.
Radio DJs like Mark Delamere and Dean Jackson are pushing Nottingham music all the time and more communication channels between promoters, venues and press are opening up.

Any emerging bands that you have your eyes on that you think have a lot of potential?
Dog Is Dead filled the BBC Introducing stage at Glastonbury a few weeks ago and seem to be taking off. They have lots of potential for mainstream success, as do I Only Date Models who recently knocked Kings Of Leon off the top of the MySpace charts.

I've started working closely with Hot Japanese Girl and I am really into the garage rock sound of those guys and other similar local bands like Dick Venom and The Terrortones and The Eviltones. Also check out Bodukwe. They are an instrumental band blending so many different styles of music in one band, amazing to watch!
---
Tags
I'm Not From London, Nottingham music, Nottingham bands, Unsigned artists, Unsigned bands, gig promoters, live music