Kendal Calling set to fund & host independent artists
News: 26th April 2010 by Louise Dodgson under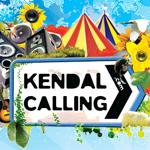 Kendal Calling: Friday 30th July - Sunday 1th August 2010
Lowther Deer Park, Hackthorpe, The Lake District
Tickets now available from local outlets, visit www.kendalcalling.com for more info

APPLICATIONS NOW OPEN! CLOSING DATE 10TH MAY

Kendal Calling, deemed as 'The Glastonbury of the North', are offering the fantastic opportunity for independent artists to show off their creative and inventive talents by displaying their work and ideas in one of the most beautiful natural spots in the country - canvases don't get better than this! The applications are open to anyone and the generous folks at Kendal Calling are also offering out grants for the chosen projects.

Kendal Calling are looking for a range of ideas from sculptures, interactive installations, inventive performance art to hidden gems. From the bold to the beautiful, the raucous to the refined - there are minimal restraints and no theme to adhere to, so applicants are free to run wild!

Over previous years, Kendal Calling's site art has seen the likes of Uncle Monty's living room from 'Withnail and I' recreated for festival goers to sit back and recline in; 'Polacks Corner', a set of white furniture painted by the festival goers throughout the festival in a Jackson Polack style; a giant UV canopy, a multi coloured UV arch, water monster, scrap metal robots and many more fantastic and flamboyant creations by independent artists that have helped to make Kendal Calling such a special and unique experience.

Applications are now open and will close on 10th May 2010, to apply please contact [email protected] or go to the website to download an application form www.wearecalling.com/artform.doc
Please bear in mind when submitting applications that although Kendal Calling are very happy to discuss all proposals, they are an independent festival with limited funds available.

Related Links
---
Tags
kendal calling, music festival, unsigned bands, creative talent, emerging talent