Beyond The Music announce Inspire, a free day of educational workshops & panels
News: 6th October 2023 by Louise Dodgson under Music Training & Careers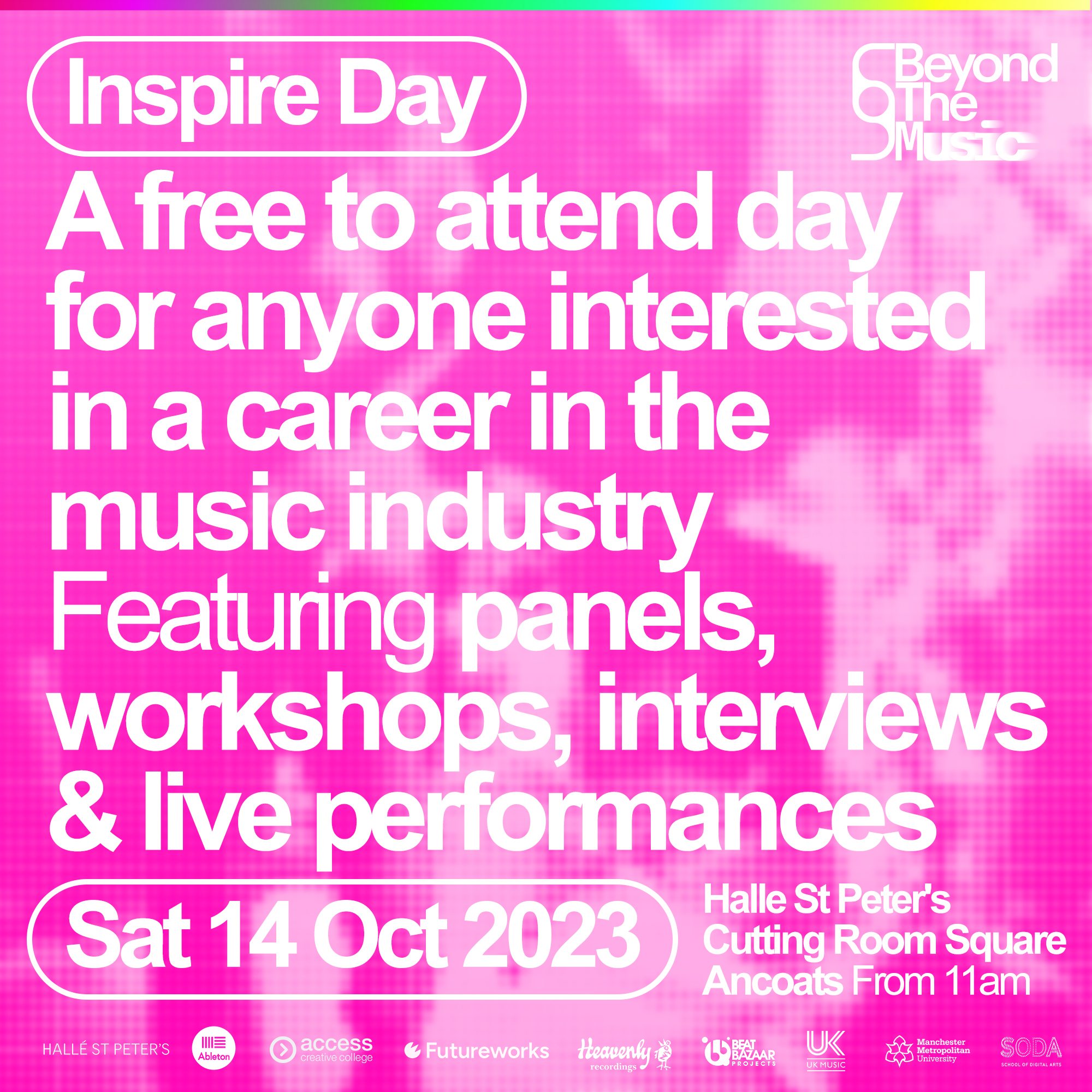 Today, Beyond The Music, Manchester's change-making industry conference and new music festival announces details of Beyond The Music: Inspire, a free entry day of workshops, panels and talks for anyone and everyone interested in developing a career in the music industry.

Supported by School of Digital Arts (SODA) at Manchester Metropolitan University, Inspire will take place at Manchester's Hallé St Peter's on Saturday 14th October, the closing day of Beyond The Music's first ever edition.

Partnering with key players in music and education, including Access Creative College, NQ, Futureworks, Abelton and PRS, industry professionals including Kathryn Cantwell (Heavenly Recordings), Gary Briggs (Factory Academy) and Stuart Belsham (PRS) will offer talks and workshops on on how to educate and prepare yourself for a career in the music industry, how to take your music from your bedroom to the world, how to use social media to develop your profile as artist, producer, manager or label and how to best use visual content creation as a modern music maker.

The day will be split into a range of talks and workshops before a closing performance from The Tulip Zither band, one of the youngest Zither band's in the UK. The sessions on the day will include:

The Talk: How to develop your career in the music and creative industries
The Talk will be an introduction to the day with a general overview of creative opportunities in Greater Manchester. The Talk will host speakers such as Ian Johnson (Access Creative), Professor Kirsty Fairclough (SODA), Oliver Morris (UK Music), Ottilia Ordog (Beat Bazaar), Gary Briggs (Factory Academy), Pete Jenkinson (Futureworks) and more.

The Social: Developing your social media profiles as an artist, manager, or label, with Katherine Cantwell (Heavenly Recordings)
This workshop is hosted by Katherine Cantwell – Heavenly Recordings' online coordinator and apprentice as the inaugural Amplify Scheme with AIM, Amazon Music, and Women in CTRL – and sees her look at how creatives can maximise their online and social presence.

The Tech: Ableton present 'From bedroom, to studio, to stage', presented by Simon, Lyon (Abelton), Martyn Walsh (Inspiral Carpets) & more TBC
Martyn Walsh of Manchester legends, Inspiral Carpets, and Simon Lyon of Ableton will take a dive into the art of music making. The panel will cover the journey of songwriting, the nature of collaborating and finding your community, and consider how you can be heard in today's busy digital music landscape.

The Artists: A unique live session focusing on SODA students' work
This session welcomes SODA MA Music & Sound design students' work and will be hosted by Kadja Manninen - an Entrepreneurship in the Digital Creative Industries lecturer at SODA. This portion of the day will see work from Maya Chowdhry, a multidisciplinary artist and student at SODA, her talk will focus on her interactive sound experience, Fathoming Fungal Frequencies, that seeks to uncover the existence of a shared language between humanity and fungi. The session will also see Charlie Clark and Alex North, BA Future Media Production students at SODA, introduce their project - Two Step.

The Money: How To Get Paid with PRS, Presented by Stuart Belsham (PRS)
This talk sees PRS present their Get Paid Guide, an educational tool created in partnership with PRS for Music, The Ivors Academy, The Music Publishers Association and the UK Government. Presented by Stuart Belsham (PRS), the talk seeks to shed light on how to get paid for your music.

Further panels and information will be announced soon. Free tickets for Beyond The Music: Inspire are available now via the website below...


Related Links
https://beyondthemusic.co.uk/tickets/#inspire-day
---
Tags
Beyond the Music hosts Inspire free day of music industry panels and discussions aimed at emerging and unsigned bands and artists