Get your music pressed onto vinyl! Record Store Day launches RSD Unsigned Competition
News: 17th August 2023 by Louise Dodgson under Recording & Production, Selling & Distributing Your Music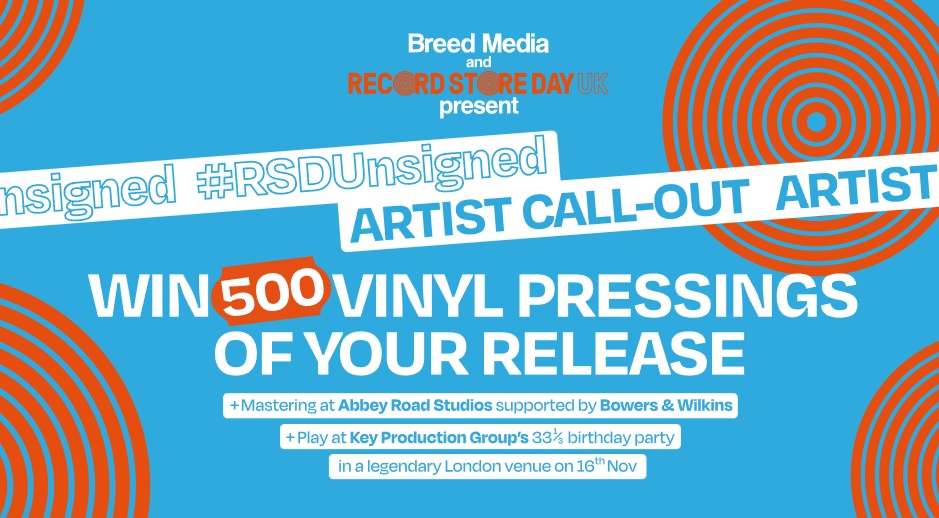 Record Store Day has announced the highly anticipated return of the RSD Unsigned competition, now in partnership with Breed Media, a KEY Production Group company. The nationwide contest is a unique opportunity for one exceptionally talented unsigned artist to have their music pressed onto 500 vinyl records pressed using 'Bio-Vinyl' (this uses a new more sustainable but acoustically identical vinyl compound). On top of that, the winner will be invited to a mastering session at the world-famous Abbey Road Studios, supported by RSD official partner Bowers and Wilkins, whose flagship 800 Series loudspeakers have been used as reference monitors in countless iconic recordings at the studios over the past 40 years.

Emerging musicians can enter via the link below, submitting a 2-minute sample of their original work. A panel of music industry experts have also been assembled to judge the competition and listen to the music submitted, these include:

Dan Smith (Lead Singer, Bastille), Eva Davies (Artist & Label Manager, Come Play with Me), Karen Emanuel (CEO, Key Production Group), Martin Black (Record Store Owner, Spinning Discs), Nadia Khan (Women in CTRL Founder)

The RSD Unsigned competition will close on October 16th.

Related Links
https://www.breedmedia.co.uk/rsd-unsigned/
---
Tags
Unsigned UK bands and artists can get their music pressed onto vinyl through Record Store Day RSD Unsigned competition