Global sync licensing conference, AIM SYnc, returns to London this March
News: 26th February 2020 by Louise Dodgson under Finance, Law & Music Business, Music Publishing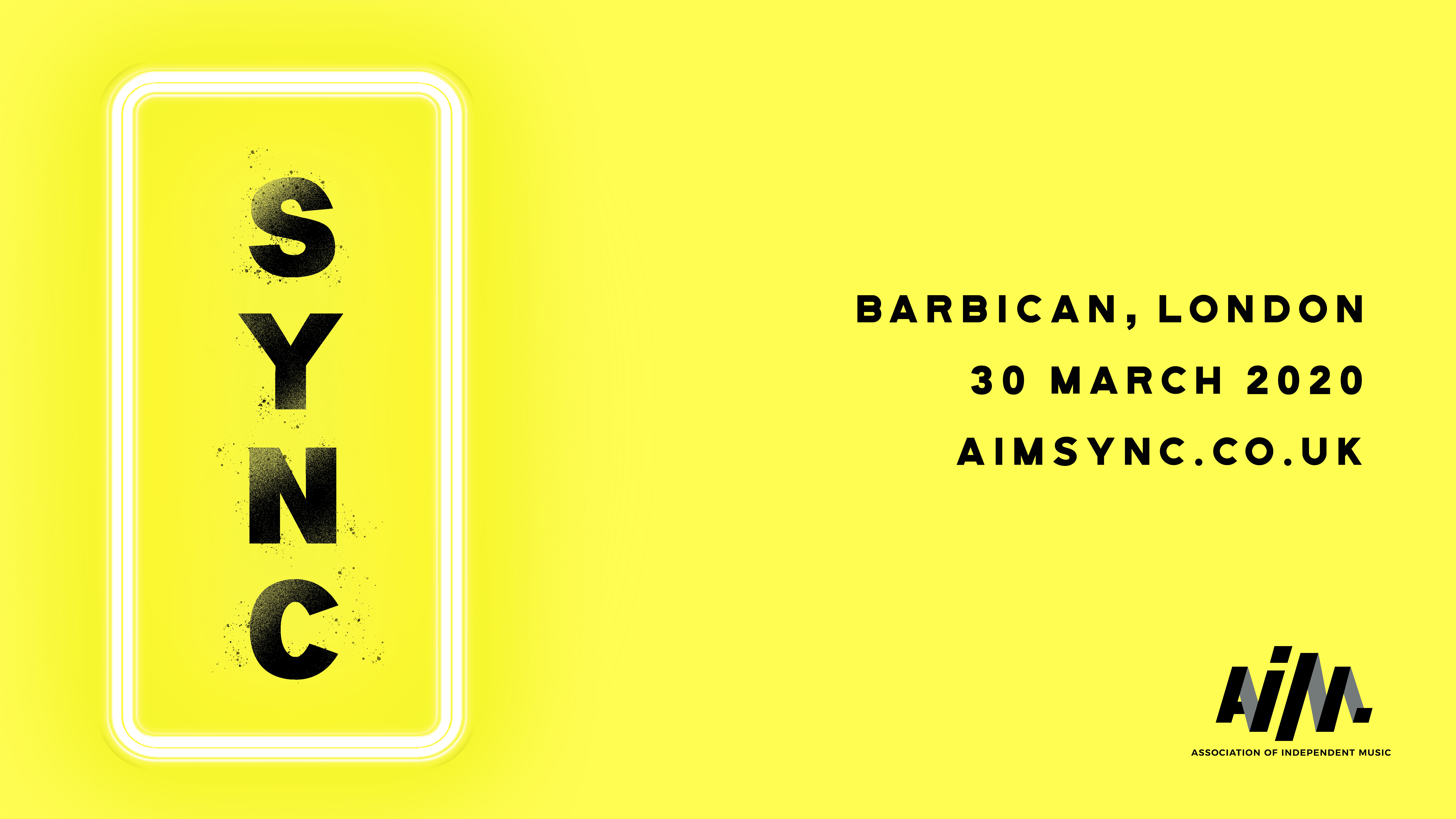 The Association of Independent Music (AIM) has revealed the first sessions and speakers of its landmark independent sync licensing conference, AIM Sync, which is returning for 2020 on March 30th at the Barbican Centre, London.

The full-day conference will feature prominent international music supervisors in film, gaming, TV, advertising, brands, and more. These expert speakers will share insights on the current sync and brands landscape, and the latest developments such as Twitch and VR opportunities, as well as taking part in listening sessions and workshops on key skills.

For the first time at AIM Sync, two informal awards will be presented at the evening reception, 'Independent Sync of the Year' and 'Music Supervisor of the Year'. The awards will shine a spotlight on the use of independent music and artists in the sync and brand landscape. 'Independent Sync of the Year' will go to an independent label or self-releasing artist who have an interesting sync story to tell and will be judged by top music supervisors from The Guild of Music Supervisors' community, while 'Music Supervisor of the Year' will be judged by a panel of experts from the AIM membership. Both will recognise excellence in using independent music in sync. Submissions will open this week. Ticketholders can submit for free, and non-delegates can submit for both awards for just £50+VAT.

International buyers will take part in listening sessions, workshops, speed meetings and networking sessions, creating invaluable opportunities for sync professionals and business leaders to make high-quality connections and practical guidance and advice to help them achieve their goals.

Confirmed speakers join the conference from companies including: Air Edel, BBC, Beggars Group, Create Advertising, Hospital Records, Kobalt Music, Level Two Music & Disco, My Hart Canyon Music and Too Young among others.

The first wave of sessions announced include:

- A case study on Hospital Records' ambitious and stand-out sync project with the Microsoft game 'Forza Horizon', featuring Chris Goss, CEO & Founder of Hospital Records and both of the teams behind the collaboration

- A deep dive into one of the hottest shows of the year, Netflix's 'Sex Education'. The series' music supervisors, Matt Biffa and Ciara Elwis, will take attendees through their work on the show, and the sync process for the vast range of independent music it featured

- An international market focus on the Australia sync market from local music supervision expert Karl Richter, Founder of Level Two Music. Credits from the Level Two Music team include 2017 Oscar-nominated film 'Lion' and TV across all Australian networks.

- A workshop from the BBC licensing teams

- Create London's Music Supervisor, Emma Middleton, joins My Hart Canyon Music to share the journey of how a cover of Bob Dylan's 'The Times They Are A Changin' became the anthem for The Crown's series three global trailer.


AIM Sync 2020 once again joins forces with The Guild of Music Supervisors and, this year, friends of the event include The Ivors Academy and The Music Producers Guild - helping to expand the conference's network of expert speakers and placing it at the heart of the music supervision world.

Tickets start from £125+VAT subsidised for AIM Members. Lunch, refreshments and networking drinks are included in the ticket price. In line with AIM's commitment to reduce our own carbon footprint and that of the wider sector, all food provided will be vegan or vegetarian. Discounts are available for members of affiliate organisations. Tickets can be purchased here.

For those looking to the basics of securing a sync deal and how sync deals are structured to make the most of this conference, AIM Academy is running a 'primer' masterclass: 'How to Get Started in Sync', on 11 March at Signature Brew, London. Expert speakers on the day are Simon Pursehouse (Sentric Music) and Emma Lomas (Beggars Group). Tickets for this are available from £35+VAT for AIM members, and can be purchased here.

In line with its commitment to serving its membership around the UK and tackling the barriers distance can bring to attending its events, AIM has committed to offering bursary places to a number of members based outside London to both AIM Sync and 'How to get started in sync' (plus up to £100 to help cover the cost of travel and accommodation).

Related Links
https://www.eventbrite.co.uk/e/aim-sync-2020-tickets-90977021721
---
Tags
Association of Independent Music announce details of AIM Sync 2020 event