Fireball Hottest Band Competition Launches & Your band could join the tour!
News: 23rd July 2019 by Louise Dodgson under Live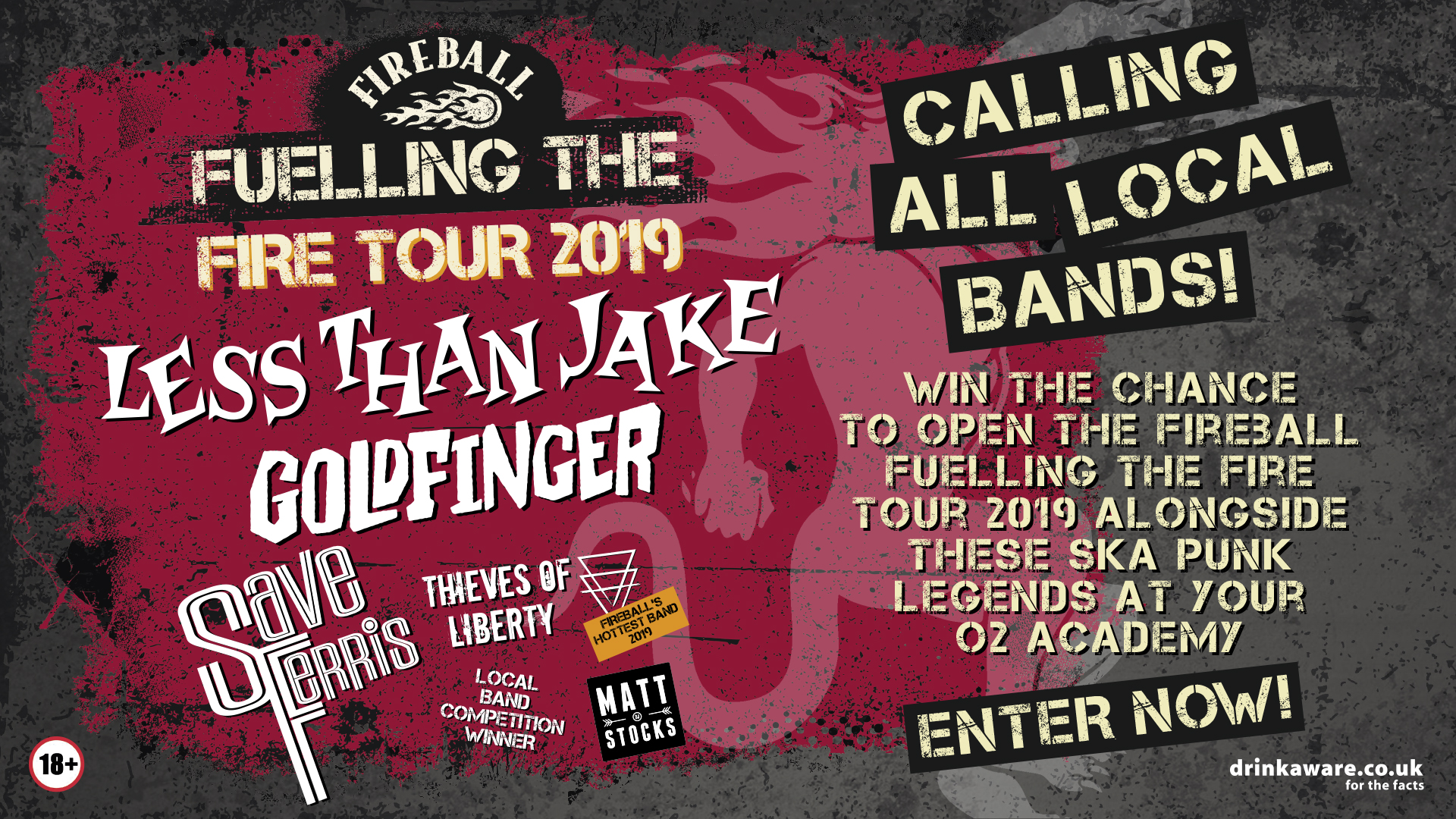 Fireball's Hottest Band competition returns in 2019 reinstating the commitment to new and emerging artists that Fireball have always shown and bringing a fresh aspect to every date of the tour with a winning act joining the final line-up. Previous winners include Sweet Little Machine and Lost In Stereo.

Your band could soon be performing to huge crowds at iconic venues as you open for Less Than Jake, Goldfinger and Save Ferris as part of this mammoth tour when it hits the road this September. To enter, just fill out the form here and tell us why you're the perfect band to open for this amazing line up.

"Something that has always been very important to Fireball is supporting the up and coming. There's so many excellent grassroots bands that never get the chance to be heard, which is why we started the Hottest Band competition right from the very first Fuelling the Fire Tour. It's also a great excuse for us to sit down and listen to some of the UK's finest new music that's not quite on the radar just yet."- Matt Reynolds, Fireball Brand UK Embassador.

Competition closes at midnight on Wednesday 31st July 2019. One entry per band, entrants must be 18+ on date of performance and at least 2 members of the band must be based within 30 miles of the venue they are applying for. Winners will be notified by Friday 9th August 2019 and announced on Monday 12th August 2019.
Full terms and conditions can be found here.
Returning for its 4th year, one of the most anticipated events in the UK Punk-Rock calendar returns this September to O2 Academy venues up and down the UK with a staggering line up and an even more staggering ticket price of just £18.

"Yes! It's that time of the year again. Less Than Jake is extremely excited to headline this year's Fireball: Fuelling The Fire Tour. We wanted to ramp up the insanity this time around so we're bringing along our friends in Goldfinger to celebrate with us. We can't wait for these shows. It's going to be epic! See ya soon!" - Chris DeMakes // Less Than Jake

"UK! I have always felt at home in your beautiful countries… You have the best audiences, the best festivals, amazing food and I write really good songs there! I wanted to also thank Fireball for continuing to support live music; so pumped to do this tour!" - John Feldmann // Goldfinger

"This September we're embarking on our 4th annual Fireball: Fuelling the Fire Tour. It's the most outrageous, downright criminally fun and cinnamoniest fortnight of the touring calendar and we absolutely haven't relented on the great bands this year. We're incredibly excited to welcome Less Than Jake, Goldfinger, our Hottest Band of 2019: Thieves of Liberty and veteran Fireball Tour DJ Matt Stocks into the fold, as well as some of the UK's best emerging talent specially handpicked for each show and one ultra-special secret band that is still to be announced! So that's five bands every night, a live DJ, excellent prize giveaways and as much Fireball as you can cram into your sticky mitts all for just £15 a ticket! Let's party!" - Matt Reynolds // Fireball UK Brand Ambassador

Be sure to pick up a ticket for this year's MUST-see tour:

September: 19th O2 Academy, Sheffield
20th O2 Academy, Leeds
21st O2 Academy Birmingham
23rd O2 Ritz Manchester
24th O2 Academy Newcastle
25th O2 Academy Glasgow
27th O2 Academy Bournemouth
28th O2 Academy Brixton

Tickets are on sale now here!

With 10 full length releases, numerous EP's, 7" singles and compilations to their name, Less Than Jake has sold over 2 million records worldwide. Formed in 1992 by previous drummer Vinnie Fiorello and vocalist/guitarist Chris DeMakes, the band knew in its formative years their live show would set them apart from their contemporaries. With well over 300 releases on various labels under their belt, most would think their legacy was in tact. But the status quo has never interested Less Than Jake. They continue to write and perform new material and have no thoughts of letting up. With the energy and exuberance of a band half its age and the determination of savvy veterans, there is seemingly no end point to this enduring and entertaining band. They have been self managed for the last five years and have shown no signs of slowing down its break neck touring schedule.

Goldfinger continues to build on a highly regarded legacy, where they have been considered one of the forerunners and most well-known bands of the third-wave ska/punk movement of the late 90s. Their 1996 self-titled debut Goldfinger went gold, and was named one of "The Ten Albums That Defined 1996" by Alternative Press in 2006. AllMusic said "no one had more success with this new sound than Goldfinger on their self-titled debut", calling it "irresistibly catchy, creative, and hopelessly endearing." 1997's Hang-Ups reached #85 on the Billboard 200, and the single "Superman" was prominently featured on the soundtrack for the generation-defining Tony Hawk Pro Skater video game. Over 6 full-length albums and over a decade of touring, Goldfinger amassed an international fan base drawn to the band's penchant for big choruses, attitude, and creativity of seamlessly fusing punk rock, ska, skate punk, and various other genres throughout their discography. Current album, The Knife, features guest appearances from Blink-182's Mark Hoppus, Twenty One Pilots' Josh Dun and ONE OK ROCK's Takahiro Moriuchi amongst others.

SAVE FERRIS is a ska-punk band formed circa 1995 in Orange County, Southern California. Their name is a reference to the 1986 film Ferris Bueller's Day Off. . Lead by the inimitable front-woman Monique Powell, the band enjoyed mainstream success in the late 1990s with radio hits, constant touring and appearances on a variety of Television and film appearances. The band released their debut EP ''Introducing SAVE FERRIS' on Powell's label, Starpool Records in 1996. They ended up selling close to 20,000 copies of their EP "out of the trunks of their cars". SAVE FERRIS created a presence on LA's KROQ radio, possibly being the first unsigned band to do this in LA alternative radio history. Later that year, the National Academy of Recording Arts and Sciences gave the band a Grammy showcase award for best unsigned band, earning them a recording contract with Epic Records (SONY). The band toured extensively in support of "It Means Everything", opening for bands such as Sugar Ray, The Offspring, and Reel Big Fish. In 1998, the band made an on-screen appearance in the cult classic teen film, "10 Things I Hate About You". The album sold over 400,000 copies, and spawned three Top Ten hits in both Japan and Mexico. With two singles in the Billboard top 100 and full rotation on alternative radio all over the world, SAVE FERRIS has managed to go Platinum internationally.

Winners of the Fireball Hottest Band 2019 competition, Thieves Of Liberty will kick the evening off in true style. Fronted by powerhouse vocalist Lidya Balaban, the Sunderland based band will have you bouncing around in no time with their singalong vocal lines, catchy guitar hooks and driving rhythm section. Don't miss them!
Related Links
---
Tags
Unsigned and emerging bands and artists can apply to play Fuelling The Fire tour