University of Central Lancashire hosts free event: The Present & Future of Music Law
News: 19th June 2019 by Louise Dodgson under Finance, Law & Music Business, Music Training & Careers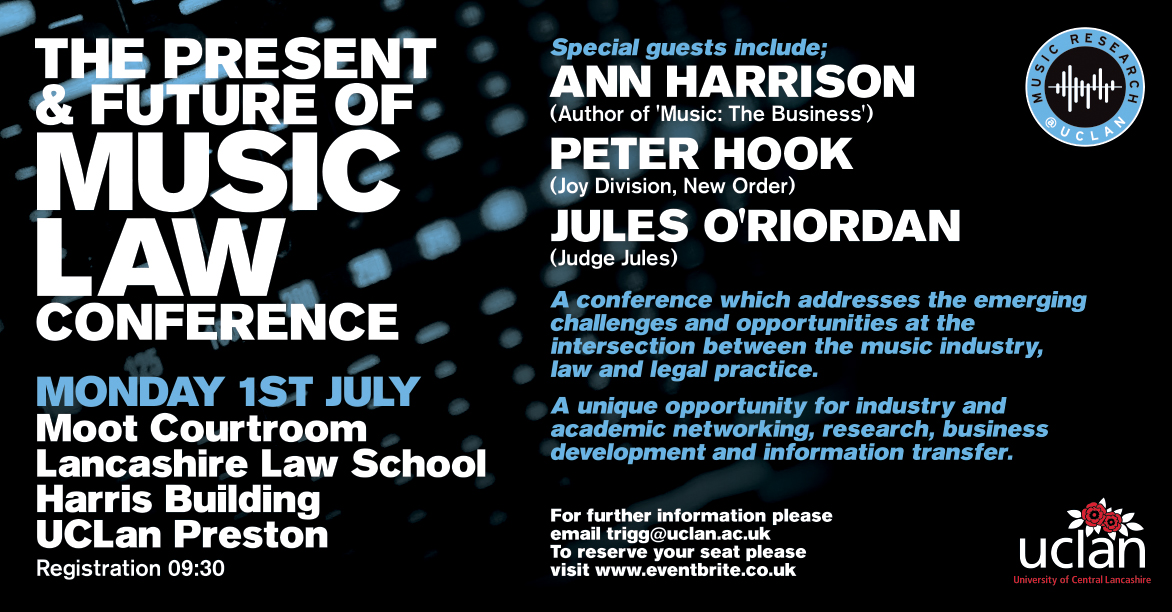 On Monday 1st July, the University of Central Lancashire (UCLan) will host a free music conference discussing topics including intellectual property and copyright.

The Present and Future of Music Law Conference aims to explore the challenges faced by the law in catching up to the changing nature of the music industry. The day-long event will host a cast of experts including people from the music industry, legal practice, and academics. Panellists include Ann Harrison, author of 'Music: The Business', Peter Hook, co-founder of Joy Division and New Order, and Jules O'Riordan, best known as Judge Jules who, having spent decades influencing popular music culture as a DJ and producer, continues to impact the future of music as an entertainment lawyer.

The conference is free to attend and open to anyone with an interest in the music industry and music law and will provide a forum for attendees to ask questions and feed into the debate.

Jules O'Riordan said: "The artistic and business sides of the music industry have often been somewhat at odds, and the way that the two interact and challenge each other is a fascinating topic, particularly for someone with a background as both an artist and music lawyer. It's exciting to be involved in the conference and explore the ways that the law is, and isn't, catching up with the changing face of music."

Conference co-organiser Tony Rigg, a former Operations Director for Ministry of Sound who also set up the MA Music Industry Management programme at UCLan said: "The law provides the framework for the music industry and for a healthy outlook, the two must work together in harmony. It's important to have as good an understanding of music law as possible if you are going to be part of the industry. "The inextricable link between law and the commercial exploitation of music is both complementary and confrontational. The music industry's susceptibility to factors outside of its control, such as economy, culture and technology, mean that the mode and manner of how music is made, obtained, consumed and exploited is in a perpetual state of flux."

Register to attend this free day event via the link below...
Related Links
https://www.eventbrite.co.uk/e/the-present-and-future-of-music-law-conference-tickets-59434260473
---
Tags
University of Central Lancashire UCLan hosts free event The Present and Future of Music Law Conference