Win a full day's studio recording through Musicians Against Homelessness & Oscillate Recordings
News: 4th April 2017 by Louise Dodgson under Creative & Branding, Live, Media, Recording & Production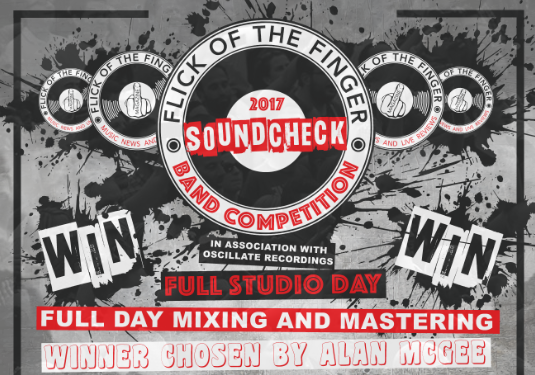 Bands and artists are invited to enter this amazing competition, to be judged by Alan McGee and with prizes amounting to over £4,000 to be won including...
* A full day at
Oscillate Recording
laying down your unreleased track.
* A full day having the track produced, mixed & mastered by Chris Hughes (The LaFontaines, The Courteeners).
* The winner will be chosen by Alan McGee of Creation Records (Oasis, Happy Mondays, Cast, Black Grape)
* Band interview by FOTF to be shared across all media platforms.
* 12 month access to The Unsigned Guide with 8,700 UK industry contacts and year round industry opportunities.
* Professional photo shoot and promotional images.
* Music video of the day for the track.
* A spot on the line up at 'Soundcheck for
Musicians Against Homelessness
' live gig in September 2017 – with donations to MAH.
* Your recorded track will feature on 'Soundcheck for MAH' compilation which will be released on limited addition vinyl, as well as on over 200 online sites including iTunes, Amazon and Spotify – all proceeds going to MAH.
Visit the link below to enter now!
Related Links
http://www.flickofthefinger.com/soundcheck-for-mah/
---
Tags
Competition for emerging bands & artists to be judge by Alan McGee for Musicians Against Homelessness