Merseyside artists unveiled as annual GIT Award nominees
News: 23rd March 2017 by Louise Dodgson under Artist Managers, Live, Record Labels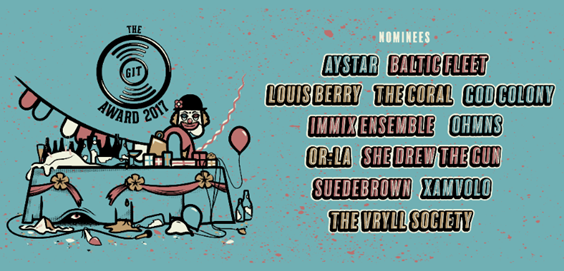 Merseyside music prize, The GIT Award, can today reveal the 12 shortlisted artists for the 2017 edition. All 12 plus the 2017 One To Watch winner, to be revealed in due course, will feature at a special all-day event at Constellations in Liverpool's thriving Baltic Triangle on Saturday, May 13, 2017.

The GIT Award 2017 shortlist is:

Aystar // Baltic Fleet // Louis Berry // The Coral // God Colony // Immix Ensemble // Ohmns // Or:la // She Drew The Gun // Suedebrown // XamVolo // The Vryll Society

As in previous years, the winner will receive a specially commissioned trophy along with a cheque for £1,000 and recording time at Parr Street Studios. Each nominee will also receive a beautifully-crafted memento.

British Music Experience curator, Cath Hurley, said: "Moving up to Liverpool to work for the British Music Experience initially meant that I was looking back at the heritage of music, but sitting on the panel of the GIT Award alongside the amazing judges and talking through the 8 pages of bands that were eligible to win the award allowed me to look forward.


"The sheer volume of exciting Liverpool acts that we deliberated over meant that bringing the long list down to a very short 12 was an intense process over many pizzas, many pints and many weeks.


"I'm delighted with this shortlist, though. Although some real contenders unfortunately didn't make it through, it really shows the standard of Liverpool music and we have ended with a truly amazing 12. Hopefully the GIT Award will help put the spotlight on this great musical city."

The GIT (Getintothis) Award, champions the best new Merseyside music providing a snapshot of the year while recognising significant artistic achievement across a range of musical styles.

Mike Deane, Liverpool Music Week director and GIT Award judge, said: "Another year, another brilliant final 12 GIT Award nominees – with arguably the best and certainly the most diverse music selection to date.


"2017 was possibly the most intense the process has been for the judging panel – there are some artists and music I still can't quite believe haven't made the shortlist – but there is no question that every one of this final 12 deserves their place.
"I think how tough the decisions were this year definitely reflects just how healthy Liverpool's current music scene is right now – it's certainly one of the freshest shortlists we've had for The GIT Award since the very beginning with lot of new names for people to discover."

This year reaffirms both the diversity and breadth of the region's talent, with the list of nominees containing a mix of newly emerging talent alongside more established names. Although containing a former award winner in Baltic Fleet, only three artists have previously been nominated for the main award.

Indeed, excepting The Coral, who returned triumphantly to the forefront of Merseyside music in 2016 with their album Distance Inbetween, the 2017 GIT Award largely celebrates under-the-radar talent, revealing the current buoyancy of Liverpool's thriving new music scene.

Included in the list of nominees for the first time is Louis Berry, with the winner of the 2015 One To Watch Award revelling in a thrilling career trajectory that looks set to take him to the very top. Former nominees XamVolo (2015) and The Vryll Society (2016) make a return to the fold.

Elsewhere it's very much a case of out with the old and in with the new. Emphasising the diversity of the 2017 award, emerging rap artist Aystar makes the cut as does experimental production duo God Colony.

Having collaborated previously with 2016 award winner Bill Ryder-Jones, acclaimed neo-classical ensemble and Erased Tapes' signees Immix Ensemble celebrate the launch of their third season with a well-deserved nomination.

With already an enviable reputation for the frenzied ferocity of their live shows, Ohmns make the cut alongside Merseyside-based DJ and label owner Or:la, fresh from her all-night set at Liverpool's 24 Kitchen Street venue.

Completing the bill are the winners of Glastonbury's 2016 Emerging Talent competition, She Drew The Gun and Liverpool based electronic musician, producer and DJ Suedebrown.

The Quietus' founding editor John Doran said of the GIT Award: "It's always a pleasure and a privilege for The Quietus to be involved in The GIT Award judging process. Liverpool's always buzzing and I always come away from being a judge with a clutch of new bands I'm really into. I'm looking forward to the main event in May."

This year's shortlist was selected by international industry figureheads consisting of:

• Heavenly Recordings founder Jeff Barrett;
• Sonic Cathedral founder Nathaniel Cramp;
• Founder of Liverpool Music Week Mike Deane;
• Editor of the music industry bible The Unsigned Guide, Louise Dodgson;
• General manager of Liverpool's O2 Academy and Arts Club, Patrick Doherty;
• Editor of The Quietus, John Doran;
• Music editor of The Skinny Will Fitzpatrick;
• DJ and cultural commentator Daver Haslam;
• Marketing manager of British Music Experience, Cath Hurley;
• Editor of The Music Manual, Lauren Jones;
• EVOL promoter Steve Miller;
• Venue and Operations Coordinator for VMS Live, Aoife Niblock;
• Liverpool International Music Festival curator Yaw Owusu;
• Membranes frontman and Louder than War editor John Robb;
• Bido Lito! editor Chris Torpey;
• General Manager of 4AD Records Rich Walker;
• plus GIT Award founder and Liverpool ECHO journalist Peter Guy.

Backed by Yoko Ono and the cornerstones of Merseyside's flourishing cultural community, the winner of the GIT Award 2017 will be revealed on Saturday May 13 at Constellations on Greenland Street in Liverpool's thriving Baltic Triangle.

Having relaunched for its sixth year last November at a specially-hosted stage at The Northern Troubadour as part of Liverpool Music Week's closing party, the GIT Award judges met on eight occasions from December 2016 until March 2017, discussing 493 eligible artists and bands, before carefully whittling them down to just 12.

Those 12 will now feature at the industry showcase on Saturday May 13, 2017 and will include performances from some of the shortlisted artists plus DJs, an in-house jam band and specially produced set piece spectacles.

In addition to performances from the nominated artists, May's event will also see a series of special performances as part of Getintothis' ongoing celebrations to mark the 10-year anniversary of the website's launch. Performances will take place across a number of stages, making full use of Constellations courtyard. Alongside the live music will be a DJ set from GIT Award judge and founding editor of The Quietus, John Doran.

Also on the night, a special Inspiration Award, recognising services to Liverpool's music industry will also be presented. Previous recipients are Kevin McManus (2016), Alan Wills & Deltasonic (2015) Africa Oyé (2014), Hillsborough Justice Collective (2013) and The Kazimier (2012).

Reflecting on the process to arrive at the final shortlist, Peter Guy, GIT Award founder, said: "In what was the toughest decision process yet, the GIT Award 2017 shortlist reflects a new cycle in Merseyside music – one which covers artists from all spheres of music; be it grime, techno, psychedelia, orchestral instrumentation through to pop, folk and rock & roll – each at the top of their game.
"While certain names on the shortlist will be familiar to some listeners, there's a whole raft of new artists to discover, and that's what The GIT Award has always aimed to do from its very beginnings – bring the very best of Merseyside music to new audiences.


"This year's 12 challenge, innovate and make quite superb music, I can't wait for Saturday May 13 at Constellations when it all comes together."
Related Links
http://getintothis.bigcartel.com/product/the-git-award-2017-e-ticket
---
Tags
The GIT Award announces Merseyside bands and artists nominated for 2017 award