Artists and bands wanted for Great British Rhythm & Blues Festival 2017
News: 24th February 2017 by Louise Dodgson under Live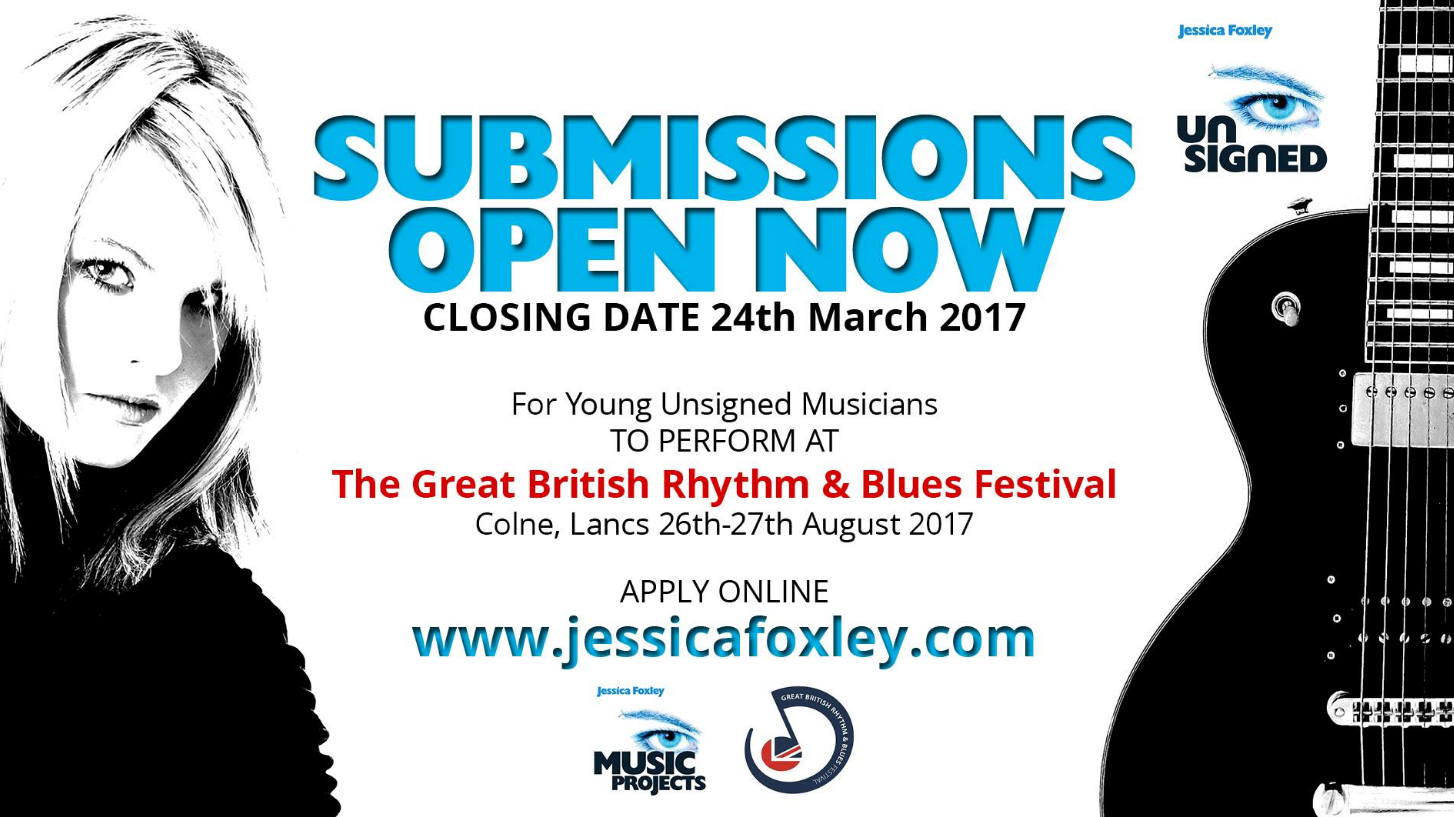 Jessica Foxley Unsigned are seeking outstanding unsigned, young talent (solo artists or bands) to complement the line-up of main artists playing at​ ​the Great British Rhythm & Blues Festival 2017 in Colne, Lancashire.
As part of the process, applicants are asked to submit a link to ​a​ sound recording, along with a link to a video of their act performing live. The project's focus is to support musicians up to the approximate age of 25; solo artists, or the lead musicians in bands, ​should not be a huge amount older than 25 and based in the UK, please. ​There are eight, half hour slots available as part of the festival project. Applications are perused​, then​ discussed by a panel of judges, who will use the submitted sound recordings and videos to select a shortlist and​ the eight 'winners'.​
Festival director​, ​Jason Elliott, explained​ further​: "We now have the full set of judges; 6 women and 6 men, plus Paul Foxley​ ​(from Jessica Foxley Unsigned)​ ​as the Chair.
​The judges have been invited because ​we feel that, as well as being highly accomplished in ​their individual fields, ​they have all shown an openness to both innovation and the nurturing or support of emerging talent.​ We thank them for their time and support and look forward to an exciting, rewarding project".
An easy-to-use application process is available via the website below​. Applications will be judged on the following criteria​ - originality​, creativity​, t​echnical ability​, m​usical compatibility (with a broadly based, contemporary Blues festival)​ and e​ntertainment value​.​
Jessica Foxley Unsigned (formerly The Jessica Foxley Stage) was set up in 2010 in Jessica's memory, to provide high profile performance opportunities for young musicians.
Now in its 8th year, ​the project has gone from strength to strength and attracts young musicians of a very high standard from across the UK.​ ​This year, ​they​'ll invite eight outstanding, but as yet unsigned, young acts to play sets on the two main festival stage​s ​on Saturday and Sunday.
​T​he cream of emerging young talent will rub shoulders with the superb line-up of professional acts​,​ in a truly exciting musical melting pot.
Related Links
http://jessicafoxley.com/unsigned
---
Tags
Apply to play at Great British Rhythm & Blues Festival through Jessica Foxley competition