GIT Award 2017 judging panel revealed ahead of May event at Constellations
News: 27th January 2017 by Louise Dodgson under Artist Managers, Live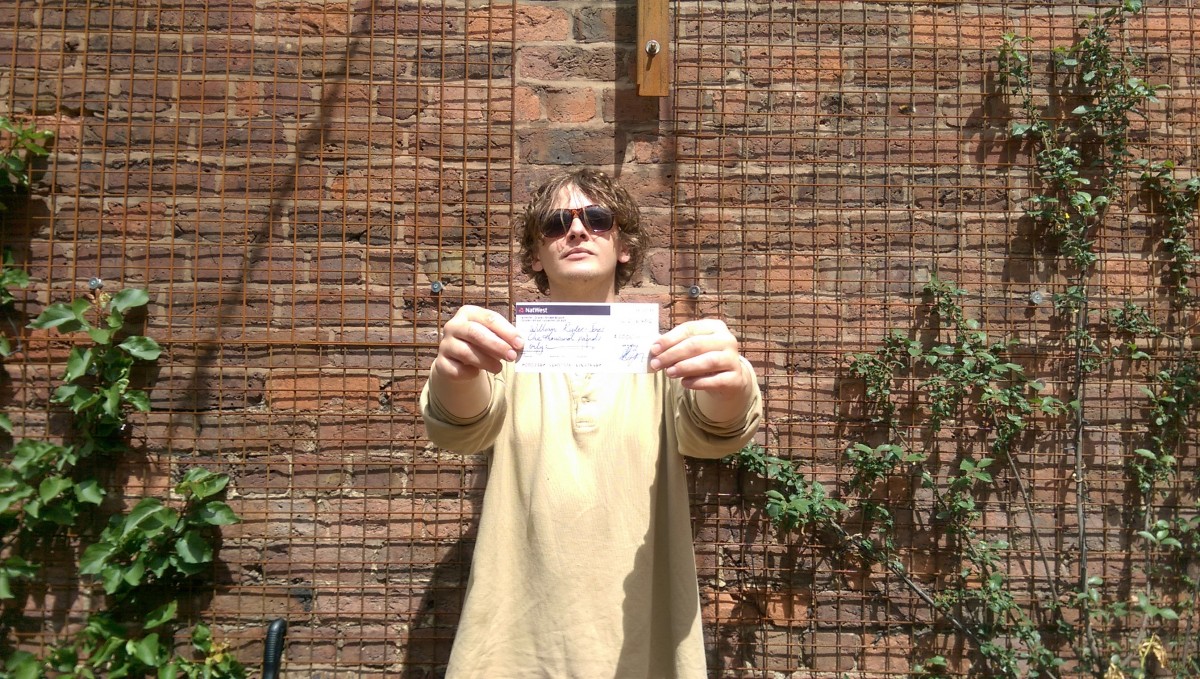 The judging panel for the 2017 edition of the GIT Award once again reads like a who's who of the cream of the regional and national music scene.
As ever opinions will be drawn from a broad spectrum of the industry taking in the heads of iconic independent record labels, esteemed music writers and bloggers, venue managers, gig promoters, cultural commentators and festival organisers.
With judging deliberations set to begin next week the aim is to whittle down the applicants to a 12-strong shortlist, with the winner being announced at the annual GIT Award spectacular to be held at Constellationson Saturday May 13 – this year tying in with Getintothis' 10 year celebrations. More details on that to follow soon.
In 2017 organisers have freshened up the judging panel with no fewer than seven new judges. Proving that the GIT Award remains high on the radar of the country's influential independent label heads, Nathaniel Cramp of the cherished shoegaze and psychedelic label Sonic Cathedral makes his judging debut. Joining him is John Robb, equally well known as frontman of The Membranes and editor of leading music website Louder than War.
Liverpool native and music editor for monthly music newspaper The Skinny, Will Fitzpatrick joins the judging panel alongside acclaimed author, former Hacienda DJ, interviewer and cultural commentator Dave Haslam.
Aoife Niblock, former Arts Club general manager and current Venue and Operations Coordinator for VMS Live– which takes in Liverpool's Olympia venue – joins the panel along with the general manager of Liverpool's O2 Academy and Arts Club, Patrick Doherty. Additionally Cath Hurley will take time out from her role as marketing manager of British Music Experience to help judge the GIT Award for the first time.
There are a number of familiar faces returning to adjudicate this year's award. Jeff Barrett of Heavenly Recordings and Rich Walker of 4AD both make a welcome return, reaffirming the interest of independent record labels in the Merseyside music scene. Editor of Bido Lito!, Chris Torpey, Mike Deane, founder of Liverpool Music Week, and Evol promoter and general guru of Liverpool live music scene, Steve 'Revo' Millercomplete a triumvirate of returning Liverpool music heads.
The Quietus' John Doran will once again form part of the judging panel as will Louise Dodgson, editor of the music industry bible The Unsigned Guide. Also back for more are Merseyside music blogger Lauren Jones, Liverpool International Music Festival curator Yaw Owusu and Getintothis editor, GIT Award founder and Liverpool Echo journalist Peter Guy.
John Robb said: "One of the most heartening things about being a veteran music fan is that you get to hear the endless wave of great new music that just keeps coming. Liverpool is in the middle of a musical renaissance that is thrilling and captivating and I'm looking forward to hearing more great music."
Last year saw Bill Ryder-Jones crowned as winner following in the footsteps of All We Are (2015), Forest Swords (2014), Baltic Fleet (2013) and inaugural winners, Loved Ones (2012).
The overall winner of The GIT Award will once again receive a cash prize of £1,000.
Founded by Liverpool music webzine Getintothis, The GIT Award remains the only prize of its kind in the UK, championing vital new talent within Merseyside's eclectic music community, pushing the region's innovative talent across the world.
Since launching in November 2011, The GIT Award has received more than 1800 entries, including 47 different nominees over five years, and staged more than 75 of Merseyside's most vital new artists and bands across its events.
A special Inspiration Award, recognising significant outstanding achievement in Merseyside's music industry will also be presented.
The 2016 Inspiration Award was awarded to Liverpool Vision's Kevin McManus who followed 2015 winner Alan Wills, who was awarded the prize posthumously in recognition for his work founding Deltasonic record label and helping to launch the careers of The Coral, The Zutons and many more besides. Previous recipients include the team behind Africa Oyé in 2014, Hillsborough Justice Collective in 2013 and, in 2012, the directors of The Kazimier.
The final award on offer is the One To Watch. 2016 saw the gong presented to Atlantic Records signee and soul-pop starlet Taya who followed in the footsteps of inaugural winner Låpsley and 2015 winner Louis Berry.
Entries close on January 31st at 7pm – entries should be sent to [email protected]
JUDGES' BIOGRAPHIES:
Jeff Barrett – Heavenly Recordings
Jeff Barrett has been submerged in music all of his life. A radio/chart obsession as a kid set him off on the road to discovery via record shops and gigs in the mid-70s, to working in record shops in the early 80s. From there he promoted gigs and club nights in the West Country. After putting on shows by early Creation bands including Primal Scream and JAMC, his enthusiasm was spotted by Alan McGee who offered him a job which he took up in the summer of 1985. This led to a short but eventful life as a publicist, representing, amongst others Factory Records (Happy Mondays, New Order), the KLF, MBV, which in turn led to him starting his own label, Heavenly Recordings, in 1990. Heavenly celebrated its 25th birthday in 2015.
Nathaniel Cramp – Sonic Cathedral
Nathaniel Cramp began Sonic Cathedral as a shoegaze and psychedelia inspired live/club night in London in 2004, before it grew into a record label a couple of years later, starting with a series of 7″s and eventually graduating to full albums. Over 10 years later, the label remains a one-man operation and recent releases include acclaimed albums by Spectres, The Early Years, XAM Duo, Lorelle Meets The Obsolete and Yeti Lane.
Mike Deane – Liverpool Music Week
Mike Deane is founder and director of Liverpool Music Week – which has just been crowned "Best Metropolitan Festival" at the 2016 UK Festival Awards in November. The city's annual festival attracts 20,000 every year, has played host to over 2,000 acts since 2003 with recent headliners including John Carpenter, Dizzee Rascal, Caribou, Mogwai, The War on Drugs, The Chemical Brothers, Grandmaster Flash and Chvrches. LMW has had partnerships with world-class brands such as Heineken, MTV, The Independent, Sennheiser and BBC 6 Music. Mike is also a European music agent at the international boutique talent agency Earth, where he works with labels such as Warp Records, Mute and Young Turks, and personally represents artists such as Liars, Zola Jesus, Mary Anne Hobbs, Dawn Penn as well as GIT Award alumni Forest Swordsand Evian Christ.
Louise Dodgson – The Unsigned Guide
Louise Dodgson is editor at The Unsigned Guide, an online music industry directory. Since 2003 The Unsigned Guide has been used by emerging bands, artists, producers and music managers to search over 8,700 UK music contacts across all sectors of the industry who can help further their music careers. Louise also collates The Unsigned Guide's monthly Spotlight blog which champions the best new undiscovered UK talent.
Patrick Doherty – O2 Academy Liverpool and Arts Club, Academy Music Group
Patrick Doherty is General Manager of two of the city's most iconic venues; O2 Academy Liverpool and Arts Club. Patrick has been at O2 Academy since it opened in 2003 and prior to that he worked for the legendary club and dance brand, Cream. Pat has spent countless days and nights supporting live music in the city and is delighted to be a part of the panel at this year's GIT Award, pioneering the new music of Merseyside.
John Doran – The Quietus
John Doran is the co-founder and editor of The Quietus website. He lives in Hackney, London, with his girlfriend and three year old son and has written for the BBC, The Guardian, the WIRE, Metal Hammer, The Stool Pigeon and VICE. He co-runs the Quietus Phonographic Corporation record label – which he helped set up to promote the music of East India Youth and Grumbling Fur – and the Quietus Lithographic Corporation publishing venture. He is an occasional broadcaster for NOISEY and BBC TV and radio. His first book Jolly Lad was published by Strange Attractor.
Will Fitzpatrick – The Skinny
Will Fitzpatrick is music editor at The Skinny North, covering the best new music in Leeds, Liverpool and Manchester. Having written about music in his home town of Liverpool since his fanzine days in the late 90s, he has since contributed to Gigwise, The Fly, Clash, The Line of Best Fit and more, before moving to Edinburgh in 2015 to join the editorial team at The Skinny – the biggest listings and entertainment magazine in Scotland and the North of England, offering smart, independent writing on music, film, theatre and more across the cultural scene. Will now lives in Manchester with a record collection that's long since run out of shelf space.
Peter Guy – Getintothis / Liverpool Echo
Peter Guy is a journalist and multi-media editor at the Liverpool Echo. For eight years Peter's blog, Getintothis, has charted the highs and lows of music on a national scale. In 2011 he founded the GIT Award which champions the finest new music from Merseyside. Peter has contributed to NME, MOJO and various music publications and is media partner with Liverpool Sound City, Liverpool Music Week and Liverpool International Music Festival. In 2015 he was shortlisted by the Association of Independent Music for Independent Music Champion of the Year.
Dave Haslam – DJ and Author
DJ and writer Dave Haslam made his DJing debut at the Hacienda in 1986. He played there almost five hundred times. Laurent Garnier, Ian Brown, and the Chemical Brothers were regular visitors to Haslam's DJing events at the Hacienda, and all have credited Haslam as an inspiration. He has since DJ'd worldwide, from Lima to Berlin. The author of four books, he has appeared on TV and radio discussing subjects as diverse as urban regeneration, ecstasy, Rock Against Racism, and Daft Punk. His latest book, Life After Dark: A History of British Nightclubs & Music Venues, was published on August 2015. He attended Joy Division's last ever show; Sonic Youth have slept on his floor; Tony Wilson threatened to shoot him; he took John Peel to see Public Enemy; and he's interviewed the likes of John Lydon, Nile Rodgers, Jarvis Cocker, Neneh Cherry, and David Byrne.
Cath Hurley – British Music Experience
Cath Hurley is the Marketing Manager for the British Music Experience, which is a national museum celebrating the history of British popular music opening in Liverpool this year. Prior to this she spent a few years at Rough Trade Records overseeing the releases of artists such as SOAK, Girl Band, Parquet Courts, Pantha Du Prince, Micachu & The Shapes and Jeffrey Lewis. Before Rough Trade she specialised in online PR and Digital Marketing, working with all sorts of artists from Nick Cave & The Bad Seeds to Lemar. Having spent the best part of a decade living in London and working in the music industry, she is delighted to be working at the British Music Experience in such an amazing city.
Lauren Jones – The Music Manual
Lauren Jones has been editing Wirral-based webzine The Music Manual for three years which is dedicated to promoting artists from Merseyside and beyond. The Music Manual has been shortlisted in the top 10 Arts and Culture blogs in the UK, interviewing the likes of Catfish and The Bottlemen, Deap Vally and Squeeze. She has also dabbled in TV presenting, band management, DJ slots and has had work published for the likes of NME, Getintothis and ACE Magazine.
Steve 'Revo' Miller – EVOL
Steve Miller, better known as 'Revo', has booked Liverpool's EVOL club night for the last 12 years, which grew from humble beginnings at EBGBs, spent a year at the O2 Academy and later formed into the legendary Korova venue booking everyone from Arctic Monkeys to The xx. Since 2008 Revo has curated 8 editions of Sound City festival booking hundreds of acts from Florence & The Machine to Jake Bugg. Revo has also been involved in the development of Liverpool venues the Kazimier and the Masque/Arts Club artists such as Battles, Les Savy Fav, Andrew WK and The Brian Jonestown Massacre.
Aoife Niblock – VMS Live / Liverpool Olympia
Aoifé currently works as Venues & Operations Co-ordinator for VMS Live, working nationally with venues such as Manchester Academy, Wrexham William Aston Hall, Arena Race Course, and locally, Liverpool Olympiaand Hangar 34. After graduating from the Liverpool Institute for Performing Arts in 2012, Aoifé joined Mama Group for the reopening of the Arts Club in Liverpool City Centre. She took on several roles over 4 years and from May 2015 until August 2016 Aoifé was General Manager of the venue. Aoifé started working in music and events management in 2004, when she promoted events for The Magnet Young Adults Centre, a small music and community arts venue in Ireland. After relocating to Liverpool in 2007, Aoifé worked in various positions at festivals and live events including Liverpool Sound City, In The City and Threshold Festival, gaining experience with some of Liverpool's finest promoters.
Yaw Owusu – Liverpool International Music Festival
Yaw Owusu is the Creative Director of youth culture organisation URBEATZ, Director at creative solutions company the playmaker group and Nothin But The Music and the Music Curator for Liverpool International Music Festival. Yaw has worked with a number of world leading brands, organisations and artists including MTV, Nike, AEG, Sony, Universal Records, Jockey Club Live, BBC Radio 1/1Xtra, BET, Damian Marley and Wiley.
John Robb – The Membranes / Louder Than War
John Robb is the boss of one of the UK's leading music and culture website Louder Than War which has just been turned into a bi-monthly magazine, he is a regular radio and TV pundit and presenter and fronts the critically acclaimed post punk band The Membranes whose 2015 double album about the Universe, life and death, Dark Matter/Dark Energy has been getting great reviews worldwide. He also runs the UK's leading music and literary festival Louder Than Words and has written several best selling books on the likes of punk rock, The Stone Roses and is working on an upcoming book about the darker side of post punk…
Chris Torpey – Bido Lito!
Chris Torpey, a self-confessed magazine geek, is editor of pink music monthly Bido Lito!, having been part of the publication since June 2010. Christopher can often be skulking in the shadows of gigs across Liverpool, and occasionally doing a passable impersonation of Franz Beckenbauer on the football pitch. Chilean drones, Brazilian beats, Acid Arab compilations, and the back catalogue of Blur and Beach Skulls make up his record collection, but he's always got his ear to the ground for something new.
Rich Walker – 4AD
Rich Walker hails from nearby Chester, is an avid Toffee, and is General Manager of esteemed label 4AD, home to Ariel Pink, Bon Iver, Daughter, Grimes and The National, with the likes of Cocteau Twins, Pixies and Throwing Muses before them. Rich started his musical career while studying at Manchester University, working for label Twisted Nerve, before moving to London for a digital job that turned out to be too good to be true. Starting as a music PR in 2001, Rich found himself a dream job at the almost peerless Beggars Group, working his way up from a regional plugger to Head of Press before moving to work full time for one of the Group's figurehead companies, 4AD, a label that inspired him to want to work in music in the first place.
Related Links
http://www.getintothis.co.uk/2017/01/git-award-2017-judging-panel-revealed/
---
Tags
The GIT Award unveils music industry judging panel for 2017