Save 20% on tickets for AIM's 9th annual Women In Music event
News: 22nd November 2016 by Louise Dodgson under Artist Managers, Music Publishing, Music Training & Careers, Record Labels, Selling & Distributing Your Music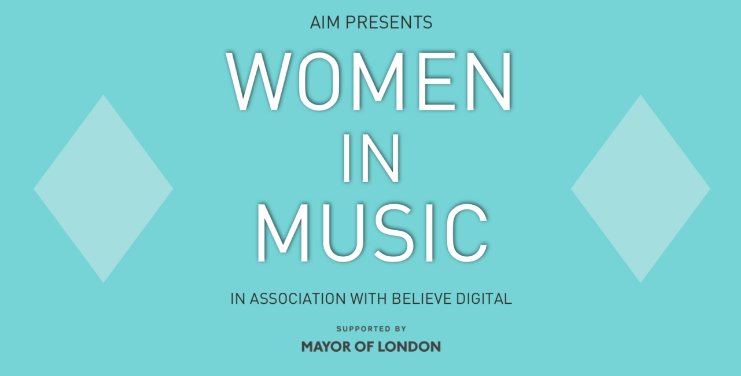 AIM's next event, taking place at City Hall in London on 16th January 2017, will celebrate the successes and examine the challenges of women in the music industry. In association with Believe Digital and supported by the Mayor of London, the ninth annual AIM Women in Music event is set to be a sell-out success, with a stellar line-up of speakers already confirmed. Tickets are now available from the link below and if you use code WIM2017 you will get a discount of 20%.

Women In Music 2017 will give women (and men, who are actively encouraged to attend) the opportunity to network with key industry figures and to hear from some of the music industry's most influential women, which this year include Carla Marie Williams (writer of Freedom from Beyonce's hit album Lemonade), Music Week's Women in Music Rising Star award winner Martha Kinn (`Machine Management) and newly appointed London Night Czar Amy Lamé.
The night will feature an exclusive keynote interview with a female artist, to be revealed in coming weeks. Previous keynote speakers at the event have included legendary broadcaster Annie Nightingale, Everything But The Girl's Tracey Thorn, MOBOs founder Kanya King MBE, Radio 2 presenter Jo Whiley and artist/songwriter Sophie Ellis Bextor.
There will then be two panel discussions, before the event concludes with networking drinks, allowing attendees to meet the speakers and grow their networks. The first panel is entitled 'Women in Music: The Next Generation' and will see a selection of the industry's rising stars discussing their paths to success. The second panel discussion focuses in on the notoriously male-dominated live sector. 'Going Live: Women in Live Music' which will consider the challenges of women working in the live music industry, the lack of female artists on festival bills and the safety of female music fans at live music venues and festivals.
Speakers at the event include:
• Amy Lamé (Newly appointed London Night Czar)
• Carla Marie Williams (songwriter for Beyoncé, Kylie Minogue and Girls Aloud, Founder of Girls I Rate)
• Martha Kinn (Manager, Years & Years - Machine Management)
• Lauren Down (MD, End of the Road festival)
• Stefania Pavlou (Media Relations Manager, PRS for Music)
• Kelly Bennaton (Marketing & PR, DHP Family)
• Chloé van Bergen (Senior Label Manager, Believe Recordings)
More speakers to be announced in the coming weeks, including the artist keynote interview.
The event will be held from 5.30-10pm on 16th January 2017 at London's Living Room, City Hall, The Queen's Walk, London, SE1 2AA. This prestigious venue has spectacular views of the Thames and London Bridge, and is home to the Mayor of London.
This event is open to anyone working in the music and entertainment industries, book via www.musicindie.com/event/women-in-music.
AIM actively encourages men to attend this event. Gender equality in the music industry is good for everyone and requires the participation and support of both sexes.
Tickets are £30 for AIM members, £54 for non-members. VAT and refreshments are included in the price.
For almost a decade AIM has been active in championing and encouraging women in music, striving to achieve gender equality and diversity across the music business. In addition to the annual AIM Women in Music conference, AIM is a partner and co-founder on the Music Week Women in Music Awards, and a signatory on UK Music's Equality and Diversity Charter, which calls on music businesses to take simple, practical steps to improve equality and diversity.
Related Links
http://www.musicindie.com/event/women-in-music.
---
Tags
20% off AIM's Women In Music event with guest speaker Carla Marie Williams