Help Musicians UK announces new National Grants Programme
News: 6th October 2016 by Louise Dodgson under Artist Managers, Creative & Branding, Finance, Law & Music Business, Live, Media, Music Publishing, Music Training & Careers, Record Labels, Recording & Production, Selling & Distributing Your Music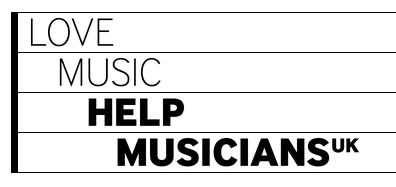 Help Musicians UK (HMUK), the country's leading independent music charity, has announced a new funding programme for organisations in the music sector.
The charity, which supports musicians at every stage of their careers and lives, launches its inaugural open funding scheme for organisations who work with musicians across the UK on Thursday 6 October 2016.
This is the first scheme to be launched as part of a new strategy to revolutionise and modernise the way the charity reaches more musicians from across all genres and the whole of the UK following a review of all creative grant funding by the organisations' Creative Director, Claire Gevaux.
HMUK's new Creative Programme will provide a range of opportunities to support musicians during their careers by investing in invention across artistic practice, talent and professional development, removing barriers that exist for many to launch and sustain professional music careers across all genres.
The new National Grants Programme will offer open access funding for three years to organisations working with musicians. Through the National Grants Programme, the charity will work collaboratively with organisations to help them develop more artists' careers and grow their own ambitions to become more sustainable making a positive impact on the infrastructure across the UK.
In its history, Help Musicians UK has supported many organisations within the music sector. Through the new strategy, it has the opportunity to instigate change in the sector by looking for applications which challenge the status quo and clearly articulate the case for diversity across all genres.
Claire Gevaux, Creative Director added: "Being more robust in our approach to supporting organisations is the beginning of a new way of working for Help Musicians UK. I'm delighted to be launching this new open funding process and look forward to finding and supporting a diverse range of organisations that need to be recognised for the brilliant work they do in the sector."
For more information on the new National Grants Programme visit the website below.
Help Musicians UK is the leading independent charity for musicians. It is a lifeline for an increasing number of musicians facing a crisis such as injury, accident or serious illness and provides specialist 1:1 care and assistance. It invests in outstanding talent, helping all artists take their career to the next level.
Related Links
https://www.helpmusicians.org.uk/creative-programme/current-opportunities/national-grants-programme
---
Tags
Help Musicians UK launch National Grants programme to organisations who work with and support emerging UK musicians