International Industry Leaders & Global Music Pioneers to judge 2016 GIT Award
News: 26th January 2016 by Louise Dodgson under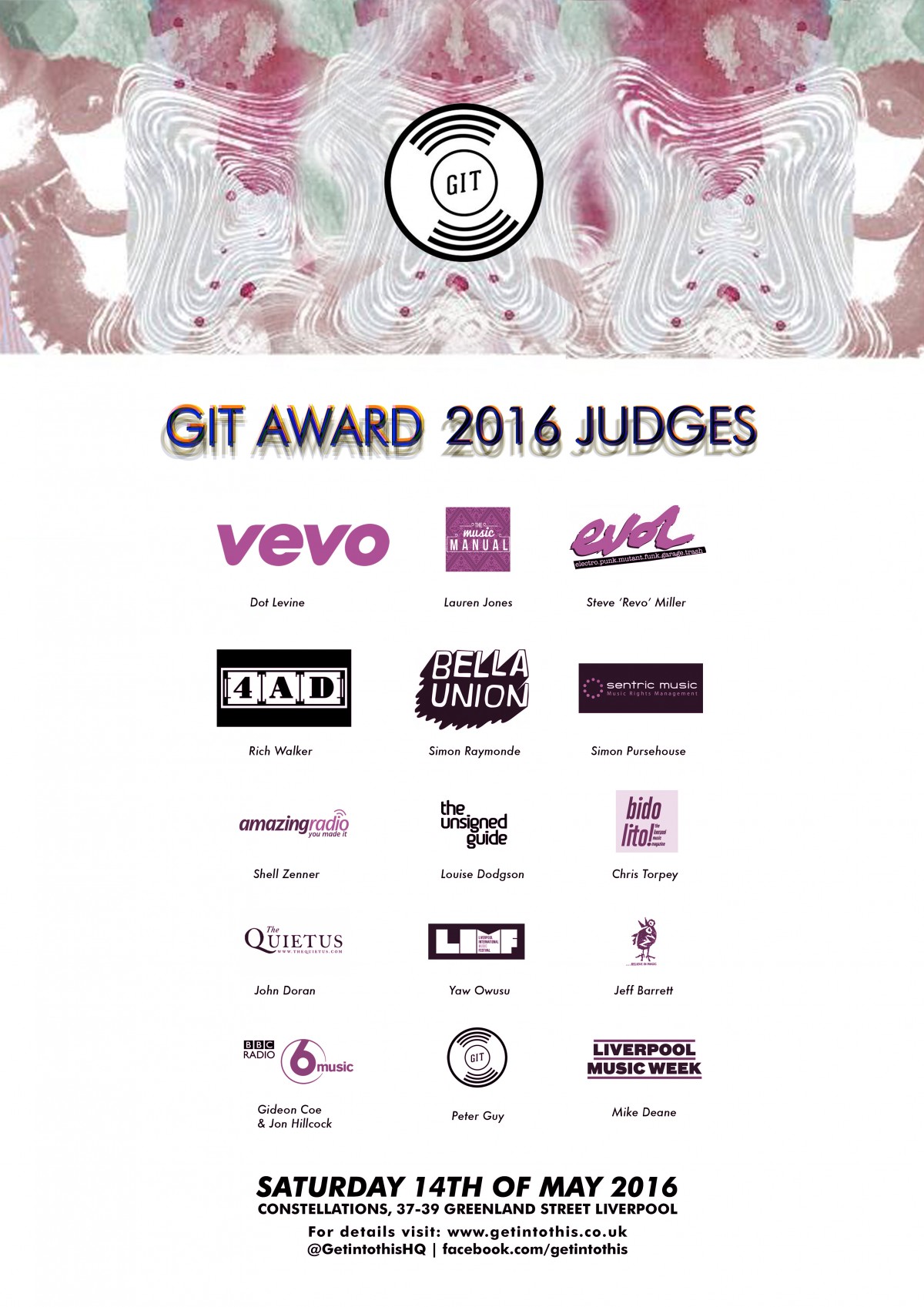 Internationally renowned record label bosses, leading industry brands and acclaimed UK journalists are among the judging panel to preside over Merseyside new music prize The GIT Award 2016.
For the second successive year, The GIT (Getintothis) Award panel features founders of three iconic record labels and for its fifth edition is bolstered by figures from industry cornerstones including VEVO, The Unsigned Guide and BBC Radio 6 Music.
Returning for the 2016 edition are ex-Cocteau Twins member Simon Raymonde, founder of Bella Union Records who signed acts such as Flaming Lips, Fleet Foxes and The Walkmen; Rich Walker, General Manager of 4AD Records, home to critically-acclaimed Grimes and Bon Iver; and founder of Heavenly Recordings (Doves, Saint Etienne) Jeff Barrett.
Joining the judging panel for the 2016 are Dot Levine, communications manager at global video giant Vevo, BBC 6 Music DJ Gideon Coe and editor of music industry bible The Unsigned Guide, Louise Dodgson. Also new for 2016 are BBC 6 Music and Amazing Radio DJ Jon Hillcock, award-winning Merseyside music blogger Lauren Jones of The Music Manual and Simon Pursehouse at Sentric Music – an independent publisher in Liverpool which looks after tens of thousands of songwriters securing TV, film and video game sync deals.
Back to judge the 2016 edition are Amazing Radio presenter Shell Zenner, Chris Torpey, editor of monthly Liverpool music paper Bido Lito!, Mike Deane, the founder of Liverpool Music Week, John Doran, editor of acclaimed pop culture webzine The Quietus, Liverpool music don and EVOL promoter Steve Miller.
Completing the 16-strong panel are Yaw Owusu, music manager and curator of Liverpool International Music Festival plus GIT Award founder and Liverpool Echo journalist Peter Guy.
Judging is under way for The GIT Award 2016 with the official launch party on Friday 29 January 2016 at new Liverpool city centre venue The Buyers Club, on 24 Hardman Street, at 7.30pm. The event is free and open to all.
In keeping with the GIT Award's ethos, the event features some of Liverpool's finest new talents:
Pink Kink – Having packed out the Kazimier on their debut outing, these much-hyped psycho art-rockers update the riot grrrl movement packing a tropical bubblegum punch.
Nelson – Making his Liverpool debut, this jazz-infused hip hop fusionist has been on Europe's blog radar for several months – now you can get to see him in the flesh for the first time.
Ohmns – Liverpool's most ferocious riff-makers combine raw melodic simplicity with primal head-wrecking riffs marking them out as one of the city's best new live bands.
Harvey Brown – Another making his Liverpool debut, producer and electronica artist, Brown specialises in seductive ambience and refined melodic beats.
Trudy – The hotly-tipped trio have been the toast of the national new music press earning rave reviews following dates with Hooton Tennis Club and Bill Ryder-Jones.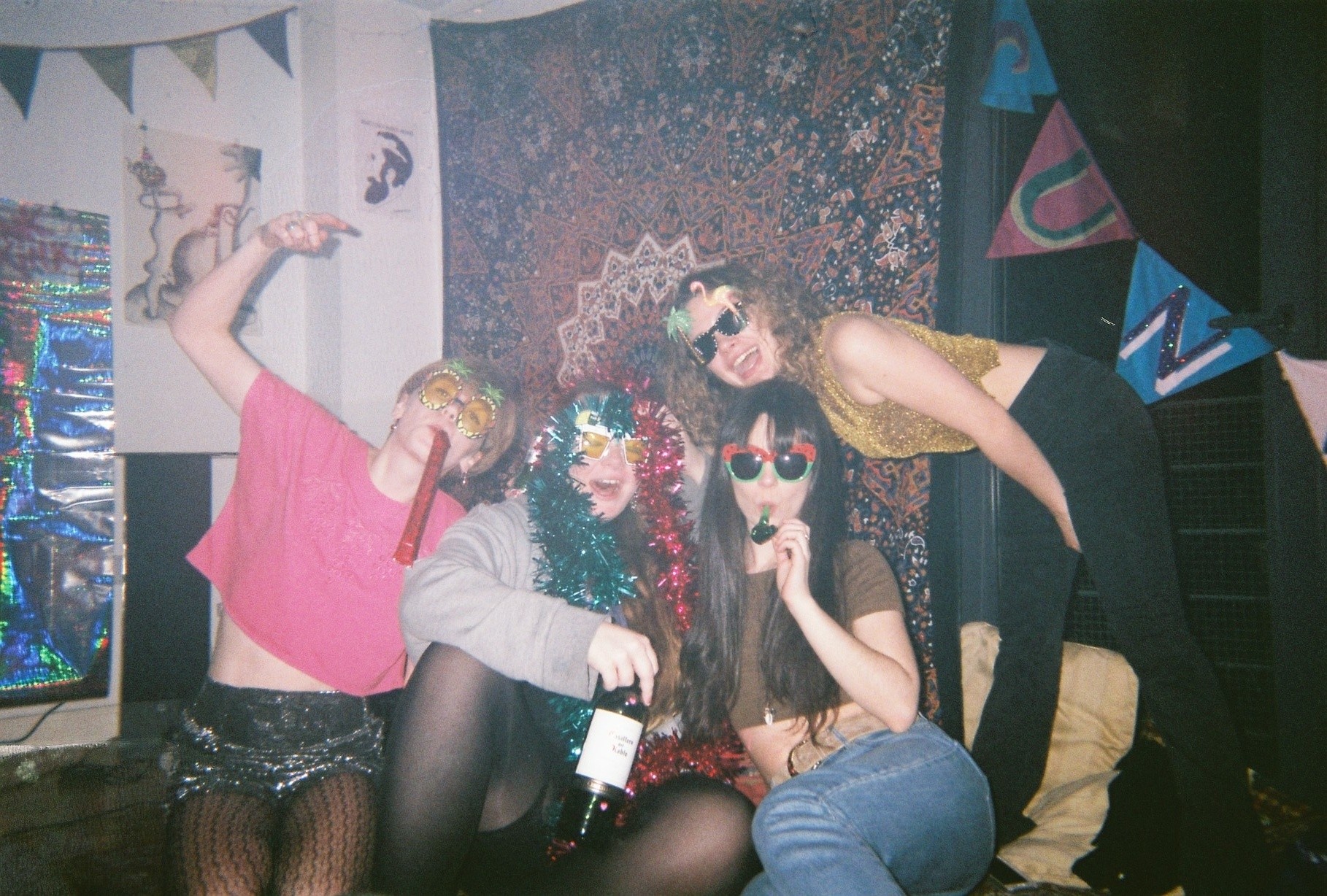 Pink Kink

The aftershow at The Buyers Club will feature music from Bido Lito! DJs.
Once all 12 nominees for The GIT Award 2016 have been decided the prize culminates in a spectacular event at Constellations in Liverpool's thriving Baltic Triangle on Saturday 14 May 2016.
The fifth GIT Award recipient will follow in the footsteps of previous winners Loved Ones (2012), Baltic Fleet (2013), Forest Swords (2014) and last year's winners All We Are.
The overall winner of the GIT Award 2016 will once again receive a cash prize of £1000.
Founded by Liverpool music webzine Getintothis, The GIT Award remains the only prize of its kind in the UK, championing vital new talent within Merseyside's eclectic music community, pushing the region's innovative talent across the world.
Since launching in November 2011, The GIT Award has received more than 1800 entries, included 38 different nominees, and staged more than 75 of Merseyside's most vital new artists and bands across its events.
A special Inspiration Award, recognising significant outstanding achievement in Merseyside's music industry will also be presented.
The 2015 Inspiration Award was in recognition of Alan Wills and the label he founded Deltasonic which launched the careers of The Coral, Zutons and many more. The 2014 Inspiration Award went to the team behind Africa Oye while previous recipients include Hillsborough Justice Collective (2013) and the directors of the Kazimier club (2012).
Rock & roller Louis Berry won the second One To Watch Prize following on from inaugural recipient Låpsley and a third hotly-tipped young musician will be crowned at Constellations on May 14.
Each year the GIT Award & Inspiration Award trophies have been made by a Liverpool-based artist; Sam Venables (2012, director of the Royal Standard), Jayne Lawless (2013 Liverpool art prize nominee), Mike Aitken, (director of Royal Standard 2014) and David Bannister (2015).
Musicians, bands and creative types who would like to enter this year's prize are asked to send four tracks to [email protected]
JUDGES' BIOGRAPHIES:
Jeff Barrett has been submerged in music all of his life. A radio / chart obsession as a kid set him off on the road to discovery via record shops and gigs in the mid-70s, to working in record shops in the early 80s. From there he promoted gigs and club nights in the West Country. After putting on shows by early Creation bands including Primal Scream and JAMC, his enthusiasm was spotted by Alan McGee who offered him a job which he took up in the summer of 1985. This led to a short but eventful life as a publicist, representing, amongst others Factory Records (Happy Mondays, New Order), the KLF, MBV, which in turn led to him starting his own label, Heavenly Recordings, in 1990. Heavenly celebrated its 25th birthday in 2015.
Gideon Coe has worked in radio for more than 20 years, starting at GLR in London in the early 90s where he co-presented the Breakfast Show. He also presented the Saturday Sports programme which combined live updates from Griffin Park with records and sessions from the likes of Lambchop. It sort-of worked. He has been at BBC 6Music since it launched in 2002 and has looked-after the 9-midnight slot for eight and half years.
Mike Deane is founder and director of Liverpool Music Week - which has just celebrated its 11th Anniversary Edition in November. The city's annual festival attracts 30,000 every year, has played host to over 2,000 acts since 2003 from Kasabian to The Chemical Brothers. LMW has had partnerships with world-class brands such as Heineken, The Independent, Sennheiser and BBC 6 Music.
Louise Dodgson is editor at The Unsigned Guide, an online music industry directory. Since 2003 The Unsigned Guide has been used by emerging bands, artists, producers and music managers to search over 8,700 UK music contacts across all sectors of the industry who can help further their music careers. Louise also collates The Unsigned Guide's monthly Spotlight blog which champions the best new undiscovered UK talent.
John Doran is the co-founder and editor of The Quietus website. He lives in Hackney, London, with his girlfriend and three year old son and has written for the BBC, The Guardian, the WIRE, Metal Hammer, The Stool Pigeon and VICE. He co-runs the Quietus Phonographic Corporation record label - which he helped set up to promote the music of East India Youth and Grumbling Fur - and the Quietus Lithographic Corporation publishing venture. He is an occasional broadcaster for NOISEY and BBC TV and radio. His first book Jolly Lad is was published by Strange Attractor.
Peter Guy is a journalist and multi-media editor at the Liverpool Echo. For eight years Peter's blog, Getintothis, has charted the highs and lows of music on a national scale. In 2011 he founded the GIT Award which champions the finest new music from Merseyside. Peter has contributed to NME, MOJO and various music publications and is media partner with Liverpool Sound City, Liverpool Music Week and Liverpool International Music Festival. In 2015 he was shortlisted by the Association of Independent Music for Independent Music Champion of the Year.
Jon Hillcock is a brodcaster and DJ who also podcasts, writes and promotes live music. Over the course of the past decade Jon has presented a variety of different music radio shows for the likes of Xfm, NME Radio and BBC 6 Music, where he frequently deps for the likes of Steve Lamacq, Marc Riley, Mary Anne Hobbs and many others. He also currently presents a weekly roundtable music review - It's Amazing - on Amazing Radio, is a regular contributor on Jo Whiley's BBC Radio 2 show and also produces and presents his own independent music podcast All Back No Front. Jon has also contributed music columns and articles for Clash, Q and NME among others.
Lauren Jones has been editing Wirral-based webzine The Music Manual for three years which is dedicated to promoting artists from Merseyside and beyond. The Music Manual has been shortlisted in the top 10 Arts and Culture blogs in the UK, interviewing the likes of Catfish and The Bottlemen, Deap Vally and Squeeze. She has also dabbled in TV presenting, band management, DJ slots and has had work published for the likes of NME, Getintothis and ACE Magazine.
Dot Levine is Communications Manager for Vevo, responsible for all International Communications. Based in the London office Dot has been with the leading music video platform since April 2015, working across the consumer and corporate communications for the business. Prior to Vevo, Dot worked at UK Music, a campaigning and lobbying group representing the recorded and live music industry. Dot was at UK Music for 5 years, there she led the development and launch of app-based game Music Inc, which allows players to simulate the music industry by setting up their own companies, signing acts and taking them on tour.
Steve Miller, better known as 'Revo', has booked Liverpool's EVOL club night for the last 12 years, which grew from humble beginnings at EBGBs, spent a year at the O2 Academy and later formed into the legendary Korova venue booking everyone from Arctic Monkeys to The xx. Since 2008 Revo has curated 8 editions of Sound City festival booking hundreds of acts from Florence & The Machine to Jake Bugg. Revo has also been involved in the development of Liverpool venues the Kazimier and the Masque/Arts Club artists such as Battles, Les Savy Fav, Andrew WK and The Brian Jonestown Massacre.
Yaw Owusu is the Creative Director of youth culture organisation URBEATZ, Director at creative solutions company the playmaker group and Nothin But The Music and the Music Curator for Liverpool International Music Festival. Yaw has worked with a number of world leading brands, organisations and artists including MTV, Nike, AEG, Sony, Universal Records, Jockey Club Live, BBC Radio 1/1Xtra, BET, Damian Marley and Wiley.
Simon Pursehouse heads up the sync department at Sentric Music, an indie publisher based in Liverpool who celebrate their tenth anniversary in 2016 and look after tens of thousands of songwriters. He's responsible for getting emerging artists' music used on TV/adverts/movies/games worldwide and has lived in Liverpool for twelve years now, so he says things Scouse like "go 'ed", but in a debilitatingly thick Yorkshire accent. He once accidently knocked over Chris Waddle's drink in McDonalds & is 'connected' to Chesney Hawkes on LinkedIn.
Simon Raymonde owns and runs the independent record label Bella Union. Prior to its creation in 1997, Simon was in a band called Cocteau Twins from 1983 to 1997 signed to 4AD Records. As well as his work with the Cocteau Twins, he also contributed to the first two albums by This Mortal Coil. Raymonde runs the Bella Union record label, and has signed artists including Flaming Lips, Fleet Foxes, The Walkmen, Explosions in the Sky, Midlake, John Grant, Dirty Three and Radiohead's Philip Selway. The label has won the coveted Independent Record Label of The Year here in UK in 2010, 2012 and 2014, as awarded by Music Week.
Chris Torpey, a self-confessed magazine geek, is editor of pink music monthly Bido Lito!, having been part of the publication since June 2010. Christopher can often be skulking in the shadows of gigs across Liverpool, and occasionally doing a passable impersonation of Franz Beckenbauer on the football pitch. Chilean drones, Brazilian beats, Acid Arab compilations, and the back catalogue of Blur and Beach Skulls make up his record collection, but he's always got his ear to the ground for something new.
Rich Walker hails from nearby Chester, is an avid Toffee, and is General Manager of esteemed label 4AD, home to Ariel Pink, Bon Iver, Daughter, Grimes and The National, with the likes of Cocteau Twins, Pixies and Throwing Muses before them. Rich started his musical career while studying at Manchester University, working for label Twisted Nerve, before moving to London for a digital job that turned out to be too good to be true. Starting as a music PR in 2001, Rich found himself a dream job at the almost peerless Beggars Group, working his way up from a regional plugger to Head of Press before moving to work full time for one of the Group's figurehead companies, 4AD, a label that inspired him to want to work in music in the first place.
Shell Zenner is a vintage dress wearing, cupcake making, vinyl junkie and new music obsessive. Living and breathing Manchester, Salford and the North West, she gets her kicks from obscure instruments, flea markets, festivals, gigs and digging around the back of venues for embryonic new talent she can showcase on her Amazing Radio show. She also writes, blogs and social networks and was rewarded with the award of 'Festival Blogger of the year' from the Association of Independent Festivals.
Related Links
http://www.getintothis.co.uk/2016/01/git-award-2016-judging-panel-revealed-ahead-buyers-club-launch-party/
---
Tags
get into this git award, music awards judging panel, merseyside liverpool music emerging bands artists, peter guy get into this,