Creative United & Music Venue Trust to launch new partnership 'The One, Two Project'
News: 11th August 2015 by Louise Dodgson under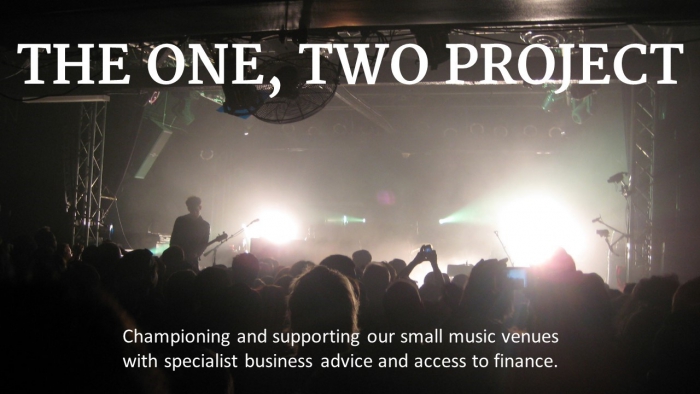 Creative United and the Music Venue Trust have announced a new partnership as an addition to the Trust's Grassroots Investor network to help support and develop the work of small music venues across the country.

Creative United's Creative Industry Finance programme has already supported over 90 creative enterprises since its England-wide launch in September 2014, and is supported by Arts Council England, in partnership with a stable of commercial, social and alternative finance providers.

Music Venue Trust advocates for the importance of Grassroots Music Venues (GMVs) for the wider music industry and for our towns and cities. Its mission is to protect and secure their future as vital incubators for cultural, economic and social activity within their local area, while campaigning to raise awareness of the increasing pressures on venue owners and managers from rising running costs, town centre developments and licencing.

Under the banner of The One, Two Project, Creative United and Music Venue Trust aim to deliver:
1) £40,000 worth of tailored, music venue focussed 1:1 guidance and workshops on business planning and skills development, and
2) Access to loan finance enabling music venues to invest in their buildings and businesses.

This bespoke project will be available exclusively to members of the Music Venues Alliance Trade Association, and delivered by Creative United's Creative Industry Finance team.
Beverley Whitrick, Strategic Director of the Music Venue Trust, said: "Through initiatives like The One, Two Project we aim to support Grassroots Music Venues in assessing how they currently run and how they can operate more efficiently, so they can continue to offer the creative community a place to experiment, develop, train and grow and offer audiences a better quality experience.
GMVs have suffered from years of under-investment so we are working to support skills development and assess what funds will be required to strengthen our vital small venues for their future contribution to the UK's cultural life. We are delighted that Creative United have become a Grassroots Investor and look forward to realising the benefits their experience will bring to venues around the country."
Creative United's Head of Business Lending Programmes, Sarah Thirtle, said: "Our small music venues are vital to the music industry's ecosystem, and play a crucial role providing platforms for new music, opportunities for talent development and hubs for the local community. They need to be supported, valued and championed.

Our research from the Creative Industry Finance pilot programme showed that getting business advice plus access to finance can increase a company's turnover as well as provide a catalyst to lever further investment. We are excited to be partnering with the Music Venue Trust. Together we can enable venue owners and promoters to strengthen their businesses so they can offer even more opportunities for new music talent and those that work in the industry."
The One, Two Project will launch fully in October 2015, to coincide with the next Venues Day event, and will be available to Music Venues Alliance Trade Association members only. The Creative Industry Finance programme is open to England-based companies and enterprises across the creative sectors which have been trading for at least 18 months.
Please email Tosin Adeniji on [email protected] with any media enquiries.
If you have any questions about Creative Industry Finance please contact [email protected].
For more information about Music Venue Trust please contact either Beverley Whitrick beve[email protected] or Mark Davyd [email protected].
Related Links
https://www.creativeindustryfinance.org.uk/discover/introducing-the-one-two-project
---
Tags
creative united, music venue trust, gig venues, live music, grassroots music venues, the one two project