Generator announce Music Futures Conference for 2015
News: 3rd July 2015 by Louise Dodgson under Artist Managers, Music Training & Careers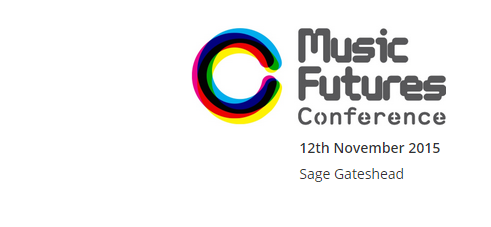 Already confirmed to be moved to the prestigious Sage Gateshead, Generator's Music Futures Conference is set to take place on Thursday 12th November 2015 and promises to be a must attend event for leading music industry execs and strategic thinkers that aim to shape the future of music business models.

Music Futures provides a platform to scan the horizons of one of the UK's best performing creative industries, it looks at where the longstanding and increasingly productive relationships between the tech world and global music industry players are developing.
We're delighted HMV and Musicians' Union are already confirmed as event sponsors.

Having delivered their most high profile event to date in 2014, Generator, the UK's leading music development agency is aiming to establish the Music Futures Conference as THE leading music industry conference in the UK.

As Jim Mawdsley, CEO of Generator explains, "We attend many music business conferences in the UK and while standards are high, none of them really dig into where our industry is going next. Things are literally changing on a daily basis and new players particularly from the more technology based sectors are getting involved. It is our intention with Music Futures to aim really high and ensure that some of the industry's leading players and experts in their fields share their latest thinking in the sector. This conference aims to become an international platform to establish where the industry is going next".

Music Futures looks to analyse trends and ask questions in all areas of the music industry such as how music drives technology, the vinyl revival, streaming and increasing revenue transparency, and where will the increasing influence of the tech companies eventually take us? Music Futures looks to where all of this may lead us to in terms of retail, distribution and consumptions models for the future.
To ensure this ambition is reached Generator have already confirmed some key delivery partners as well as having key conference advisers such as Tony Wadsworth on board who are all working on putting together a stellar line up of guest speakers with initial announcements at the end of July.

Early bird tickets are now available at £80.00 plus VAT until Friday 28th August from the website below. All attendees and speakers will be invited to a pre-conference reception on Wednesday 11th November at Sage Gateshead.
Related Links
---
Tags
music futures, generator, music business, music industry, music industry convention, music panels, music seminars