50% off tickets for Music Connected as programme & stellar speakers announced
News: 11th March 2015 by Louise Dodgson under Finance, Law & Music Business, Music Training & Careers, Record Labels, Selling & Distributing Your Music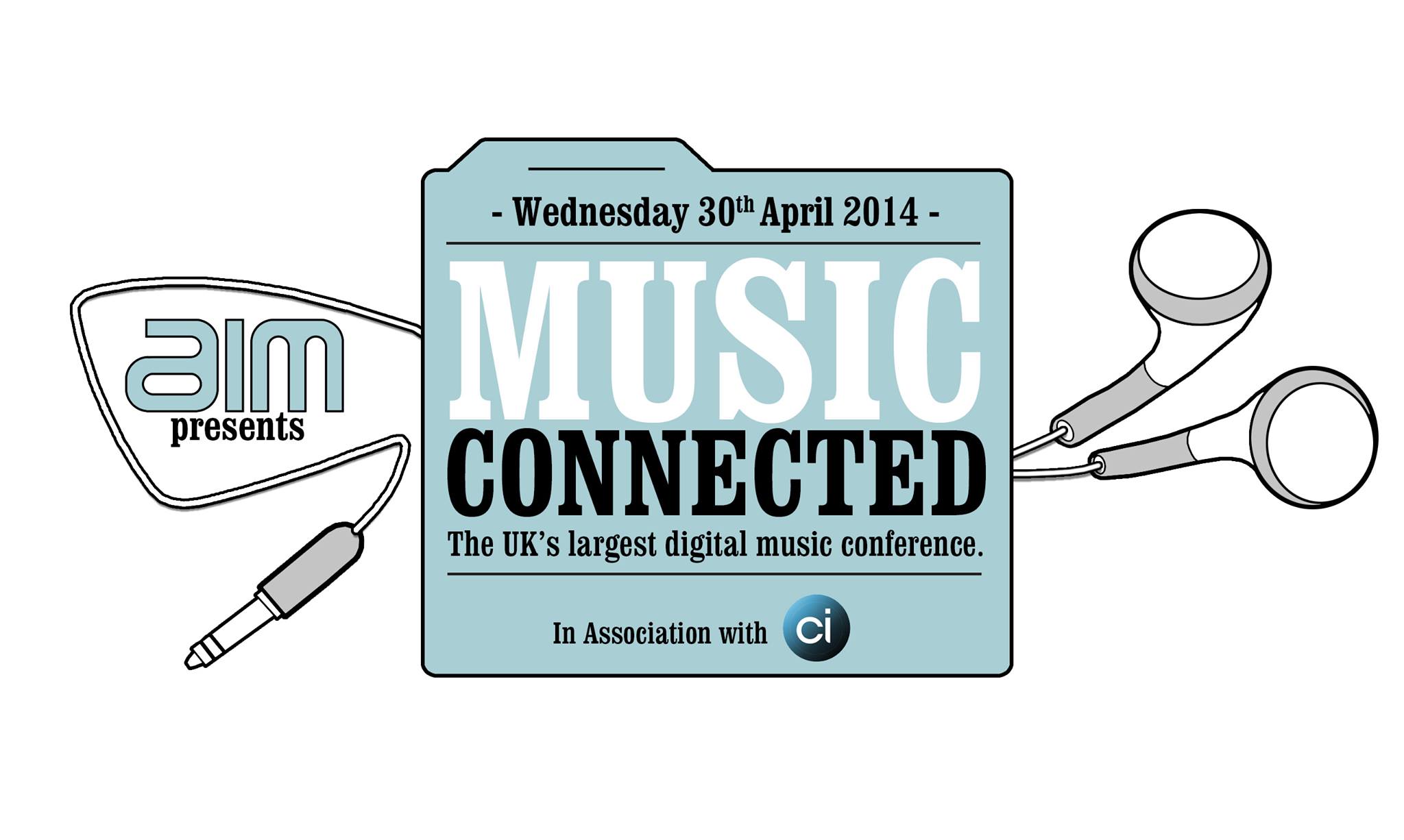 A host of senior music business figures have been confirmed for AIM's Music Connected event – the UK's largest digital music conference taking place on 9th April 2015 at London's Glaziers Hall. Members of The Unsigned Guide can get a brilliant 50% discount on tickets to the event by quoting code MCDEAL2015 at checkout.

The line up of speakers and conference sessions can now be announced, and includes:

- Welcome keynote from CI's General Manager Kieron Faller, sponsors of the event.

- Panel discussion "Setting Up Your Record In The Streaming Age", considering how you can balance promotional and commercial considerations and work out a strategy for your releases in the streaming age. Looking at issues including windowing, premieres and exclusives, and the different approaches that work best for different artists and genres. With speakers Matt Riley (AWAL/Kobalt Label Services), Grant Bussinger (Warp Records), Zena White (The Other Hand), Nicholas Rizzi (The Orchard) and Music Business Worldwide's Tim Ingham as chair.

- Panel discussion "Social Media Is Bullshit!" which considers the question: Are we placing too much importance on social media at the cost of other platforms and strategies? Motive Unknown's Darren Hemmings challenges some of the independent music industry's finest minds to prove their social media strategies work and ask some to outline alternatives they feel are being missed amid the focus on Facebook, Twitter et al. With Farhana Aboo (AEI Media), David Emery (Kobalt Label Services) and Will Grant (Domino).

- An exclusive digital marketing campaign case study presentation from Mute's Digital Marketing Manager Sarah Gasperi, detailing the 2014 campaign for Liars album 'Mess On A Mission'.

- Panel discussion "Has Streaming Created a New Set of Curators for Music Discovery?" will consider how with streaming becoming the dominant form of music consumption, playlists and their curators are now powerful gatekeepers in music discovery. A new artist on the right playlist can generate hundreds of thousands of streams, but how do you identify the playlists that matter and who are the key players in the content curation world? How do you work with key YouTube channels, blogs and Spotify playlisters to get your artists featured? How do you build a successful playlist of your own? Speakers include Jason Reed (Domino), Chris Stoneman (Spotify) and Karim Fanous (Music Ally).

- An exclusive presentation from MIDiA Research's Mark Mulligan entitled "Super Fan or Mondeo Man? Where Next For Streaming?" offers an analysis of the digital market in 2015 and beyond. How sustainable is a market built around the high spending music aficionados while the mass market turn to free streaming?

- Panel discussion "Pirates Get Paid, Do You?" With commercial pirates often earning vastly more from music than those who make it, we ask how this stark inequality can be redressed. How can you protect yourself from piracy to drive sales without spending money? How can you protect your artists, brand and social media channels? What new technology exists to give you advantage over the pirates? Is piracy ever helpful? How do pirates make their money? How has piracy changed and where is it heading? With speakers Ben Rush (Audiolock), John Giacobbi (Web Sheriff), Andy Chatterley (Muso), Judge Jules (Sheridans), Adam Morallee (Muso) and AIM's Charlie Phillips as Chair.

Plus, a breakout room will offer focussed workshop sessions for small groups. In addition to the packed conference programme, the Digital Market Place will offer stands hosted by a raft of top digital music companies.

Always a sell-out event, Music Connected has become the key date in the digital music industry calendar.

Digital companies already confirmed to participate include:
Absolute Marketing & Distribution, ADA, AEI Media, AudioLock, AudioSalad, AWAL, Believe Digital, BPI Anti Piracy Unit, CI, DDEX, Ditto Music, Finetunes, IMD Fastrax, Imi Mobile, Inflyte, INgrooves, Kobalt Label Services, Merlin, MIDIA Research, MixRadio, Motive Unknown, Music Ally, Muso, Phonofile, Plastic Head Media, PledgeMusic, PPL, Radar, Sentric Music, Sound Cloud, Spotify, Synchtank, The Orchard, The state51 Conspiracy, TuneTeams, Vevo, Web Sheriff. Many more to be added in coming weeks…

Tickets are selling out fast, with the following labels attending:
XL Recordings, CR2 Records, Hospital Records, One Little Indian, Warp Records, Cooking Vinyl, Wichita Recordings, Domino, Marathon Artists, Real World Records, The Leaf Label, Cherry Red Records, Rough Trade, Jalapeno Records, Visible Noise, earMUSIC, Jeepster Recordings, Exit Records, 4AD, Krafted Music Group, Mute and many more.

Tickets are now available. Book via the AIM website below. Don't forget members of The Unsigned Guide can claim 50% off tickets to the event by quoting code MCDEAL2015 at checkout.
Related Links
http://www.musicindie.com/musicconnected2015
---
Tags
aim event, association of independent music, music connected 2015, digital music, music industry conference, music business convention,