Unconvention brings day of music industry insight to Preston
News: 10th July 2014 by Louise Dodgson under Artist Managers, Music Training & Careers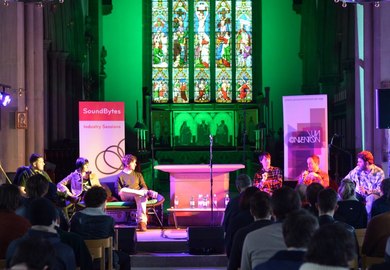 SoundBytes in conjunction with Un-Convention returns to Preston on Saturday 19th July 2014 for a day of panels and talks around independent music and creativity.

SoundBytes Un-Convention Preston 2014 will build on 2 previous events in the city, each of which saw nearly 200 local artists, promoters, labels, entrepreneurs and industry professionals gather together to discuss careers in music, how to get ahead in the live sector, and also ideas for the development of the local scene.

This year the event will again focus on opportunities for artists and independent music companies in the modern music landscape. The event aims to connect young and emerging practitioners with each other; to provide them with practical and achievable strategies; and to encourage them to work together to create and support cultural activities in the region.

It is a must for anyone looking to develop their career as either an artist or music professional. The day is free to attend and includes panels and performances, and will feature some of the most cutting edge artists and thinkers in the modern music industries.

Participants include The Heartbreaks, John Dawkins (manager, The Enemy / The Twang), Mike Burgess (HeavyFeet), Louis Barabbas (Debt Records), Laura Kidd (She Makes War), Chris Cooke (CMU Daily), James Cook (Delphic), Danny Wareing (Right On Music), Aniff Akinola, Aziz Ibrahim, Andy Kelham (Music Journalist), Julie E Gordon, Becca Williams, Dave Haslam (Author, Journalist, DJ), Matt Evans (Cloudspotting Festival), Nigel Stewart (Leyland Live), Andy Oliver plus more to be announced.

There will also be acoustic performances throughout the day. This year's event takes place at St John's Minister, Church Street Preston and will run from 11.30am until 6pm. Places are limited, and in high demand, so please only register if you can attend this event.
For more information contact [email protected]. Tickets can be booked via the links below.
Related Links
http://www.unconventionhub.org
https://www.eventbrite.com/e/soundbytes-un-convention-preston-tickets-8147568597
---
Tags
unconvention preston, #uncon63, jeff thompson, ruth daniel, music industry panels, music business masterclass, unsigned bands, emerging bands, unsigned musicians, emerging musicians