Support the independent festivals!
News: 15th July 2013 by Louise Dodgson under Live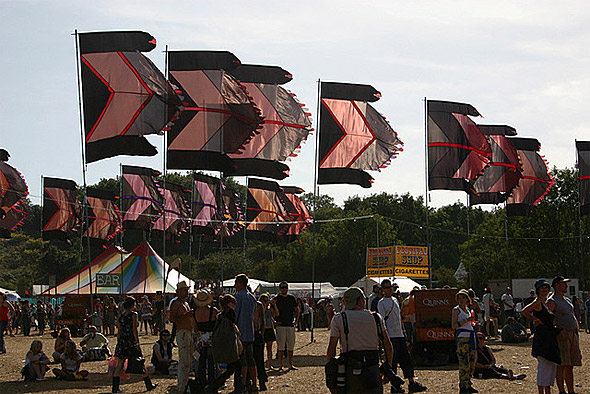 Voting opens today for the Golden Welly Award for Best Independent Festival at the AIM Independent Music Awards.
Music fans can vote for the Best Independent Festival from a list of 14 festivals, all members of UK independent festivals association AIF. The Golden Welly Award category is supported by music magazine and website DIY, and music fans can vote for their favourite independent festival until 29th July via the website link below.
One lucky voter will be selected at random to win guest tickets to the winning festival in 2014.
The independent festivals battling it out for the Golden Welly Award include: Bestival, Brownstock, Cornbury Festival, Green Man Festival, Hebridean Celtic Festival, In The Woods, Larmer Tree Festival, Leefest, Nozstock: The Hidden Valley Festival, Meltdown Festival, Truck Festival, Wakestock, Yep Roc 15 and Y Not Festival.
Voting is weighted according to each festival's capacity, giving festivals of any size equal chance to clinch the prize. Last year's winner was Leefest.
AIM Awards organiser, Lara Baker commented: "The festivals nominated in this year's Golden Welly Award represent the diversity and brilliance of UK festivals. Large and small, they all offer something special and are organised by passionate teams of people. We wish them all luck!"
Voting closes on 29th July 2013, with final nominees announced shortly afterwards. Winners will be revealed at the AIM Awards ceremony in London on 3rd September.
About AIM
AIM is a not-for-profit trade body established in 1999 to represent the UK independent music industry. Now in its 14th year, AIM acts for over 90% of the independent market, with over 800 members from small start-ups to the largest and most respected independents in the world. AIM promotes this exciting and diverse sector globally, leveraging the sector's power as a fourth major to enable its members to grow, grasp new opportunities and break into new markets.
In addition to the crucial role AIM plays in advocacy and lobbying for the independent sector, AIM makes a daily difference to the businesses of members by providing advice, training and business support to ensure members have the knowledge, skills and contacts needed to succeed.
AIM oversees an independent sector whose artists have delivered seven Mercury Prize winners in the last 10 years, a figure which underlines once again the sector's continuing role and importance in launching Britain's most ground-breaking artists.
Artists signed to AIM member labels include: Adele, Alabama Shakes, Arctic Monkeys, Basement Jaxx, Beach House, Big Pink, Billy Bragg, Bjork, Bloc Party, Bon Iver, Bring Me The Horizon, British Sea Power, Cancer Bats, Coldcut, The Cribs, Darwin Deez, David Lynch, First Aid Kit, Fleet Foxes, Frank Turner, Franz Ferdinand, Friendly Fires, The Futureheads, Grizzly Bear, Hot Chip, The Horrors, Jack White, James Vincent McMorrow, Jarvis Cocker, Jose Gonzalez, Justice, Katie Melua, M.I.A., Madness, Marilyn Manson, Maximo Park, Mr. Scruff, The National, Nitin Sawnhey, The Prodigy, Radiohead, Reverend And The Makers, Rodrigo Y Gabriela, Roots Manuva, Royksopp, Seasick Steve, The Strokes, Sufjan Stevens, Underworld, Vampire Weekend, Villagers, Warpaint, The White Stripes, Wild Beasts, The XX, Young Guns and thousands of others.
Related Links
http://www.thisisfakediy.co.uk/aimawards
http://www.musicindie.com/awards
---
Tags
music festivals, live events, independent festivals, aim independent music awards, association of independent music