T In The Park open for unsigned submissions
News: 4th March 2013 by Louise Dodgson under Live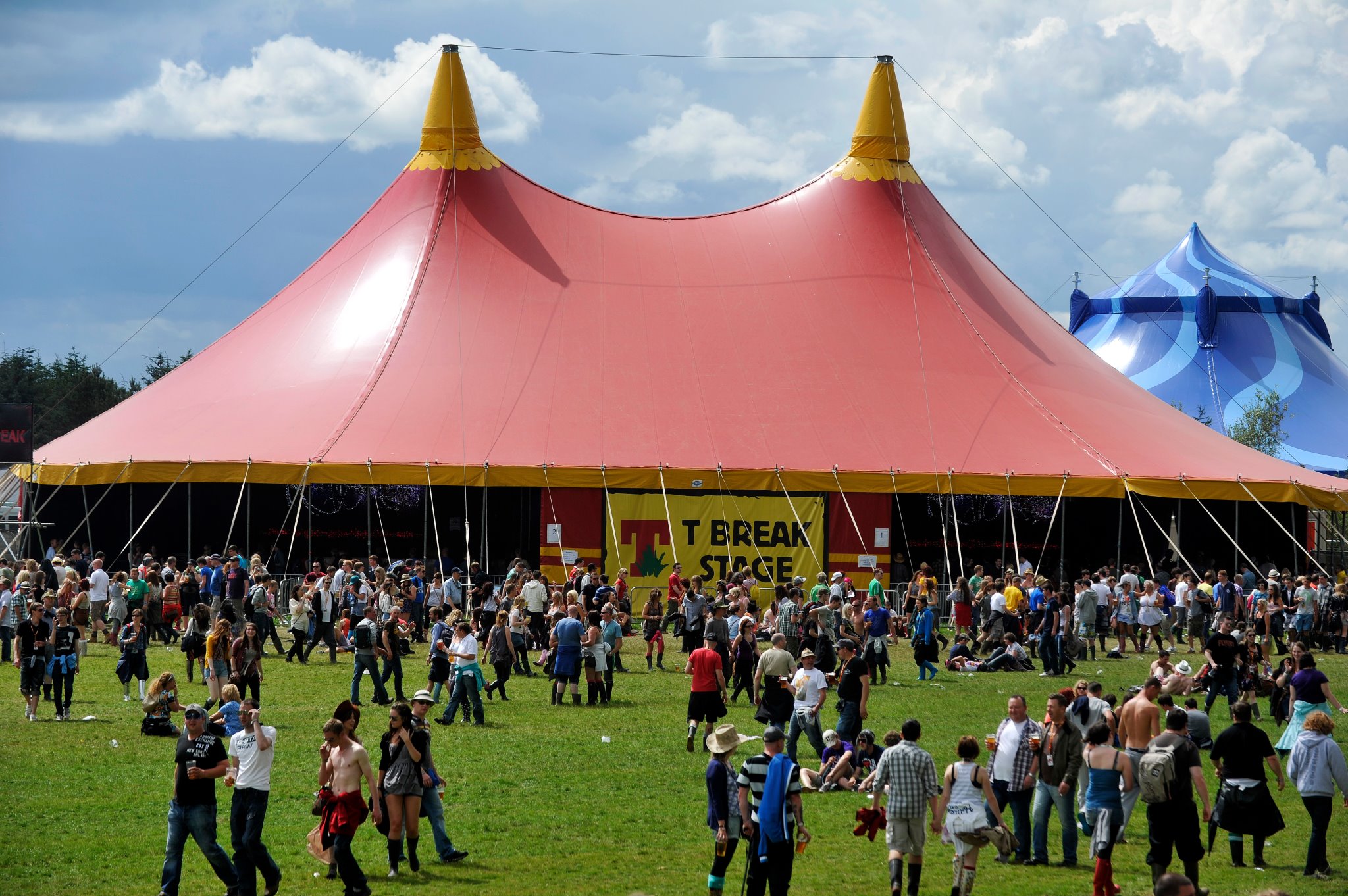 Tennent's Lager's nationwide search for Scotland's freshest unsigned musical talent begins with the launch of T Break 2013. Since 1996 Tennent's have given Scotland's top unsigned acts the chance to play the legendary T Break Stage at T in the Park. As from today, bands and solo acts from across the country can submit their demos for the chance to take to the stage at T in the Park's 20th year celebrations.
Tennent's passionately believe in supporting Scotland's grassroots music scene and T Break offers acts an unrivalled opportunity to showcase their material to music industry experts and fans on the biggest platform for emerging talent at T in the Park – the T Break Stage.
The T Break judging panel is made up of 14 of Scotland's most influential music industry experts including promoters, bookers, artist managers, music business academics and members of the media. This team of music aficionados will listen to every demo before handpicking the acts to go on and play the T Break Stage over the 12th–14th July.
George Kyle, Head of Sponsorship at Tennent's Lager, said: "Year after year we see a huge amount of Scottish talent coming through T Break. It's no secret that we have a vibrant grassroots music scene in Scotland; something Tennent's believe should be celebrated, encouraged and supported. T Break achieves this through providing artists with a platform on the T Break Stage at T in the Park and through the industry exposure the bands gain throughout the whole T Break experience. We can't wait to hear from bands this year and to see who will be playing the T Break Stage at T in the Park's 20th year."
Dave McGeachan from T in the Park festival organisers DF Concerts, sits on the judging panel. He said: "Every year the other judges and I are bowled over by the amount of fantastic demos submitted to T Break and whittling it down to the final 16 is always a huge challenge. There is always a special buzz at the T Break Stage, a kind of anticipation in the air that you could be about to witness something really special. T Break is an invaluable asset to Scotland's grassroots music scene and something I'm always extremely proud to be part of."
T Break 2012 acts Anderson, McGinty, Webster, Ward and Fisher and Brown Bear and the Bandits were named as two of The Scottish Sun's, 'Magnificent Seven – Scots acts set to be massive in 2013'. Anderson, McGinty, Webster, Ward and Fisher have also featured in the soundtrack to a nationwide advertising campaign for Caledonia Best and have been nominated for Best New Scottish band at the Scottish Variety Awards 2013.
Anderson, McGinty, Webster, Ward and Fisher, T Break 2012 band, said: "The experience was invaluable. I suppose when people think you're good enough to play among the biggest names in the industry you can't help but feel good about what you're doing. It's wonderful to be sighted among the most exciting up and coming bands of the moment so keep it up T Break! There are plenty of up and coming Scottish acts deserving of their day on the T Break Stage."
Not only does T Break provide bands with a huge platform to showcase their talent, it also continues to support bands long after they have played the T Break Stage. For example, previous T Break band Fatherson recently played T in the Park's 20th year launch event in Glasgow's SWG3 and former T Break band The LaFontaines provided the foot-stomping soundtrack to T in the Park 2013's launch video.
T Break is open to musicians of all genres and each year attracts talented acts from across the musical spectrum. To get involved entrants must be 18 or over, live in Scotland, and must be currently unsigned – full details on how to submit demos is available on www.facebook.com/TennentsTBreak and www.tennents.com/tbreak and entries must be submitted before the deadline of midnight on Friday 29th March.
Tennent's will announce the T Break Stage line-up in May.
About T Break
T Break was launched by Tennent's in 1996 and has been uncovering Scotland's freshest unsigned talent and giving them a platform to showcase their music on the T Break Stage at T in the Park ever since.
Each year, 16 bands are hand-picked from over a thousand entries by a panel of Scotland's industry experts and given the chance to play the T Break Stage at T in the Park, the place to catch Scotland's best new music.
T Break 2013 – key dates
• March 1st – annual call for demos
• March 29th – demo entry closes at midnight
• Early May – judging sessions take place
• Mid May– 16 bands selected to play the T Break Stage at T in the Park are announced
• July 12th -14th – T Break Stage at T in the Park
Related Links
http://www.tennents.com/tbreak
http://www.facebook.com/TennentsTBreak
---
Tags
t in the park, tbreak, tennents lager, unsigned bands, unsigned artists, festival slots, unsigned festival stage