Wall Of Sound returns with 'New Ways To Make It In The Music Industry' event
News: 16th November 2012 by Louise Dodgson under Artist Managers, Finance, Law & Music Business, Music Publishing, Music Training & Careers, Record Labels, Selling & Distributing Your Music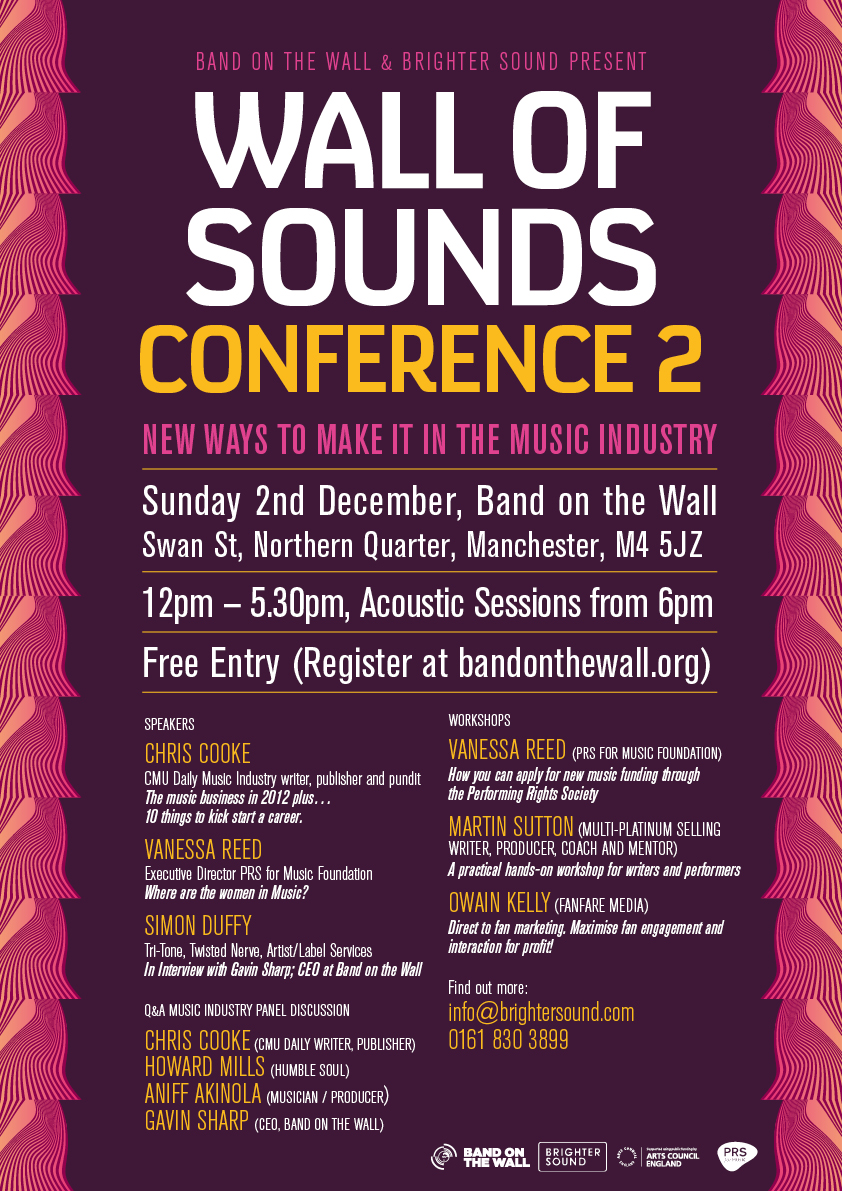 Wall of Sounds Conference is aimed at young, emerging and mid-career musicians who want to learn about how to become a creative entrepreneur and follow an independent career path in what is increasingly becoming a DIY industry. The sessions, including speakers, panel discussions and satellite workshops are led by established and successful industry professionals and musicians.
Supporting organisations will also be present to offer information advice and guidance over the course of the afternoon. So let's take a look at who and what is on the agenda:
Wall of Sounds Conference 2: New Ways To Make It In The Music Industry
Band on the Wall, 25 Swan St Manchester, M4 5JZ
Sunday 2nd December 2012, 11.30am-5.30pm
Acoustic Sessions from 6pm
FREE ENTRY
Band on the Wall and Brighter Sound presents The Wall of Sounds Conference 2. A free half-day event for musicians who want to find out about new ways to make it in the music industry plus our regular live performances in the evening from Sunday Acoustic Sessions. Conference passes and evening performances are completely free!
Band on the Wall and Brighter Sound are proud to present our second conference featuring speaker presentations, panels and workshops from experts working in today's industry. The event will be a great opportunity to network and meet experienced professionals, share knowledge and expertise, and find out about supporting organisations that can all provide insights into making a living from music on your own terms.
Tickets include entry to our Sunday Acoustic Sessions open night in the Picturehouse Bar from 6pm.
SPEAKERS
Chris Cooke: CMU Daily, music writer, publisher and pundit.
The music business in 2012 plus… 10 ways to kick start a career.
An overview of where we are now and the 10 things you need to know to build the foundations of a musical career.
Vanessa Reed: Executive Director PRS for Music Foundation.
Where are the women in Music?
Raising the profile of female artists in the music industry.
Simon Duffy: Tri-Tone, Twisted Nerve, Badly Drawn Boy. Artist/Label Services (Publishing, Recordings, Management)
In interview with Gavin Sharp, CEO at Band on the Wall.
PANEL DISCUSSION
Q&A Panel Discussion with Chris Cooke (CMU), Howard Mills (Humble Soul), Anif Akinola (Musician and Producer) and Gavin Sharp (CEO Band on the Wall)
SATELLITE WORKSHOPS*
* Spaces for workshops limited and will be allocated on a first-come basis on the day so get down early if you want a place!
Vanessa Reed: PRSF
PRS for Music Foundation
How to apply for new music funding through the Performing Rights Society
Martin Sutton: Multi-platinum selling writer, producer, coach and mentor.
A practical hands-on workshop for writers and performers
Owain Kelly: Fanfare Media.
Direct to fan marketing. Maximise fan engagement and interaction for profit!
Related Links
http://bandonthewall.org/events/3747/
---
Tags
wall of sound, band on the wall, brighter sound, New Ways To Make It In The Music Industry, music industry event, music industry conference, unsigned bands, unsigned artists