Win free studio time at CottonMouthStudios
News: 15th November 2012 by Louise Dodgson under Recording & Production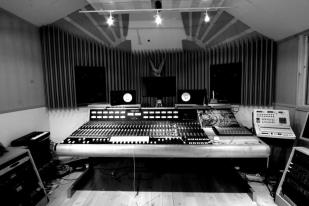 CottonMouthStudios has finally opened its doors to unsigned bookings. The last 8 years have been the reserve of freelance producers & engineers, but now this analogue recording studio in the heart of Salford are taking bookings from all artists; commercial and unsigned.

To celebrate, there are some offers available right now including free recording, mixing and mastering for competition winners and half-price sessions, to help push the commercial value of releasing a single at a time.

Recording with an experienced in-house engineer, you will track into vintage microphones, through the lovely Trident mixing desk (shipped over by legendary Kurt Ballou from Godcity Studios in Massachusetts) and straight into 24 track tape. And with a selection of live recording spaces, and a full Pro Tools HD rig for those critical edits, every eventuality has been catered for.

If you're thinking about getting in the studio anytime soon, take a look and see what CottonMouthStudios and what it can do for your sound.

Free Studio Time & The Singles Sessions
Here's a chance to record your next single for next to nothing. This is how:

#1 – Secret Santa Competition
Throughout December cottonmouthstudios.com are giving free studio time to 4 lucky bands/artists in which to cut their next single.

You'll get a day's session to cut a single of your choice. So it's the perfect opportunity to record a taster of what you're about.
The song will be recorded live, all musicians in session at once; with your track being mixed in-house before being professionally mastered at
Philosophers Barn Mastering
by the legendry Eric James.
To get in on the action, register through the big blue button on the CottonMouthStudios website.

Winners will be picked at random and announced through the CottonMouthStudios Facebook Page every Tuesday of December, with recording taking place in January. Register at
www.cottonmouthstudios.com/secret-santa
for full details.
#2 – The Singles Sessions
For those who don't win a free session, it's not all doom & gloom, in fact it's sunshine & cider as The Singles Sessions are being done at half price throughout January.

Breaking away from the illusion that value for money is trying to cram half a dozen tracks into a recording session, CottonMouthStudios are going back to recording roots, and concentrating on a single at a time. Usual studio price is £230 a day; however The Singles Sessions are JUST £100 per day.

The deal is that you don't try to get 5 tracks into the session, but concentrate on getting a single the best it can be. You really only have one chance to impress on social media these days. So maybe it's worth thinking - quality, not quantity?
Related Links
http://www.cottonmouthstudios.com
---
Tags
cottonmouthstudios, cotton mouth studios, demo recording, ep recording, recording studio, unsigned bands, unsigned artists