Guest speakers announced for Music Futures free event
News: 29th October 2012 by Louise Dodgson under Artist Managers, Creative & Branding, Finance, Law & Music Business, Live, Media, Music Publishing, Music Training & Careers, Record Labels, Recording & Production, Selling & Distributing Your Music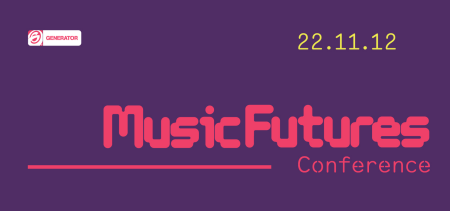 Music industry descends on Newcastle for a full day of pioneering panels, keynotes and conversations around digital developments, future models and opportunities for innovative music businesses.
Thursday 22nd November 2012, 10am-6pm
Live Theatre, Broad Chare, Newcastle Quayside
Music Futures, the North East music industry conference that brings together the most innovative minds in the music industry, is returning to Newcastle's Live Theatre on Thursday 22nd November 2012 for another day of trailblazing industry insight and expertise.
Guest Speakers include:
•
Jeannette Lee – Rough Trade (The Smiths/Arcade Fire)
•
Tony Wadsworth – BPI Chairman and former Chairman of EMI Music UK
•
Martin Goldschmidt – Cooking Vinyl (Prodigy/Marilyn Manson)
•
Nick Detnon – Manager, Dizzee Rascal
•
Alison Wenham – AIM Chairman and CEO
•
Mike Smith – Mercury Records (Chase and Status / Jake Bugg)
•
Mark Wood – Manager, Imogen Heap
•
Steve Levine – Producer (Beach Boys/Culture Club) / PPL
•
Alex Bean – 679 Recordings & Artists (Plan B / Little Boots / The Streets)
•
Tom Campion – Universal Music
•
Debs Wild - Coldplay.com
•
Alex Branson – InGrooves Fontana
•
Paul Barton – Pledge Music
•
Simon Pursehouse – Sentric Music
•
Ian Rendall – Fairbanks Endorsements / Trashed Management
•
Stuart Fleming – PRS for Music
•
Stephen O'Reilly – Mobile Roadie
Key themes for the day will focus on exploiting your music across all the latest platforms, covering Future Revenue Streams, Future Artist Label Relations/Fan Funding, The Increasing Influence of Music Producers, and Crowd Sourcing and Fan Engagement. Alongside a full day of panel events, a Keynote speech by CEO of AIM, Alison Wenham, a special 'In Conversation' with BPI Chairman, Tony Wadsworth and co-owner of Rough Trade, Jeannette Lee, Music Futures offers the perfect opportunity to network to meet like-minded businesses and individuals.
Generator have programmed representatives from major and independent labels, publishers and management companies, along with key players from the world of Fan Funding, Crowd Sourcing, App Development and Brand Partnerships to deliver a comprehensive pool of knowledge to our delegates.
This conference is a unique opportunity for delegates to:
•
Understand how the music business is adapting to change
•
Keep ahead of digital music industry developments and new technologies
•
Network with established national and regional music businesses
•
Meet representatives from key trade associations
•
Develop new strategies for generating revenue
•
Seize new opportunities in the independent music sector
Significance
Unlike any other music conference, Music Futures, places digital innovation at the forefront of discussions, focusing on the needs of creators and music business SMEs in the digital age.
Keynotes and panels throughout the day have a business support context and an abundance of networking opportunities offering delegates an opportunity to promote their business to other businesses directly. The strength of the speakers and delegates attracted to the conference is testament to its significance, to both the regional and national music industry.
Music Futures is FREE to established and pre-start businesses based in the north east of England. To check your eligibility and for more information on Music Futures, see the website below.
Related Links
---
Tags
music futures, generator, music development agency, music industry, music business