Innovation combines with experience at the Summit
News: 28th September 2012 by Louise Dodgson under Finance, Law & Music Business, Live, Music Training & Careers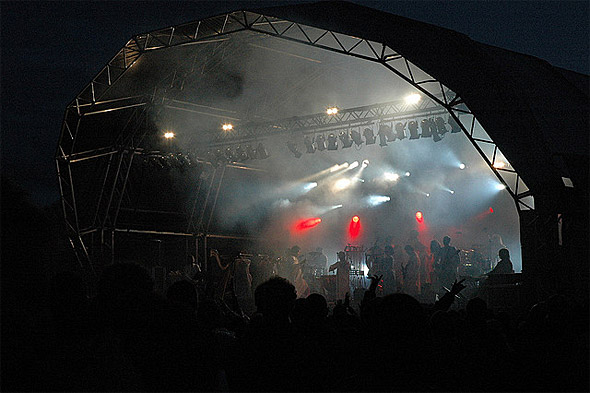 While the theme of The Next Generation runs through October's LIVE UK Summit conference and networking event, there will still be a strong presence from some of the industry's top players.
Speakers confirmed include John Giddings, Isle of Wight Festival founder and head of Solo Agency – whose clients include Madonna, the Rolling Stones, U2 and Genesis; AEG Live president of international Rob Hallett – whose touring acts include Bon Jovi and Leonard Cohen; Florence & The Machine, Red Hot Chili Peppers and Katy Perry agent Emma Banks from CAA; and Live Nation Entertainment chief operating officer and head of festivals John Probyn.
Also contributing will be Coldplay and Snow Patrol agent Steve Strange of X-ray Touring and Geoff Meall of The Agency Group, who represents Muse and Paramore.
"This Summit is going to be a stimulating mix of veteran experience and the latest ideas and technology for making live music events successful" says Summit producer and LIVE UK managing editor Steve Parker.
"What makes the live industry so exciting is that it's in a constant state of flux."
Conference sessions such as Computer Says Yes will explore the wide range of tools that facilitate fanbase building, show marketing, targeted ticketing and online merchandising.
Other sessions will cover topics such as the boom in live show streaming, brand investment in events and artistes, the media's continuing love of festivals and how artiste managers are holding onto an ever-more complex business model.
Now in its sixth year, the Summit takes place on 9-10 October at the Radisson Blu Portman Hotel in London's West End, and includes a networking Thames Cruise on the evening of 9 October. The event culminates on 10 October with the Live Music Business Awards, held at the same venue.
Reduced rate Summit registration is available at £245 plus VAT, a saving of £50 on the full rate. The event culminates on 10 October with the Live Music Business Awards, held at the same venue. Tickets are available, with substantial discounts for Summit delegates, via the Live Music Awards link below.
About LIVE UK Summit
The conference and networking event brings together a broad spectrum of live music-associated companies and individuals, giving them the opportunity to share insights and debate topical issues. The annual event offers excellent networking opportunities with promoters, artiste managers, agents and festival organisers as well as executives from media (radio, TV and print) and marketing companies.
Conference sessions include:
The Social Beast - One Direction sold out nine 2013 dates at The O2 – more than 150,000 tickets – via social networks alone. How socially active are you?
Masters of the Universe - Top agents and international promoters explain how they help to open new markets, develop acts' careers and maintain sustainability within the live sector
The Music Chamber - Roundtable discussion between politicians and business leaders on key issues facing the live music industry.
Fight For Fairness - Following the revelations in Channel 4's Dispatches: The Great Ticket Scandal and the Daily Mirror's recent exposé of underhand ticketing practices, this panel reflects the views of a broadly-based movement emerging to stem the tide of touting and ticketing abuses.
Meet The Agents - International operators and emerging booking agents, discuss how an act gets started, the process of growth from clubs through festivals to arenas, how to break globally and how to make it last.
Captive Audiences - This panel focuses on the fan, the source of 90+ per cent of the live music industry's revenue. Is enough being done to retain their loyalty?
Maximum Exposure - Is the media simply meeting consumer demand for live music or helping to create it?
Headline speakers include:
John Giddings, founder of the Isle of Wight Festival and agent for Madonna, the Rolling Stones, U2, David Bowie and Genesis, at Solo Agency
Rob Hallett, president of International at AEG Live, whose touring acts include Bon Jovi and Leonard Cohen)
Steve Strange, agent for Coldplay, Eminem and Snow Patrol, at X-ray Touring
Phil Bowdery, President of International Touring at Live Nation Entertainment
Emma Banks, agent for Florence and the Machine, Red Hot Chili Peppers and Katy Perry, at CAA
Geoff Meall, agent for Muse and Managing Director of The Agency Group
John Probyn, Chief Operating Officer and Head of Festivals at Live Nation Entertainment (Download, Hyde Park Calling, Wireless Festival)
Other speakers include:
Joe Porn – Music Glue, Jon McIldowie - MAMA Festivals, Mike Weatherley MP, Sharon Hodgson MP, Craig Massey - Last Second Tickets, Oliver White - DAM Good Media, Nicholas Bryer – Oxjam, Ralph Broadbent - Y-Not Festival, Jamie Emsell – Communion, Brigitte Ricou-Bellan – StubHub, Tony Moore – The Bedford Ruth Barlow – Beggars Group, Noel Edwards – CrowdSurge, Seth Jackson – PIAS Media, Suzanne Bull – Attitude is Everything.
Related Links
http://www.livemusicawards.co.uk
---
Tags
live uk, live uk summit, music industry event, music business conference, live music, audience magazine,