The future's bright for North East music
News: 21st May 2012 by Louise Dodgson under Artist Managers, Media, Music Publishing, Music Training & Careers, Record Labels, Selling & Distributing Your Music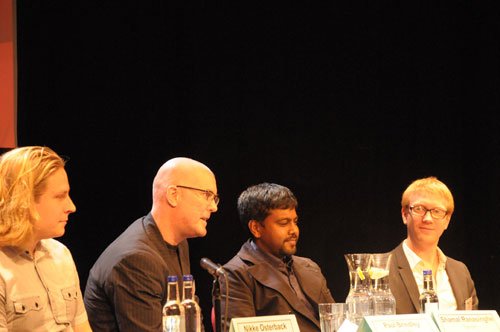 Thursday 28th June: Future of Record Labels
Thursday 5th July: Future of Music Publishing
Thursday 12th July: Future of Dance Music Marketing
Thursday 19th July: Future of Broadcast (powered by Transmission)
'Music Futures Series' is Generator's new music business panel programme, giving regional musicians and businesses the chance to pick the brains of some of the industry's leading figures like Simon Raymonde (Bella Union) and Caroline Elleray (Universal Music).
Featuring a series of weekly panels, running from Thursday 28th June to Thursday 19th July at Newcastle's Live Theatre, industry experts will give their unique insight into the future of record labels, publishing, marketing and broadcasting. The panels will demonstrate how regional artists and music businesses can take advantage of the latest industry developments and use them to create new platforms and sources of income.
The first event in the Music Futures Series will focus on the future of record labels, looking at how the relationship between artist and label is changing. The lines that separate record label, manager, promoter and artist are becoming increasingly blurred, creating new opportunities to succeed in the thriving independent sector.
The expert panel includes Simon Raymonde, co-founder of independent label Bella Union who have enjoyed recent success with Fleet Foxes and Newcastle band Lanterns on the Lake. Simon and bandmate Robin Guthrie started the label in 1997 to release their music with Cocteau Twins. Now in it's fifteenth year Bella Union is one of the most respected independent labels in the UK.
Also on the panel is Jamie Emsell, MD of the hugely successful Communion which was co-founded by Ben Lovett (Mumford and Sons) in 2006 and has quickly grown into a flourishing community of musicians and fans, providing an independent platform for the freshest artists on the circuit, such as Ben Howard who is managed by Tynemouth's Owain Davies. The Communion brand now includes a label and a live scene throughout the UK.
Making up the panel are Julie Weir from independent heavy rock label Visible Noise which is home to bands such as Lostprophets and Bullet For My Valentine and Grania Howard from Luv Luv Luv, the management team behind Florence and the Machine who have branched out into releasing records.
The following week on 5th July attention shifts to music publishing, which is now considered by some more important to an artist's career than getting a record deal. Panelists will discuss how songwriters and musicians can generate income from their songs in the new music industry.
Giving their insight here are Caroline Elleray of Universal Music, who signed publishing deals with Coldplay and Keane; Ryan Farley of Warner Chappell; Steve Farris of Polar Patrol, a publishing company set up by the band Snow Patrol and Helen Gammons CEO of Sync in the City and author of 'The Art of Music Publishing'.
The third event will provide a departure into the world of dance music marketing and club promotion. The panel will discuss their experiences of what it takes to create a buzz on a track; how producers and DJs get their new tracks on the radar and how to break a new artist.
This panel of dance music specialist includes Steven Braines who hails from Sunderland and is the manager of rising house music star, Maya Jane Coles; Aaron Ross of Defected Records (Bob Sinclar / The Shapeshifters); Tracey Webb of Power Promotions (David Guetta / Calvin Harris); Neil Bainbridge of Kish Communications and James Vorres from online dance music retailer Juno Download.
The fourth and final event in the Music Futures Series will focus on broadcasting which forms part of Generator's ongoing Transmission project, supported by the Heritage Lottery Fund that looks at the past, present and future of music broadcasting. Guest speakers here will examine the shifting shape of broadcasting in the UK and the opportunities it presents for artists, labels and managers to stay ahead of the game.
Sitting on the broadcast panel are XFM presenter John Kennedy; Ruth Barnes from Amazing Radio; Georgia Lewis Anderson, presenter at SB.TV and Nico Perez, creative director and co-founder of on demand radio platform Mixcloud.
Music Futures Series events are FREE but places are limited and advance booking is essential. For more information and to book your place please visit: www.musicfutures.info
Music Futures Series is part of Generator's Building the Business of Music project. The Building the Business of Music project is part financed by the European Regional Development Fund (ERDF), managed by the Department for Communities and Local Government, securing £822,347 ERDF investment.
The ERDF Competitiveness Programme 2007-2013 is bringing over £300m into the North East to support innovation, enterprise and business support across the region and will help create and safeguard 28,000 new jobs, start 3,000 new businesses and increase the region's productivity by £1.1bn per annum.
The project will make a major contribution to the ambition of the ERDF Competitiveness Programme 2007-2013 by increasing the numbers and survival of business start ups in the region and increasing business productivity.
For booking and more information please visit the website below.
Related Links
---
Tags
music futures, generator, music industry, music business, music industry workshop, music business panels, bella union, universal music