Independent Label Market returns for second year
News: 2nd May 2012 by Louise Dodgson under Finance, Law & Music Business, Record Labels, Selling & Distributing Your Music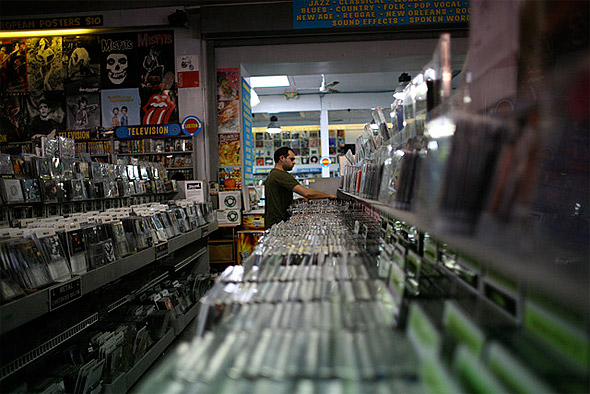 Independent Label Market is proud to announce an official partnership with AIM for a second year running. In December last year, AIM supported Independent Label Market's special Christmas event, which was a benefit event for labels who lost their stock in the PIAS/Sony warehouse fire earlier this year.
"AIM is thrilled to be supporting the next Independent Label Market at Spitalfields. As Record Store Day has shown, there is huge potential for fans, record shops and labels to meet up and celebrate great music. The next Independent Label Market has the potential to follow suit and become an annual fixture for music fans; a unique opportunity to purchase music directly from the people who made it". Alison Wenham (founder and CEO of AIM)
Independent Label Market are excited to welcome back XL, Ninja Tune and Sonic Cathedral, along with Wichita, Full Time Hobby, Fire Records and Lanark Records all making their market debut. Richard King, independent label biographer, will be hosting a stall where fans can pick up a signed copy of his latest book 'How Soon Is Now?'
Since launching on Berwick Street in May 2011, Independent Label Market has brought together the founders of some the World's greatest Independent Record Labels on both sides of the Atlantic to sell their fresh vinyl produce directly to the public at that traditional goods exchange – a market stall.
The heads of these labels will be manning the booths, selling their own products—new, catalog, rarities—at this unique and intimate new format for record-buying.
As the music industry embraces mp3s and a more digital strategy, Independent Label Market is proving to be an valuable reminder of how music retail can be a social affair; people hanging out together as a community and buying records.
"This turned out to be the surprise most fun and satisfying event of the year so far. With the atmosphere of the best festival and a real sense of heart and purpose this simple but effective idea seemed to hit the nail on the head when it came to ideas about how the music industry might actually be able to start re-igniting the imaginations of the British buying public again." Stephen Bass, Moshi Moshi
"The sight of Laurence Bell in his "Domino" boilersuit, there at 8:30am, also hammering bits of metal together to create the stall, was re-assuring, and the day just got better and better. Love was all around. Special moments were in abundance. People love to buy music when they can see it and touch it like that. No question it should be a regular event." Simon Raymonde, Bella Union
Record labels participating:
Angular, Because, Bella Union, Borstal Beat, Chess Club, Critical Heights, Domino, Double Denim, Fabric, Fat Cat, Fire Records, Fortuna Pop!, Full Time Hobby, Heavenly, House Anxiety, How Soon Is Now?" (book stall), Lanark Records, Lucky Number, Mais Um Discos, Moshi Moshi, Ninja Tune, One Little Indian, Phantasy Sound, Proville, Roundtable, R&S, Sonic Cathedral, Soundway, Stolen Recordings, Sunday Best, Transgressive, Tri Angle, Warp, Wichita, XL
Related Links
http://www.recordoftheday.com/news-and-press/article.php?contentID=2006
http://independentlabelmarket.tumblr.com/
http://www.musicindie.com/home
https://www.facebook.com/independentlabelmarket
http://www.twitter.com/IndieLabelMkt
---
Tags
independent label market, aim, association of independent music, independent record labels, record companies, music sales, record sales