Calling bands, artists & aspiring promoters! London's Roundhouse wants you!
News: 18th April 2012 by Louise Dodgson under Live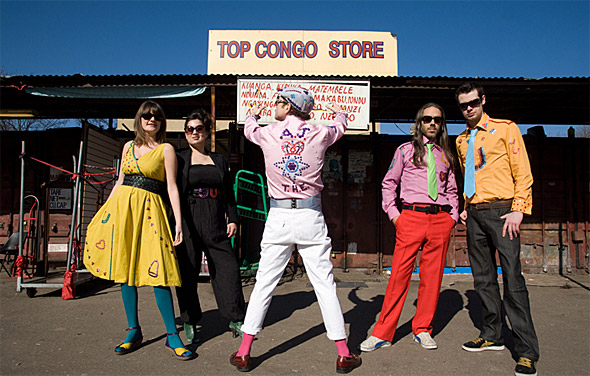 Fresh from a sold-out Roundhouse Rising Festival in February, the Roundhouse are expanding their emerging talent arm into a new monthly event, Rising Presents, which will see young up-and coming programmers and artists come together to present eclectic events on a monthly basis, culminating in the Roundhouse Rising Festival in February 2013.
The first event, Kiss My Teeth on Thursday 3rd May has been programmed by London based DJ/Producer Dizzietron, who has spent the last 3 years pioneering the African music scene in the UK. Joining her on the bill are afropop party machine AJ Holmes & the Hackney Empire, Azonto pioneer Fuse ODG, East London duo Hipsters Don't Dance, Kiss My Teeth co-founder CanYouFelix and MC T-Dot.
Renowned for spinning street party favorites from across the globe and hosting the baddest booty shaking contests, Dizzietron's original take on world music will show you what it really means to party African style. From the favelas to the shanty towns, Lagos to London, Kingston to Calabar and Bogata to Baltimore are a selection of bands, musicians and DJs bringing you the best dance rhythms influenced by the African diaspora.
Dizzietron says: "I'm really excited to be the first programmer for Rising Presents… From putting me together with producer Cores for their 30/30 project to playing alongside Mz Bratt and Krar Collective at Rising Festival in February, the Roundhouse has time and time again given me the opportunity to showcase myself as a both a musician and a performer. With Rising Presents, I'm in charge of coordinating my own show. This is an amazing opportunity for me to design a night and book acts that represent a sound and style of music that I love and want to share with others."
The aim of Rising Presents is to offer young programmers the opportunity to create an event whilst learning the business side of the music industry, as well as providing a stage for the best new artists. Oli Kluczewski, Rising Festival Producer explains:
"Roundhouse Rising is more than just an annual festival of the best new music; its a movement: helping to advise, inspire and platform the greatest emerging artists year round. Our monthly events demonstrate our commitment to this and having each month programmed by young aspiring programmers makes it even more exciting."
Already renowned as a legendary music venue, Roundhouse offers a year-round schedule of creative projects for 11–25 year olds in 24 state-of-the-art studios, where facilities include TV, radio and music production, media suites and rehearsal rooms for music and performance. Our studios, which sit under the Main Space, are a hotbed of new and emerging talent, some of which performed at this year's Rising Festival, including Beaty Heart and Mz. Bratt.
We're on the lookout for programmers and artists to get involved with Rising Presents… if you think you've got what it takes to put on a great event or if you're an artist wanting to play on the Rising stage, please email
[email protected]
for further details.
LISTINGS
Roundhouse Rising Presents Kiss My Teeth: AJ Holmes & the Hackney Empire, Fuse ODG, Hipsters Don't Dance, CanYouFelix, Dizzietron, MC T-Dot
Thursday 3 May, 7.30pm
£5 (no booking fee)
Roundhouse Studio Theatre, Chalk Farm Rd, London, NW1 8EH
Related Links
---
Tags
roundhouse rising festival, unsigned bands, unsigned artists, gig promoters, unsigned gigs, emerging artists, gig venue, live music