T Break 2012 launches
News: 15th March 2012 by Louise Dodgson under Live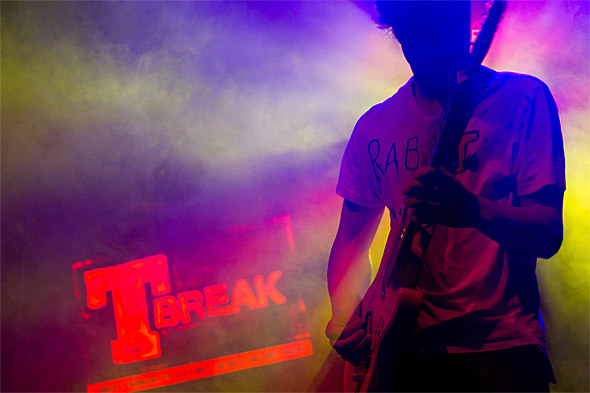 Tennent's have been supporting Scotland's grassroots music scene since 1996, and T Break offers acts an unrivalled opportunity to showcase their material to industry experts and music fans on the biggest platform for emerging talent at T in the Park.
A judging panel of 14 of Scotland's most influential music industry experts – including promoters, bookers, A&R representatives and members of the media – will listen to each demo before selecting the final 16 acts which will go on to play on the T Break Stage over 6th – 8th July.
George Kyle, Head of Sponsorship at Tennent's Lager, said: "We were blown away by the calibre of the T Break entries in 2011, and received well over 1000 demos. Scotland's grassroots music scene is clearly thriving, and Tennent's is honoured to be able to support this through T Break. We're very much looking forward to hearing what T Break 2012 has to offer, and to discovering exciting new music by Scottish unsigned talent."
Dave McGeachan from T Break partners DF Concerts, sits on the judging panel. He said: "Over the last few years T Break has been a launch pad for some of the best new Scottish artists of the moment. For example, 2010 gave us French Wives, The Ray Summers, Three Blind Wolves, The Draymin and Kobi Onyame with 2011 delivering just as many exciting new acts in the shape of The LaFontaines, United Fruit, Fatherson, Discopolis and PAWS. T Break is a great opportunity for any unsigned artist, and we can't wait to hear from this year's entrants."
Bands and solo artists can now submit their demos of original music (in any genre) to be in with a chance of playing T Break, and sharing the T in the Park bill alongside likes of Snow Patrol, The Stone Roses and Kasabian. Entrants must be over 18, live in Scotland, and must be currently unsigned – full details on how to submit demos are available via the Facebook link below. Demos must be submitted before the deadline of Monday 2nd April.
T Break can become a stepping stone to major recognition for acts, with 2011 act Discopolis featuring at no.9 in NME's top 20 new bands to watch in 2012. Since playing T Break last July, Aerials Up have opened for Duran Duran at their SECC gig in December and sold out their own headline gig at King Tut's. This year's T in the Park headliners Snow Patrol also made their T in the Park debut on the T Break stage, back in 1997 under the name Polar Bear.
Discopolis, T Break 2011 band, said: "We're huge fans of Scottish bands and the live music scene here and have seen T Break give an unparalleled platform to some of the most exciting bands in the country in recent years. Initiatives like T Break create opportunities that otherwise wouldn't be available and we're very grateful to have been given them."
Tennent's work with a range of key music industry partners to provide support for emerging Scottish talent.
Stuart Fleming, Scotland & Northern Ireland Membership Manager said: "PRS for Music is delighted that we're once again involved with T Break, continuing our long tradition of supporting new music in Scotland. The stage has played host to some of the best new and upcoming artists over the years and it is always great to see the wealth of creative talent we have. As an organisation that has been representing songwriters and composers for nearly 100 years it is right we support the next generation of talent as they begin their musical careers."
David Hughes, Head of Faculty, Creative Industries, STOW College said: "STOW College are proud to be associated with Tennent's and T Break at T In the Park. Through the partnership of Industry and Education we are able to give our Learners valuable work experience in a dynamic and growing Industry and importantly give them a platform to enable them to develop their confidence and skillset to further contribute to the Industry."
Emma Pollock, co-founder, Chem19 Recording Studio, said: "We are delighted to be a partner of this year's T Break stage. Helping new and current artists find and develop their sound is what Chem19 has been all about since its inception and T Break is a chance for us to further this ambition on a grand scale."
Dougal Perman, director and co-founder, Radio Magnetic, said: "Radio Magnetic is excited about working with T Break again. Every year we hear lots of exciting bands and being a T Break partner gives us a great opportunity to work with them. We've got some big plans for our coverage of the T Break Stage performances this year. Keep an eye and ear on Facebook and the Radio Magnetic and T Break websites to be the first to find out what's happening."
Tennent's will announce the T Break Stage line-up in May.
About T Break
T Break was launched by Tennent's in 1996 and has been finding the most fresh and exciting unsigned talent in Scotland and giving them a platform to showcase their music on the T Break Stage at T in the Park.
Each year, 16 bands are hand-picked from over a thousand entries by a panel made up of industry experts and given a slot on T in the Park's biggest and most acclaimed platform for new music.
Over the years, the T Break Stage has hosted some legendary performances – It's where Biffy Clyro made their T in the Park debut back in 2000. In 2008 Paolo Nutini decided to showcase his alter ego collective – Snake Derrick & The Vypers and not forgetting Snow Patrol's T in the Park debut: "We first played at T in 1997 in the T Break Stage… ten years later and we're headlining" (Gary Lightbody, Snow Patrol, 2007).
T Break 2012 – key dates
•
March 5th – annual call for demos
•
April 2nd – demo entry closes
•
April – judging sessions take place
•
May 4th – 16 bands selected to play the T Break Stage at T in the Park are announced
•
July 6th -8th – T Break Stage at T in the Park
Related Links
http://www.facebook.com/TennentsTBreak
---
Tags
t in the park, tbreak, unsigned festival slot, unsigned festival stage, unsigned bands, unsigned artists