Support Bruce Springsteen at Hard Rock Calling
News: 16th January 2012 by Louise Dodgson under Live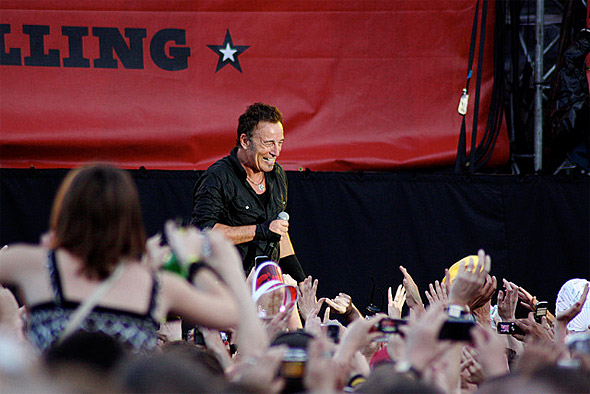 Hard Rock are offering a once in a lifetime opportunity for one band to support the legendary Bruce Springsteen and the E Street Band at 2012's Hard Rock Calling. Coined Hard Rock Rising the global battle of the bands competition will see local bands from all corners of the planet rocking it out to win the prestigious slot alongside The Boss and some of music's finest performers.

Taking place from 13th-15th July Hard Rock Calling is now one of the UK's, and the world's, premier festivals. Housed in London's iconic Hyde Park, the annual event has seen headlining performances from acts including The Killers, Bon Jovi, Stevie Wonder and Aerosmith. For the fourth year running the event has played host to one lucky band plucked from obscurity and thrust into the limelight alongside some of the industry's biggest names.

Hard Rock, in a partnership with online music services company ReverbNation, will host an open registration for bands from Friday, 6th January through Tuesday, 17th January 2012. The combination of Hard Rock's iconic brand and ReverbNation's extensive network of over 1.8 million artists around the world, will give great undiscovered bands an international stage to jumpstart their careers.

"Hard Rock believes it is critical to support emerging artists and discover new musical talent through the Hard Rock Rising program," said John Galloway, Vice President and Chief Marketing Officer for Hard Rock International. "We are confident our partnership with ReverbNation will help us secure world-class talent that we can showcase to the international music community at this year's Hard Rock Calling festival."

"Hard Rock is a worldwide icon of music, the perfect brand to provide this opportunity to deserving artists," added Mike Doernberg, ReverbNation CEO and Co-founder. "From day one here at Reverb, we've been all about the artist and opportunities like Hard Rock Rising extend that mission exponentially."

To register future UK rock stars bands can visit the London, Manchester and Edinburgh Hard Rock Cafe Facebook pages. Following open registration, fans decide who moves on to the live performance phase of the program and can vote on any Hard Rock's Facebook page by downloading free tracks from bands of their choice. For full rules and a list of participating locations visit www.hardrock.com. Once fans have chosen their favorites Hard Rock Cafes around the world will host live battles will take place. Followed by a fan picked top 10 and then a panel of celebrities and industry professionals picking the first, second and third places.

The winner will not only win the place on the bill alongside Springsteen, but also the ultimate rockstar treatment during their time staying in London throughout the festival. Second and third place bands will receive $5,000 and $2,500, respectively, in ReverbNation PROMOTE IT credits, a revolutionary tool that creates targeted, highly effective Facebook advertising campaigns for musicians and venues promoting songs, Facebook pages and concerts.

After fans choose their favourites, participating Hard Rock Cafe locations around the world will host a series of live competitions featuring these local bands. One winner will be selected from each location by the other participating bands. These local winners will be narrowed down to the top ten bands worldwide via fan voting on participating Hard Rock Facebook fan pages. Finally a panel of celebrity judges and music industry professionals will select the top three winners.

About Hard Rock Calling
Hard Rock Calling, an iconic festival now in its seventh consecutive year, has established itself as one of the UK's premier outdoor music events. The 2012 festival will take place from Friday, July, 13 to Sunday, July 15 in London's Hyde Park. Headliners for the festival will include Bruce Springsteen and the E Street Band, who will take the Main Stage for their second Hard Rock Calling performance. Hard Rock Calling 2012's performers will join a long line of rock 'n' roll greats who have taken the stage at this iconic festival including: Aerosmith, Eric Clapton, Neil Young, Paul McCartney, Stevie Wonder, The Who, Pearl Jam, Peter Gabriel, The Killers, The Police, Rod Stewart and Bon Jovi. Hard Rock Calling, produced by Live Nation and presented by Hard Rock International, is a unique and historic musical event with a main stage, second stage, renowned bands, on-site Hard Rock Cafe, as well as a variety of additional attractions.

About ReverbNation
ReverbNation provides over 1.8 million artists, managers, labels, venues, festivals/events and other music industry professionals with powerful, easy-to-use technology to promote and prosper online. Their array of distribution and promotional solutions provide the hands-on tools and actionable insights that allow them to reach their goals in an increasingly complex music industry. The company operates worldwide with customers on every continent. Over 30 million visitors come to reverbnation.com every month.
Related Links
http://www.facebook.com/hardrockcafelondon
http://www.hardrockcalling.co.uk
---
Tags
hard rock calling, bruce springsteen, unsigned bands, unsigned artists, unsigned talent, support act, reverbnation