Fancy a career in radio broadcast?
News: 8th August 2011 by Louise Dodgson under Media, Music Training & Careers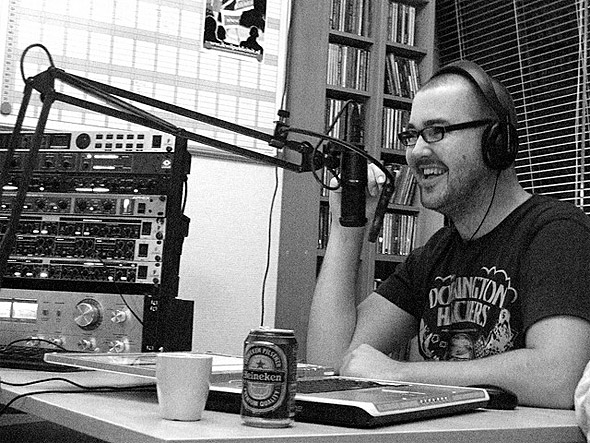 The Academy of Contemporary Music (ACM) in Guildford has launched a new Higher Diploma Radio Broadcasting Course in conjunction with 96.4 Eagle Radio to begin in September 2011. The course is written and taught by industry professional Chris Howell, a Radio Producer from 96.4 Eagle Radio, and will be aimed at those looking for an industry relevant qualification in Radio broadcasting.

Commenting on the course, Eagle Presenter Peter Gordan said, "I think the ACM Radio Broadcasting course has many unique qualities - not least because it is as a result of a close working relationship between a fantastic music based educational facility and one of the most consistently successful commercial radio stations in the UK. This course gives you the real "A-Z" of radio and where it fits into the music world and beyond. Its great on theory and, crucially, practical too!"

The course will be partly delivered at ACM, and partly delivered in the studios at Eagle FM. Students will have the opportunity to study the following areas, with an emphasis on the practical aspects of radio.

• Radio Programming – This module will introduce student to concepts and issues of planning and implementing a full range of radio programs. From originating and developing ideas for radio content and scheduling music to researching audiences and forward planning a stations output.

• Radio Presenting – To develop the advance skills and knowledge required to professionally present speech content and music based radio shows. Developing their voice and personal style to adapt to a wide range of different radio productions.

• Radio Production – Covering many aspects of the skills needed to put together a show, including: Writing for radio, making station branding, radio trails and commercials, researching, contributing and developing creative ideas.

• Radio Technology – Achieve a broad understanding of radio studio technologies, including: Operating a studio and mixing desks, microphone techniques, processing, basic repairs, connections and cabling and live broadcasting. Also students will cover an in-depth look at the digital radio play out and non-linear audio editing software.

• Business Studies – Presents the opportunity to explore a detailed overview of the structure of the radio industry and the changes that affect the future of those structures, the commercial potentials of radio and how to work effectively and ethically in the radio industry.

• Cultural Studies – Gain a broad view of how the contemporary radio industry has developed over the last century. The unit covers the development of the industry from a cultural perspective, exploring topics with a view to understanding the sociological, economic, political, and technical factors involved.

For applications and further information, please contact the ACM admissions department on [email protected] or call 01483 500800.

About ACM:

Founded in 1995, ACM's unique industry led educational model – unprecedented in British education – has already ensured an impressive success rate of placement within the music industry. Founded in 1995 with a Princes Trust Award, ACM UK alone is home to 1,200 full-time and 400 part-time students and offers MA and degree courses as well as certHE and Btec programmes in a number of practical music disciplines including Drums, Bass, Vocal, Guitar, Keyboard, Audio Production, Creative Sound Design, Tour Production and Management and Music Business. The curriculum is focused on structuring courses that work hand-in-hand with fulfilling the needs of the music sector and its changing skill gaps, and has a business development team, which actively seeks out opportunities for its students.

In 2008, ACM won the Queen's Award for Innovation In Education and saw two of its students, Newton Faulkner and Amelle Berrabah (Sugababes) secure UK No.1 albums. In 2009, following extremely successful relationships in South Africa & Europe, ACM opened the first of its U.S academies, ACM@UCO in Oklahoma City in association with the University of Central Oklahoma. In 2010, ACM opened a new and unique Artist Development Centre in Guildford and launched a suite of contemporary music education franchises to attract students aged from 5 – 16 to further extend the opportunity for more young people to benefit from learning contemporary music.
Related Links
http://www.acm.ac.uk/Music-Courses/Music_Higher_Diploma
---
Tags
academy of contemporary music, acm, radio broadcasting courses, 96.4 eagle radio, music industry training, music education, music courses