Win a gig at EXIT Festival with NME and Soundcloud
News: 24th May 2011 by Louise Dodgson under Live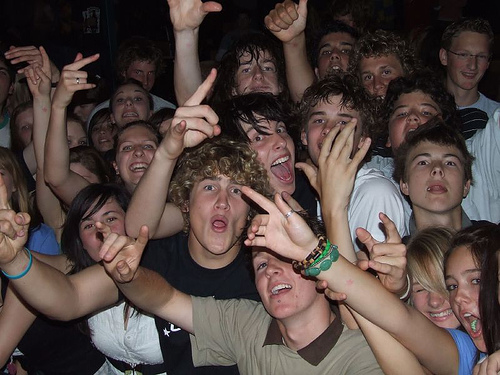 EXIT Festival have teamed up with top UK music magazine NME and Soundcloud to find the best UK unsigned, up and coming talent to play at this years EXIT Festival in Serbia. The winning artist or band will get to play live on one of the 20 stages at EXIT 2011 between 7th – 10th July. Access to the press area and VIP terraces will also be granted to make it truly a once in a lifetime experience. SoundCloud are also offering free accounts for the top 5 bands; the winner getting the pro account and the remaining 4 all getting lite accounts.

Here's how to enter…

1.The competition will be open for entries from 10th - 31st May. Entries after this date will not be accepted.

2.Create a profile on Soundcloud and upload tracks and video - If you are not already a member of Soundcloud you need to create an account, otherwise log in to your existing account. Upload your chosen track onto SoundCloud (there is an option to add video as well). This will be your won chance to impress your fans and the judges, so choose wisely. Click here to enter – http://eng.exitfest.org/

3.Go to the EXIT website below.to enter the competition. When you are on EXIT Festival website click on the button/link to "NME Play at Exit competition". This opens a page with terms and conditions - Please read carefully. At the bottom of the page click on Apply/confirm button, which then opens the page with input fields: 'band name', 'city', 'e-mail' and a field for inserting the 'embed code' from soundcloud. Copy and paste the embed code from soundcloud then click 'done'.

4.Once you have entered and embedded your SoundCloud link you then need to share the link for the competition entries page http://www.exitmusic.tv/nmecomp spread the word and get your fans to vote and 'like' your tracks as much as possible. The top 25 with the most votes will go through to the next round.

5.On 1st June the top 25 acts will be revealed on the EXIT and NME website and go through to the final round.

6.1st June – 5th June – The EXIT festival organisers and NME's Radar editor Matt Wilkinson will judge the final 25 and choose the ultimate winner.

7. 6th June – winning band and top 5 announced on the EXIT and NME website with the winning band profiled in NME in June. Date of issue tbc.?

Troubleshooting:
For any problems entering or embedding tracks to the EXIT festival page please email [email protected] with the email subject – NME play@EXIT help If your query if not technical and you have another question about the competition that is not answered in the terms and conditions please email [email protected]

Terms & Conditions:
1.You must be over 18 years old
2.You must be a UK resident
3.You must be an unsigned band/artist.
4.You can upload one track and one video per entry
5.There can be only one entry per band
6.Tracks must be in the MP3 format
7.Your songs must be original, no covers will be considered
8.Your music can be any genre as the stages at EXIT cover everything from rock to rap, electronic to experimental, metal and beyond. If in doubt, check the website and see what bands are playing this year.
9.Your band should have no more than 5 members and they must be genuine members of the band.
10.The judges decision is final
11.The winning band will be booked return flights from the UK to Belgrade, flight times and routes will be chosen by the festival organisers
12.The winning band will bear the cost of getting to and from the airport in the UK
13.The winning band will be driven to and from Belgrade airport to the festival site and accommodation
14.The winning band will be given accommodation and may have to share rooms
15.The winning band will be assigned a host to look after them at the festival and help them get the most out of their time at the festival.
16.The winning band should have their own travel and medical insurance


EXIT 2011 LINE UP SO FAR:
Live: Arcade Fire, Pulp, Jamiroquai, Portishead, Grinderman, Editors, M.I.A, House of Pain, Bad Religion, Santigold, Kreator, Beirut, Hadouken!, Go Back to the Zoo Electronic: Underworld, Deadmau5, Groove Armada, Fedde Le Grand, Magnetic Man, Tiga, James Zabiela, Digitalism live, DJ Sneak, Paul Kalkbrenner, Joris Voorn, Steve Aoki, Carl Craig, Marco Carola, Joachim Garraud, Rebel Rave (Damian Lazarus, Jamie Jones, Seth Troxler) Better Lost Than Stupid (Martin Buttrich, Davide Squillace, Matthias Tanzmann), Gramophonedzie, tINI, Maya Jane Coles, UNION, DJ Muggs, Digital Soundboy Soundsystem feat Shy FX, Breakage, B.Traits with Donaeo, Youngman & Stamina MC, Spy feat Stamina MC, Danny Byrd & MC Dynamite, The Hacker, Gesaffelstein, Alexander Robotnick, Grum, Futurecop!, Mikrofisch, Cinnamon Chasers, Den Haan, Anoraak, Marsheaux

ABOUT EXIT:
EXIT plays host to a variety of 800 performances on 20 stages connected by cobbled streets, ramparts and tunnels - a walk through the mystical fortress is like a trip through a magical wonderland. Music ranges from rock, dance, indie, Latino, reggae, electronica, chill out and regional music, so there is no better festival in the world that brings you so much value and so much variety! EXIT is still the coolest, most adventurous and best value for money festival experience in Europe for the discerning festival goer. Offering more entertainment, easier and cheaper travel options, stunning weather and an atmosphere unlike any other festival, ensure it's on your list of things to do 2011!

EXIT is one of the most highly regarded festivals in Europe, being nominated for 'Best Overseas Festival' in the UK Festival Awards for the past 4 years, winning the coveted title in 2007 and runner up in 2010. In addition EXIT has also been nominated for 'Best Major Festival' in European Festival Awards for 2 years running and has been shortlisted in the 'Artists Favourite Festival' Category.

And not forgetting the festivals roots and special meaning – Launched 12 years ago as a student initiated protest against the communist Milosevic regime, EXIT has proved that music is a universal language that can connect and bring people together to make the world a better place. EXIT continues to evolve and bring like-minded people together and although it gets bigger each year, the sentiment and unique vibe remains the same.

Related Links
http://www.exitmusic.tv/nmecomp
---
Tags
soundcloud, nme, exit festival, music festival, unsigned bands, unsigned artists, festival slot, festival stage