BBC Introducing bring us Musicians' Masterclass
News: 28th January 2011 by Louise Dodgson under Music Training & Careers, Recording & Production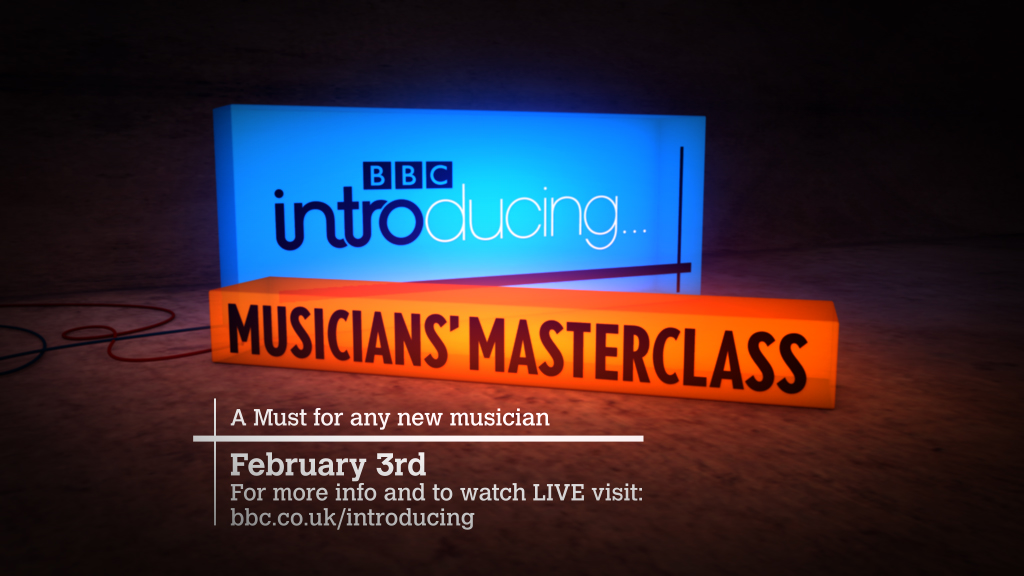 Kaiser Chiefs and Tinchy Stryder, as well as a host of specialist musicians, music industry executives and BBC DJs, have all signed up to the first ever BBC Introducing Musicians' Masterclass on Thursday 3 February.

Held across two legendary music studios – Abbey Road and Maida Vale – the exciting event will connect under-the-radar musicians from across the UK with artists and top industry professionals from the BBC, the media, live music and recording industries as well as a host of BBC DJs.

The Musicians' Masterclass will give new musicians an insight into the wider business side of the industry, as well as the opportunity to focus on the more practical and technical aspects of being a musician.

It will be a mixture of intimate practical sessions, where musicians will hear and interact with established industry specialists including drummer Andy Gangadeen (Chase & Status, The Spice Girls); guitarist Deptford John (Iron Maiden, Take That, Kylie); vocal coach Sam Blue (Dizzie Rascal, The Streets); and producers and DJs Annie Mac, Toddla T and Kissy Sell Out.

It will also include special insight sessions, where BBC DJs will be joined by Tinchy Stryder and Kaiser Chiefs, as well as the key people in their career journeys, all offering advice and guidance for new musicians.

BBC Radio DJ Jo Whiley will close the event with a quirky unique version of Question Time, where musicians can put their questions to an expert panel of insiders, including George Ergatoudis (Head of Music, BBC Radio 1), Geoff Ellis (Head of DF concerts), Mike Smith (Managing Director, Columbia) and Martin Mills (Chairman, Beggars Group).

The event will be streamed live on the day, on the BBC Introducing website, giving musicians from around the country the opportunity to see the sessions and gain invaluable advice from many of the activities.

Jason Carter, Editor, BBC Introducing, says: "We are very pleased to have pulled together such a fantastic line-up of music industry experts from inside and outside of the BBC. For the musicians that attend, it should be a fantastic learning experience at two of the UK's most legendary recording studios.

"The focus of the day will be solely built around developing musicians and advising them about all facets of the industry. From sessions on drumming and lyrics to the artist led talks, the live streaming content online and available after will enable musicians from all over the UK to benefit from the wealth of advice on offer."

The Practical Sessions
The practical sessions will be genre/instrument-based and will take place throughout the day across both venues, giving musicians the opportunity to work with experts and gain advice on their music. As well as the industry specialists, there will special guests dropping into the sessions throughout the day.

Recording
Musicians will be able to learn from and interact with some of the BBC's world-class producers and engineers, as they record a session with a band in the BBC's Maida Vale studios. They will learn about the recording process from setting up kit and mics, to operating the mixing desk and recording overdubs – finding out what equipment is necessary to emulate the sounds of classic recordings.

Remix
Radio 1 Specialist DJs Annie Mac, Toddla T and Kissy Sell Out lead this session, demonstrating how they produce a remix across a variety of genres. During the workshop, musicians will explore arrangement, breakdowns, bass lines and sub-bass, drum programming and use of samples and effects, as well as investigating the pros and cons of different software.

Drums
Drummer Andy Gangadeen, from the Chase & Status and Spice Girls camp, leads the drumming workshop. He will demonstrate his unique drum set up the "Gangascope" and explain some of the skills and techniques required of a contemporary drummer – including sampling, triggering, tuning, improvising and arranging.

Guitar
Industry expert and guitar legend Deptford John will show musicians how to get the most out of their guitar and bass set-ups. He will pass on his wealth of technical knowledge including tips on improving and customising your own guitar/bass, spotting a good buy and how to use a variety of pedals.

Vocals
There's a chance to work with our professional vocal coaches, including Sam Blue, where musicians will gain practical advice on singing in a variety of styles – from warm-up exercises and using chest voice, to intonation and vibrato. In addition to exploring techniques for band members performing backing vocals, there will also be a section on progressing in the industry, using your vocal talents to earn a living.

Lyrics
BBC 6 Music DJ Tom Robinson and special guests offers inspiration for songwriters and lyricists in any genre during this insightful workshop. Encouraging musicians to explore different approaches to their writing and performance, musicians will also be able to swap ideas with each other and guests.

The Insight Sessions
These extraordinary sessions will allow musicians to hear from successful music artists and also the teams that surround them. It will give them the opportunity to hear real-life experiences and gain advice from their management and creative teams.

Steve Lamaq in conversation with Kaisers Chiefs
From their early beginnings as Parva to having to decide between two major record labels to being dropped – no-one knows the ins and outs of the music business better than Kaiser Chiefs. Steve will host the session where Ricky Wilson and Nick Hodgson from the band will be joined on stage by the key people in their story, to give musicians an insight of how to overcome the struggles and succeed in the industry.

Zane Lowe hosts The Art Of Songwriting
The craft of songwriting is broken down to the basics by Zane. He will dissect some legendary tracks, discuss what he loves about them and also reveal what he looks for in a three-minute piece of pop perfection. The Radio 1 DJ will also be hooking up with a secret guest – one of the greatest songwriters of recent times.

MistaJam in conversation with Tinchy Stryder
From MCing with Roll Deep to Top 10 smashes and working with Roc Nation, Tinchy Stryder's rise to fame has been extraordinary. The talented artist is joined here by his manager, as well as a whole host of industry types who have been instrumental in his successful music career. They will be giving insights from the inside the industry, tips and invaluable advice.

Pete Tong and the dance scene today
Dance music figurehead Pete Tong delves into the world of dance, investigating the scene today with a few special guests giving their personal thoughts and opinions.

Jo Wiley hosts Question Time with UK industry specialists
This will be a unique opportunity for musicians to put their hard-hitting questions to the biggest names in the industry. Jo Whiley will host an exclusive session with an expert panel of insiders.
Related Links
http://www.bbc.co.uk/music/introducing/
http://www.bbc.co.uk/music/introducing/advice/masterclass/2011/
---
Tags
bbc introducing, musicians masterclass, tinchy stryder, kaiser chiefs, music industry, music business, unsigned artists