From the page to the stage...
News: 25th August 2010 by Louise Dodgson under Live, Music Publishing, Music Training & Careers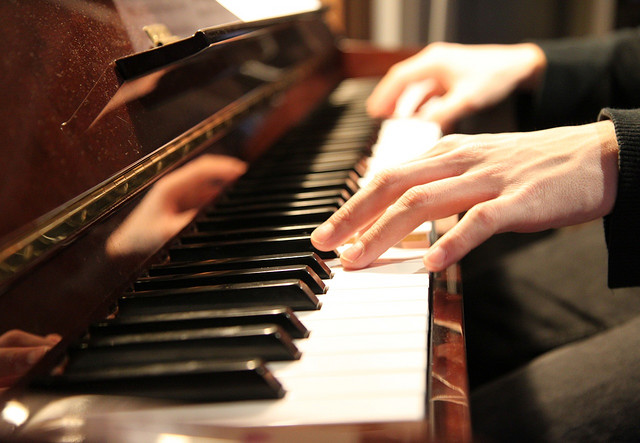 BASCA presents Songfest, an exciting new songwriting festival

25th to 27th October at The Brickhouse

This Autumn, the British Academy of Songwriters, Composers and Authors (BASCA) is holding an exciting new three day festival for budding British songwriters called SongFest, which aims to support the future talent of the music industry.

SongFest will take place from 25th – 27th October at trendy East London supperclub and performance venue, The Brickhouse on Brick Lane where music industry professionals and award winning songwriters will come together to share their knowledge and expertise with guests.

From the page to the stage, this event is designed to help young talent carve a career out of songwriting. For an affordable £10 per day, guests can fine-tune their skills by getting top tips directly from the professionals, play their own music, listening to new music, exchange ideas, win signed goodies and swap ideas. Tickets are available online at www.wegottickets.co.uk

There will be a host of different activities each day, including interactive music seminars given by the experts and a 'speed-dating' event where the mix of like-minded musicians can exchange ideas and hear from A&R experts. In the evenings there will be live gigs showcasing the hottest unsigned talent, hosted by PRS for Music, London College of Music and BASCA. Follow announcements regarding artists on the SongFest website below.

Experts getting involved include Iain Archer who picked up an Ivor Novello Award for his part of the song writing team behind Snow Patrol's Final Straw Album, Rob Davis who has written songs for Kylie Minogue including the chart topping 'Can't Get You Outta My Head' and Sacha Skarbek who has worked with a range of diverse artists including Sir Paul McCartney, Adele, Duffy, Beverley Knight and was a writer of six songs on James Blunt's award-winning album "Back to Bedlam", including "You're Beautiful".

BASCA is the professional association for songwriters in the UK and supports the future talent of the UK music industry. Other events they present include the prestigious Ivor Novello Awards, the Gold Badge Awards and the British Composer Awards.

BASCA members include Paul McCartney, Mick Jagger, Keith Richards, Sting, David Gilmour, George Michael, Alex Turner, Chris Martin, Amy Winehouse, Mika and Thom Yorke to name a few.

Lucy Weston from BASCA, said "SongFest is a new songwriting festival intended to encourage new songwriting talent and celebrate the craft of songwriting. BASCA believes that the creation of the song is the cornerstone of the UK music industry and we hope this event will encourage up-and-coming songwriters to develop their skills and pursue their passion for music and add to the UK's illustrious history of making amazing music."

SongFest is located at the easily accessible Brickhouse which is in the heart of fashionable Shoreditch and set inside the dramatically renovated Truman Brewery. As well as the array of music-related activities going on throughout the day, guests can enjoy the wide choice of fresh food, beers, wines, spirits and soft drinks available. SongFest and The Brickhouse are offering guests a fantastic meal deal which includes lunch, dinner and one soft or alcoholic drink for just £14.99. Go to the ticket site for more details and to take advantage of this fantastic offer.

SongFest is sponsored by Arts Council England, PRS for Music Foundation, PRS for Music, London College of Music and the Musicians Union. BASCA gratefully acknowledges their financial support.


About BASCA:
BASCA, the British Academy of Songwriters, Composers and Authors, is the professional association for music writers of all genres in the UK. With over 2,000 members, it is the single voice for British music creators.

BASCA works to foster a sense of community amongst songwriters, lyricists and composers, and to campaign on their behalf in the domestic, European and international political arenas. As the only association in the country made up entirely of music writers, the organisation has an unparalleled insight into the issues affecting music creators in the UK today. We work closely with our members, keeping them informed in a constantly changing environment via our publications, websites, seminars and professional networking events. BASCA also presents the Ivor Novello Awards, British Composer Awards and Gold Badge Awards annually.
Membership of BASCA is open to working songwriters who are members of a royalty collection society, such as PRS for Music, BMI or ASCAP.

Academy Fellows: John Adams, David Arnold, Sir Malcolm Arnold, John Barry, Don Black, Pierre Boulez, Sir John Dankworth, David Ferguson, George Fenton, Sir Elton John, Barry Gibb, Maurice Gibb, Robin Gibb, Sir Paul McCartney, Sir Peter Maxwell Davies and Sir Tim Rice.


Related Links
---
Tags
basca, songfest, songwriters, songwriting, composers