Damnation Festival open up 3 stages to unsigned acts
News: 18th August 2010 by Louise Dodgson under Live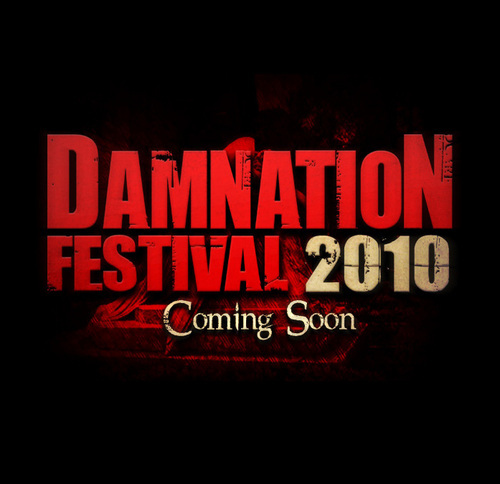 Damnation Festival will offer three bands the chance to win slots on this year's line-up, opening the Rock Sound, Terrorizer and Jagermeister stages in Leeds this November.

And if sharing a line-up with The Dillinger Escape Plan, Paradise Lost, Anaal Nathrakh and Lawnmower Deth isn't enough, one of the three winning acts will also bag free studio time with legendary producer Russ Russell at Parlour Studios.

Damnation organisers, the stage sponsors and most importantly, the fans will decide on a shortlist of five bands for each stage before it goes to vote decided entirely by the fans signed up to the Damnation forums and social networking sites, including Facebook and Twitter.

Festival director Gavin McInally said: "Dawn of Chaos, Speedtheory, Forever Never, Latitudes, Rinoa, Dead Beyond Buried... Since 2005 we've always done everything we can to balance a line-up which will attract crowds while giving rising UK bands a stage worthy of their talents. So it's with great pleasure and expectancy we throw open our three stages to three bands who impress our fans the most."

Gavin added: "The fact that Russ Russell has agreed to offer studio time and, more importantly, his own time and expertise to work with one of the winning bands is very fitting considering he has worked with Damnation veterans including Napalm Death, The Berzerker, Sikth, Lock-Up and Evile over the years. It's refreshing to see someone with such a high-profile in the music business willing to give up his time to work with up-and-coming musicians."

HOW TO ENTER FOR THE FIRST STAGE - ROCK SOUND.
The first stage under the spotlight is the Rock Sound Stage, so if post-rock, post-metal, doom, sludge or any form of experimental noise is what you're after at this year's Damnation Festival, get shouting recommendations on the forums, Facebook, Myspace and Twitter sites.

It's simples....post the band name and link on any of our sites - Forum, Facebook, Myspace, Twitter.

The shortlisted bands will be announced on the Damnation Festival website a week today; Tuesday, August 24, with links for fans to listen to before casting their final vote.

The winner will be announced the following Tuesday , August 31, to coincide with the start of the Terrorizer Stage vote.

**Votes on the Damnation Festival forums will only be valid from users registered before Tuesday, August 31.
Facebook and Twitter accounts will be checked for authenticity to prevent single users creating multiple accounts to vote.
Announced so far: The Dillinger Escape Plan, Paradise Lost, Earthtone9, Anaal Nathrakh, Lawnmower Deth, Rolo Tomassi, Alcest, The Ocean, SSS, Hecate Enthroned, Fen, Maybeshewill, October File and Fukpig.

About Damnation Festival:
Damnation Festival returns this year for its sixth instalment, promising to deliver the finest chapter in its proud reign as the UKs premier metal event.

Against all odds, the country's most cutting-edge metal festival has continued to support emerging, home-grown talent while attracting the finest extreme bands from across the globe and was voted UK's best metal event in 2008 by Terrorizer readers.

And with the dedicated support of thousands of forward thinking fans, not satisfied with the watered-down, ticket sales focussed bills being hosted across the UK, Leeds University Union will once again host the most vital day on the metal calendar on Saturday, November 6, 2010.

Related Links
http://www.damnationfestival.co.uk/
http://www.myspace.com/damnationfestival
http://www.facebook.com/damnationfestival
http://twitter.com/damnationfest
---
Tags
damnation festival, unsigned bands, emerging bands, unsigned slot, unsigned stage, rock sound stage