The Playground run unsigned competition
News: 14th July 2010 by Louise Dodgson under Live, Media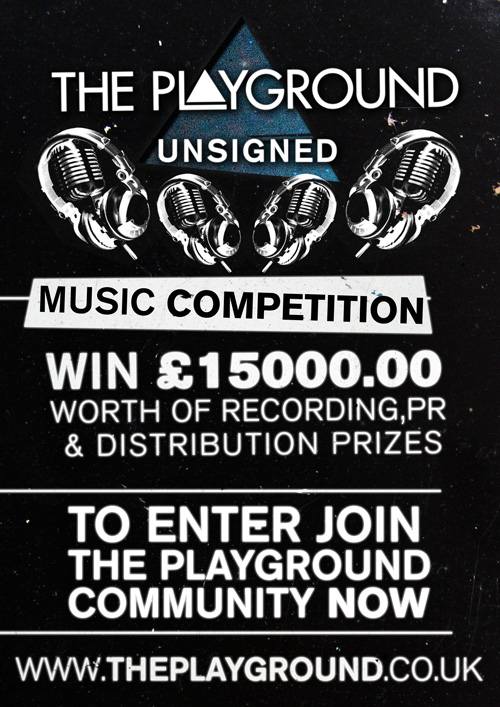 After years of supporting new and established music acts through its events, online and print magazine, PR and product development, The Playground takes things even further with a competition for bands and their fans with a grand prize of a recording deal.

So far 2010 has seen London-based company The Playground go from strength to strength.

With sellout music events at Scala, 93 Feet East and now Camden's legendary Koko on August 14th with hot acts Kavinsky, autoKratz, Kap Bambino, Is Tropical, Teenagersintokyo and more, the year has also seen the company relaunch their website with a unique editorial voice and has highlighted its expanded music PR and marketing services. The site's popularity ranking both in the UK and globally has grown exponentially in recent months as The Playground continues to establish itself as a music portal of taste and relevance.

The timing, then, couldn't be more perfect for The Playground to announce its competition with two major prizes for musical artists and their fans in the lead up to its grandstand Koko event.

The 1st place winner will receive a recording deal worth £10,000 with an internationally respected producer who has worked with a range of acts including Brian Eno, Herbie Hancock, Babyshambles, Whitey, Theoretical Girl, Punks Jump Up, Kylie Minogue and Squarepusher amongst many others.

The Playground will then provide and arrange digital distribution via global leader, The Orchard, hold an EP launch at one of its events with the winner taking the main support slot, and will feature an editorial on the Playground website.

The 2nd place winner will receive a single recording deal and PR and marketing package courtesy of The Playground PR worth £5000 which will include visual product development , UK national & regional radio plugging, UK national & regional online and print press promotion and digital distribution from The Playground via The Orchard.

To enter, UK-based bands have to simply create a profile on the website below, add their music and invite friends to join & vote for them. The most popular track voted by bands fans wins the 1st place prize and the next most popular wins the 2nd place prize. Deadline for entry is 11:59pm Monday 4th October 2010 with the winners being announced on the 6th October 2010. Full terms and conditions are available by visiting The Playground's website.

Related Links
http://www.theplayground.co.uk/competition
---
Tags
the playground, unsigned competition, unsigned bands, unsigned artists, emerging bands