WMF host free event to push live music in Newport
News: 1st July 2010 by Louise Dodgson under Finance, Law & Music Business, Music Training & Careers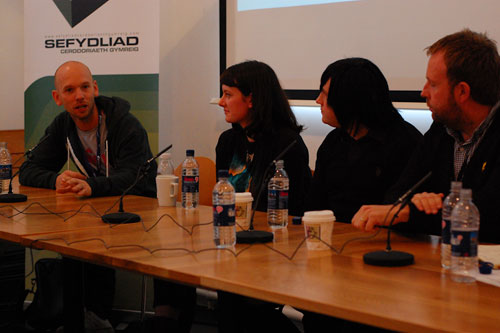 SMALL CITY, BIG SCENE: PUTTING THE 'LEGENDARY' BACK INTO LIVE MUSIC IN NEWPORT AND BEYOND.

THURSDAY 8 JULY 2010 / MEZE LOUNGE, NEWPORT / 6PM – 8PM
FREE TO ATTEND

Small City, Big Scene is an exciting, specialist live music panel and networking event that will shine a spotlight on the current state and the importance of live music in South Wales, hosted by Welsh Music Foundation (WMF) to coincide with TJ's in the Square.

Newport, once compared to Seattle, USA, has a long-standing history with the live music scene in the UK and was an essential touring spot for UK and International bands especially during the 1990s and early 2000s.

Following the closure of the iconic TJ's venue in the city (famously dubbed " legendary" by late BBC DJ and presenter John Peel), the panel will look at the scene in Newport today and its options for the future, drawing comparisons to similar-sized neighbouring cities and others across the UK. This event is an important gathering, forum and a must for anyone involved in the music industry in Wales, or with a passion for it.

Taking place in Newport's Meze Lounge on Thursday 8 July 2010 at 6pm, WMF presents a panel of live music experts that includes Huw Williams, co-founder of WMF, Townhill Music and frontman of 90's band 'The Pooh Sticks'; music writer Andy Barding who edited local fanzine Frug! throughout the1990s and has worked as a journalist for titles such as Western Mail and NME; Emma Stowell-Corten co-founder of Newport's Voice Magazine and Steve Tilley, promoter with independent Kilimanjaro Live Ltd.

WMF will be on hand to provide details about its industry-focused projects, discuss important industry developments and with news of up-and-coming events. Informal networking over drinks will follow, giving attendees the chance to network with music enterprises, individuals and music enthusiasts.

To reserve your place at Small City, Big Scene, contact [email protected] or call 02920 494 110.


• Welsh Music Foundation
www.welshmusicfoundation.com
WMF exists to provide support, advice, information and contacts to the Welsh music industry. It is core funded by the Welsh Assembly Government as part of its Creative Industries Strategy. For more information on our aims and achievements please visit our website.

• TJ's in the Square
www.wearevoice.co.uk
On July 10th in John Frost Square, Newport a line-up of the greatest bands ever to come out of the city will be getting together to play a very-special one-off gig in honour of John Sicolo, owner of TJ's and pioneer of the Newport music scene. Presented by Voice and Frug! A free all day music event with a line up including GLC, Flyscreen, The Elephant Rescue Plan and The Square Factor winner Joe Kelly. The evening activity can be accessed via a wristband ID only. Go to www.wearevoice.co.uk for more information.

Related Links
http://www.welshmusicfoundation.com/
---
Tags
wmf, welsh music foundation, live music, small city big scene