Music podcasts to listen to in lockdown
Blog by Stef Loukes under Media, Music Training & Careers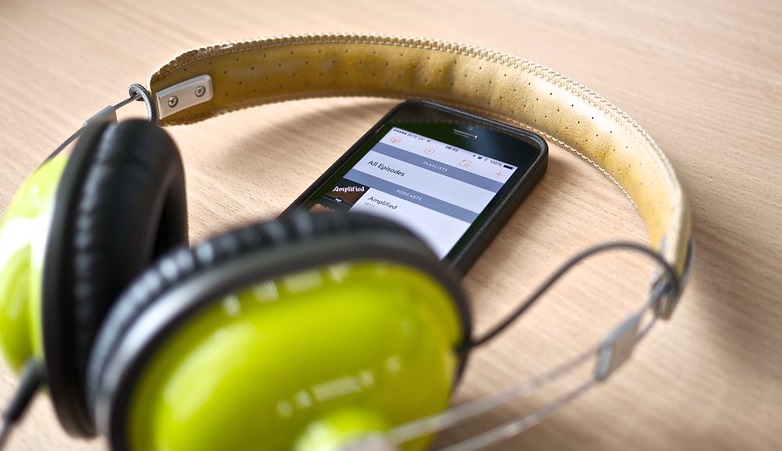 Yes, this lockdown business is getting a little tedious now. Following on from our music documentaries blog we thought we'd compile some more much-needed entertainment for you. So check out our list of music podcasts you may want to immerse yourself in over the coming weeks - from breakdowns of iconic albums and songwriting insights, to music industry advice and chat, there's something here for everyone's ears.

Focused on Artists / Bands / Albums / Labels

Phil Taggart's Slacker Podcast
Each week Phil Taggart interviews an artist or band on their musical career to date with the sonic launch point being an early demo prised from their vaults.

Q Presents…The Making Of
Interviews with songwriters who chat about their life and careers, with recent episodes including Kate Tempest, Cate Le Bon and Gruff Rhys.

Midnight Chats
Loud & Quiet's regular interview podcasts encompass a huge range of artists, bands and songwriters.

Walking the Floor
Hosted by Foo Fighters' Chris Shiflett, this podcast sees him chat to a wide variety of guests, but largely fellow musicians, about their creative inspirations.

Hip-Hop Saved My Life
Hosted by comedian Romesh Ranganathan, he uses this podcast as a vehicle to explore his love of Hip-Hop and talk to rappers, producers and other devout fans.

Someone Who Isn't Me
BBC Radio 1's Rock Show presenter, Daniel P. Carter, chats to a different artist on each episode about music, art and culture.

Inside The Album
Focusing on celebrated albums, producer and author Jesse Cannon breaks down the process and speaks to those involved at every level of the album's creation.

Dolly Parton's America
In this intensely divided moment, one of the few things everyone still seems to agree on is Dolly Parton - but why? That simple question leads to a deeply personal, historical, and musical rethinking of one of America's great icons.

The Ninja Tune Podcast
The label's official podcast featuring interviews with artists on their roster, and beyond. Expect the likes of Sampa The Great, Bonobo, Ed O'Brien, Thundercat, Young Fathers and many more.

Who We Be TALKS_
Weekly podcast presented by DJ Semtex and Paris OH which looks at street culture and has welcomed guests including Ms Banks, Common, Dave, Stefflon Don and many more.

Also check out...

Desert Island Discs
Heart Shaped Pod (Nirvana)
The A to Z of David Bowie
Stay Free: The Story of The Clash
Peach & Black (Prince)
Striped - The Story of the White Stripes
Beatles City
Under The Radar: A Rolling Stones Podcast


Music Analysis

Broken Record Podcast
In a world without liner notes or inserts, Broken Record restarts those conversations with artists about the backstory to their albums. Interviews are expertly conducted by producer Rick Rubin, writer Malcolm Gladwell and New York Times editor Bruce Headlam.

Digging Deep with Robert Plant
Led Zeppelin legend Robert Plant fronts this podcast where he revisits a song from his back catalogue and discusses the inspiration behind it.

Tape Notes
Hosted by John Kennedy, each episode reunites an artist and producer to talk about the highlights of their collaboration in the studio.

Song Exploder
Musicians take apart their songs, and piece by piece, tell the story of how they were made. A vast catalogue of episodes to trawl through here - everyone from Fleetwood Mac and Bjork to Slipknot and DJ Shadow.

Soundtracking with Edith Bowman
Edith Bowman speaks to film and TV directors, producers, and composers about their use of music in their films.

Dissect
Serialised music podcast that examines a single album per season, focusing on one song per episode.

Also check out...

Exploring Music
The 3 Track Podcast
Spotify Under Cover
And The Writer Is


Music Magazine / Chat Based

Riot Act
Alternative music podcast with chatter about bands, albums and tracks, plus quizzes and general music-based banter.

Bigmouth
Intelligent conversation about music and pop culture, where critics cut loose on what's good, what's bad and what's downright criminal in entertainment.

Sappenin'
Touching on a wide variety of topics, band frontman Sean Smith and journalist Morgan Richards chew the fat on everything from music, TV, arts and comedy.

Rolling Stone Music Now
The writers and editors of Rolling Stone magazine take you inside the biggest stories in music.

Mixmag
From the electronic music magazine, their On Rotation podcast investigates dance music scenes from across the globe.


Music Industry / Advice

Setlist
Brought to you by the CMU team, they discover and discuss the current affairs across music and the music business.

Roadcrew Podcast
Provides a unique insight into the world of the road crew and technicians who look after some of the biggest musical acts in the world.

At The Yard
Discover what the music industry is really like. Presenters talk to some of the biggest names in the industry, from artists to managers to record label owners, giving listeners a 360 degree of the range of jobs that exist within music.

Inside The Music Industry
Created by BIMM, this podcast series features interviews with music experts, writers, artists and label founders.

DIY Musician Podcast
A vast catalogue of episodes, and still going, covering music promotion and marketing tips for independent artists.

The Music Business Worldwide Podcast
Regular episodes featuring in-depth and revelatory interviews with entertainment business leaders.

Music Made Me Do It
Brought to you by Loud & Quiet magazine, this podcast unpacks the different roles within the music industry by talking to the people who felt compelled to start their own successful businesses and projects.

How Did You Manage That?
Interviews with music managers, representing everyone from global superstars to bands starting out on their journey.

Indiepreneur
Essential advice and tips on music promotion for independent artists covering everything from Spotify algorithms to Facebook ads.


Also check out...

The Music Industry Blueprint
The Business of Music
The Irish Music Industry Podcast
Music Business Hacks


Emerging & New Music

The BBC Introducing Mixtape
Keep abreast of fresh new tunes from BBC Music Introducing, handpicked by Tom Robinson.

ATL Introducing
Young, upcoming artists and bands chat about how they develop their careers and the challenges they encounter.

Scotland Introducing
Vic Galloway shares alternative and indie music from the best of Scotland's unsigned talent.

Independent Music Podcast
Weekly show introducing 10 new tracks from independent artists from across the world.

The #UnsignedChat Podcast
Podcast series exploring the careers of unsigned artists and discussing the current state of the music industry.

All Songs Considered
From NPR, listen to new music from emerging bands and musical icons.

John Kennedy's X-Posure Podcast
Essential new music collated by Radio X's John Kennedy.

Is This Thing On?
Weekly podcast championing all things emerging, unsigned and under the radar.

Jim Gellatly's New Music Podcast
New and emerging music from Scotland.

Show Me Magic!
New music recommends podcast from the team behind the God is in the TV blog

Hospital Podcast
Hospital Records' podcast is hosted by London Elektricity and features the freshest talent from the drum & bass and jungle scenes.

RA Podcast
The weekly RA Podcast features an exclusive mix of electronic music from top producers and DJs around the world.


Bit O' Fun

James Acaster's Perfect Sounds
James Acaster tries to convince comedians that 2016 is the greatest year for music, ever. Each episode James and a guest focus and chat about a different album from 2016.

Ricky & Tony: Pop Detectives
Kaiser Chiefs frontman Ricky Wilson and broadcasting legend Tony Blackburn debunk pop myths and solve musical mysteries.

Excuse The Mess
Ben Corrigan chats to composers to gather insights into their life, mind and work, before launching into a challenge where they co-compose a new piece of music.

The Long Drive Home
Alpha Male Tea Party bring us a podcast series about the more gruesome side of life on the road. They share their tales and anecdotes of bad gigs, and invite guests to offload their, often hilarious, experiences.

Lead Singer Syndrome
Podcast presenter Shane Told, also frontman of touring band Silverstein, shares stories and conversations he's had on the road with other lead singers - whether these tales contribute or refute the belief that all lead singers can be divas is debatable!

Disgraceland
A podcast about musicians getting away with murder and behaving very badly. Perfect for music fans who love a bit of true crime!


Others & individual episodes 

Mind Music Mastery
Brought to you by Tileyard Education, this podcast series is aimed at anyone who considers themselves to be a creative and opens a discussion around wellness and the creative journey.

The Andertons Music Podcast
Made by musicians, for musicians, this series features gear talk and exclusive interviews

SOS Podcasts
Sound On Sound have launched their own series of podcasts catering for everything from expert hints and tips on recording, advice from engineers, producers and manufacturers, plus content for those interested in synths, samplers and the world of electronic music.

Social Distancing Diaries
A podcast sharing personal insights and experiences from the world of music and entertainment in the midst of the COVID-19 crisis.
Analysis, Parapraxis Elvis
Revisionist History has a few interesting music related episodes, check out this one about the one song Elvis couldn't sing.

In A Metal Mood
A Revisionist History and Broken Record crossover episode...which involves Pat Boone.

The Case of the Missing Hit
Reply All did a cool episode about a guy who may or may not be remembering a song from the 90's that didn't exist.

Adam Buxton & The Human Horn
Podcast pioneer Adam Buxton has welcomed many musicians onto his own podcast, so it's definitely worth checking out his back catalogue. However, this podcast was recorded for the BBC about scat singer, Shooby Taylor - The Human Horn.



---
Tags
List of music and music industry podcasts