6 Best Travel Guitars That Touring Musicians Will Love
Blog by Professional Music Technology under Live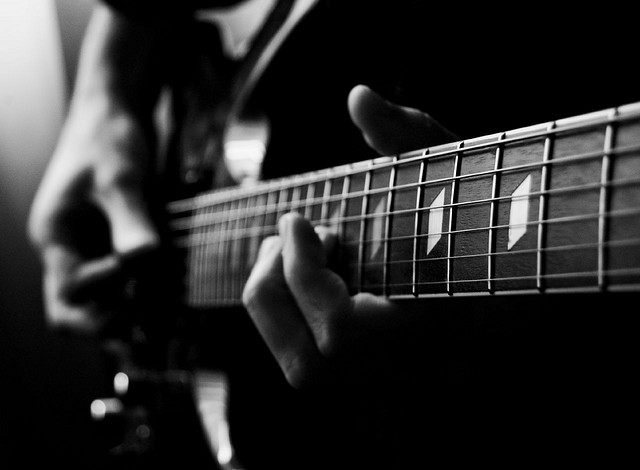 This blog is contributed by Professional Music Technology, the UK's leading instrument retailer with over 25 years experience and 16 locations nationwide. PMT's megastores are packed to the rafters with the latest Guitars, Drums and Hi-Tech gear and they have everything a musician needs from leading brands in the industry. The Unsigned Guide has partnered with PMT to offer members an EXCLUSIVE DISCOUNT using the code "THEUNSIGNEDGUIDE" at checkout.

Head over to www.pmtonline.co.uk now to see what they have on offer. (*Discount applied at checkout. Offer excludes sale items or orders using finance packages.)
When you're a musician out on the road, travelling on planes trains and automobiles the last thing you need is a heavy and bulky guitar that takes up too much room, is heavy and causes you a hefty extra cost by storing it in the cargo hold on a flight. This is why we love travel guitars so much!

A travel guitar, ¾ size acoustic or mini acoustic as they're otherwise known offer up incredible playability that save on space without sacrificing tone. They're great for radio sessions, jams in a hotel room and chucking on your back when you're at a festival.

So, we've rounded up 6 of the best travel acoustic guitars that are perfectly suited to professional use, and are actually relied upon by some of the biggest names in music.


Martin Ed Sheeran Divide Signature Edition Guitar
Whether you're a fan of Ed Sheeran or not, there's no denying the impact the man has had on music and the fact he's been somewhat responsible for putting the travel acoustic guitar back on the map and firmly in the mindset of guitarists everywhere. His latest (and as far as we know, final) collaboration with Martin Guitars culminated in the Martin Ed Sheeran Divide Signature Edition Guitar, which is now completely out of production. Thankfully we scored the last few models as this thing is pure power.

It's modelled on the Martin LX1E which is arguably one of the best mini acoustic guitars ever made and features a solid Sitka Spruce top and high-pressure laminate Mahogany back and sides. This tonewood combination offers up incredible projection that will compete with a full-size dreadnought guitar and give you some really articulate snappy sounds. The Fishman Active electronics allow you to plug into an amp and enjoy an accurate representation of the tonewoods. The included Martin gig bag keeps your guitar safe and allows you to travel with ease!



Eastcoast MKOA-E Koa Electro Acoustic Guitar, Natural
You don't want to worry about damaging an extremely expensive guitar whilst you're travelling as your instrument is bound to get a few knocks and dings along the way. But you also don't want to get a cheap guitar that sounds like garbage when you play it. Fortunately, the team at Eastcoast guitars have created the Eastcoast MKOA-E Koa Electro Acoustic Guitar, which partners world class tonewoods with pro-quality electronics yet still remains completely affordable at under £250. You have a solid Koa top, along with Koa back and sides – a tonewood which is found on guitars at least twice the price. The 596 mm scale length means it fits easily into a travel guitar gig bag, in the boot of your car and over your shoulder whilst the Fishman Presys II Electronic Pickup means you're ready to plug in to any amp and enjoy a high-quality sound at all times.



Taylor GS Mini-e Walnut Electro Acoustic Guitar
We can't have a best travel guitars blog without the classic Taylor GS Mini-e Walnut Electro Acoustic Guitar. The Taylor GS Mini is one of the go-to options for singer songwriters in need of a portable, lightweight guitar that still provides a massive sound. This new layered Walnut edition offers a beautiful mix of rich, warm tonality coupled with articulate snap thanks to the Sitka Spruce top which also adds encourages a louder projection of sound. This projection is actually what makes the Taylor GS Mini-e stand out from the pack. This guitar is louder than you'd expect thanks to the X-Bracing with Taylor Relief Route which helps the top resonate more, thus causing a louder sound overall. This rings out as loud as a dreadnought making it ideal for acoustic sessions around the campfire or on radio! The built-in ES-T Taylor pickup handles the sound perfectly when you're plugged in to an amplifier too.



Alvarez AP66SHB Parlor Shadowburst Gloss
If you want to play the Blues, then the Alvarez AP66SHB Parlor Shadowburst Gloss is ideal for the travelling Blues guitarists out there. This highly affordable Parlor acoustic guitar has been crafted with meticulous attention to detail by the luthiers at Alvarez resulting in a great sounding, powerful and unique guitar that sounds as rustic as it looks. The African Mahogany top, Mahogany back and sides have been finished in a Shadowburst gloss, which makes the guitar look like it's straight out of the Delta Blues era whilst providing a sound and tonal quality to match. The Alvarez designed FST2 bracing system encourages a louder projection and the professional appointments such as Ivory ABS binding, real bone nut and saddle and dovetail neck joint are a welcome addition that guitarists of all levels will appreciate.



Tanglewood TW Mini Koa Winterleaf Exotic Electro Acoustic
Whilst we're on the subject of guitars that won't break the bank, we have to add the Tanglewood TW Mini Koa Winterleaf Exotic Electro Acoustic – a perfect travel guitar for those who love their exotic woods and guitars with a certain edge about them. We love this mini guitar because it features a solid Koa top with laminate Koa back and sides as well as a Mahogany neck, with environmentally responsible Techwood fingerboard and Nubone nut – all extremely pro-quality appointments that you'd normally find on guitars at least twice the price.



Martin LX1E Electro Acoustic Guitar in Natural
Last but by no means least we have the Martin LX1E Electro Acoustic Guitar in Natural which is an industry standard guitar for musicians in need of a travel acoustic guitar that'll stand up to the rigours of the road, won't take up too much room and won't get you laughed off stage either! This is easily one of Martin's most popular guitars as the Mini Martin, as it's affectionately known has won the hearts of pro players thanks to its fantastic projection and high-quality electronics. You have the Modified X Series "x" bracing pattern to thank for the awesome sound projection, which easily competes with a dreadnought and the Fishman Sonitone electronics allow for beautiful transfer of your sound to an amplifier.

ALSO READ:

5 Cheap Electric Guitars that are actually good!

The 6 best distortion pedals as recommended by PMT

Check, One, Two - Top 6 best mics for less than £150 for live vocals
---
Tags
PMT recommend their best guitars for touring musicians