A handy guide to the UK's music industry conferences
Blog by Louise Dodgson under Artist Managers, Finance, Law & Music Business, Live, Media, Music Publishing, Music Training & Careers, Record Labels, Recording & Production, Selling & Distributing Your Music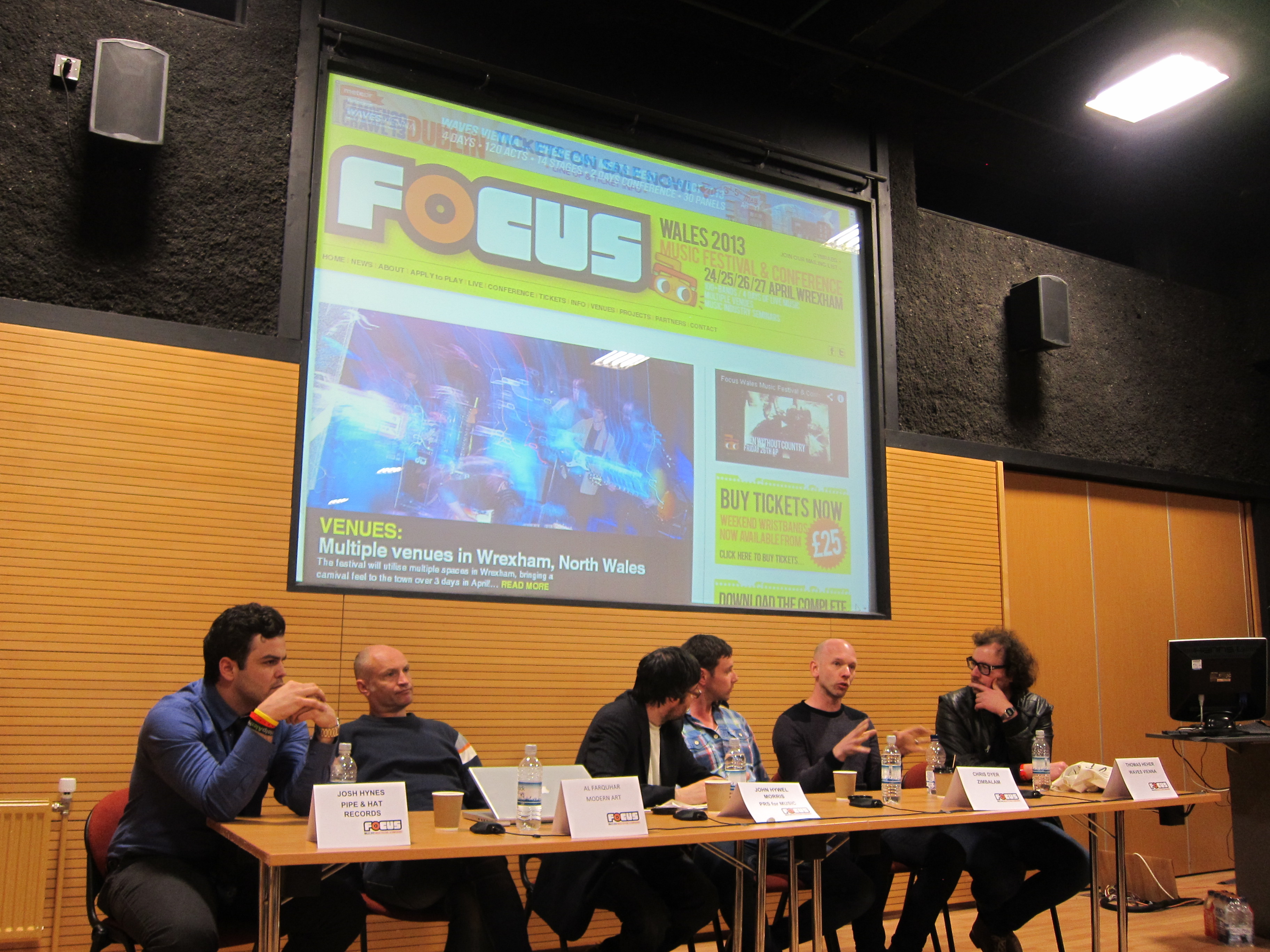 As the end of April and beginning of May seem to bestow us with a bevy of music industry conferences to get our teeth into, we thought we'd bring you a brief round-up for the forthcoming events that should be on your agenda, including a summary of who you can expect to see speaking at each, some tasty panel discussions to check out plus the emerging bands and artists who will be making waves.

FOCUS WALES, Wrexham
Dates: Thurs 24-Sat 26 April
A newer addition to the calendar of music conventions, Focus Wales was first launched in 2010 and has been expanding and growing from strength to strength every year since, now drawing over 4,000 people to soak up the finest in what the Welsh music scene has to offer, plus discussions broaching a whole range of topics for the DIY artist.
Key speakers/panellists: Best known for setting up Creation Records, home to Oasis, Primal Scream and Super Furry Animals, Alan McGee will be in conversation at Focus Wales chatting about his illustrious career also including Poptones Records and managing My Bloody Valentine and The Libertines, amongst others.
Radio 1's Huw Stephens will take part in the Accessing Mainstream Media panel sharing his experience of not only as a radio DJ, but also programming stages for festivals such as Latitude, not to mention his own new music festival, Swn, and setting up his own record labels.
Panels/discussions: The Songwriters/Musicians Clinic presented by PRS For Music looks set to be informative, as do The Art of Diversifying and Online Platforms & the Empowerment of the Independent Artist. The Focus Wales MIXER also provides a great opportunity for networking as attendees are welcomed to join the event organisers for a drink before the gigs kick off for the evening.
Emerging artists to watch:
Baby Brave – "Jangly noisy pop from Wrexham" is how this four piece choose to describe themselves.
Baron La Croix – Those in the know have touted them as a combination of electro, Krautrock and experimental.
HMS Morris – Their hooky melodies, restless synths and unusual harmonies have seen the likes of Huw Stephens and London bloggers become more than a little enamoured.
Mowbird – Wrexham's surf-punk quartet Mowbird were one of the first bands we ever championed on our monthly Spotlight blog back in 2012 with their self-confessed scrappy brand of slacker pop.
Sŵnami – Sŵnami sing in their native Welsh language and bring their own unique brand of alternative/indie.
Get more info about Focus Wales' line-up of bands and artists, and conference schedule here.


LIVERPOOL SOUND CITY, Liverpool
Dates: Thurs 1-Sat 3 May
This year Sound City's focus will be on the intertwined realms of music, style and football. Attracting over 3,000 industry delegates alone, not to mention the hoardes of music fans who come to check out the live music, this industry event has become one of the most prominent in the North.
Key speakers/panellists: 2014 sees LSC welcome an array of respected artists as guest speakers including John Cale, Michael Kiwanuka, Gruff Rhys, Thurston Moore and Jeremy Pritchard of Everything Everything. Other industry folks definitely worth checking out will be radio DJ Janice Long, Kendal Calling's Ben Robinson, Mike Walsh of XFM, producer Steve Levine, Tim Hornsby of venue Fibbers, Keith Harris who is Director of Performer Affairs for PPL, former Chairman of the MMF the managers' trade body and Chairman of Musictank, and co-ordinator of Record Store Day in the UK, Spencer Hickman. Phew!
Panels/discussions: Bringing in the sport and style element are panels such as Playlisting Victory & Despair: Who chooses the soundtrack to the beautiful game? and Brand New Thinking but there's still more than enough music coverage including That Syncing Feeling, The Rise of the Influencer, plus The MU present Conscious Coupling, looking at the relationships between promoters and artists.
There's some interesting content lined up in LSC's How? Sessions too with Get in the Van, We're off on a Toilet Tour, Cowboys vs Indies and Break on Through to the Other Side on the agenda.
Emerging artists to watch:
Fickle Friends – Having made the cut in our Spotlight blog last month, they're set to wow Liverpool with their own brand of succulent, summer drenched 80s synth pop.
Hurdles - Influenced by the likes of Phoenix, Tellison & Tall Ships, Hurdles are an indie pop 4 piece and we championed their track 'Control' back in January.
Life – Their punchy guitar hooks and pop-poem lyrics have already seen love from Steve Lamacq, John Kennedy, The Fly and NME Radar.
Megan Dixon Hood – With atmospheric ballads displaying a sophisticated writing style beyond her years, Megan has already scored piano for a TV advert.
Spring King – ". Single 'Mumma' was released last month via ParadYse/Transgressive with sweltering guitars and more than an arresting sense of energy.
Get more info about Liverpool Sound City's line-up of bands and artists, plus full conference schedule here.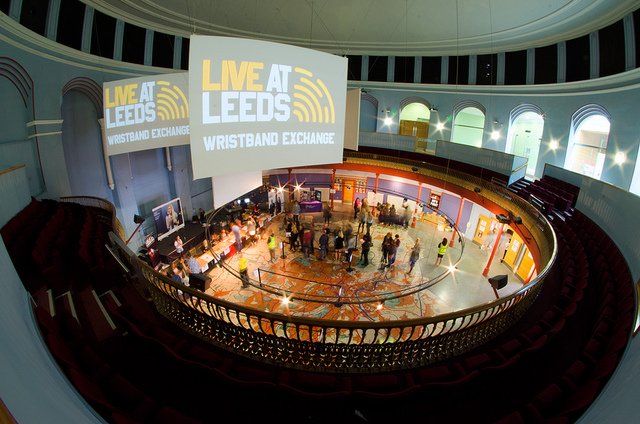 LIVE AT LEEDS, Leeds
Dates: Fri 2 May
Although part of a wider metropolitan festival featuring live music galore across the city, this event also encompasses one day of panels and discussions with a truly DIY ethos. It's extremely accessible to emerging bands & artists wanting to soak up some music industry knowledge.
Key speakers/panellists: BBC Introducing presenter Jen Long will be gracing LAL2014 for the day to chat about her record label Kissability and her latest project Cassette Store Day. Also making an appearance will be Tramlines' Marketing & Programme Director, Kate Hewett and Simon Rix from local lads done good, Kaiser Chiefs.
Panels/discussions: Meet The Experts sessions are held throughout the day and provide an ideal opportunity for bands and artists to chat directly to music industry professionals of all fields. There are also panels covering topics such as Music Release Strategies and Live Music, plus the listening panel is always a good way to get expert feedback on one of your tracks.
Emerging artists to watch:
Disraeli Gears – Named after Cream album, Disraeli Gears are a female fronted, alt-rock band with a sound reminiscent of Jeff Buckley, St. Vincent and Radiohead.
Goodbye Chanel – They concoct their own brand of dream pop music revealing a world of melancholic misgiving with accessible pop melodies and lyrical wistfulness.
Happy Daggers – Touted as one of the best live bands coming out of Leeds right now, Happy Daggers combine the skewed, angular guitars of Foals with Two Door Cinema Club-esque earworming hooks.
Sam Airey – Residing in Leeds but raised in rural North Wales on various types of folk and country music, Sam blends these influences with sounds and experiences he has encountered along the way.
Shy Nature – Off the back of one song, Shy Nature gained instantaneous supporters and were firm favourites in our May 2013 Spotlight blog with their hypnotic sounds.
Get more info about Live At Leeds' programme of bands and artists, plus details of their conference day here.

THE GREAT ESCAPE, Brighton
Dates: Thurs 9-Sat 11 May
This established UK conference always encourages diverse programming and this year's themes encompass the 50th anniversary of pirate radio, plus the progress of the Arts Council's ground-breaking Momentum Music Fund at the 2013 event will be reviewed.
Key speakers/panellists: Representatives from the UK and international music industry will be out in force at The Great Escape, and you can expect to see speakers Chloe Howl who will document her rapid rise to fame and creator of independent label Tru-Thoughts, Robert Luis, who will discuss the journey of his label from fruition 15 years ago to current day and providing tips and insight to those looking to run their own record labels. Also partaking in panels are the Art Council England's CEO Alan Davey, Vanessa Reed of PRS For Music Foundation, co-founder of Skint Damian Harris and many, many more.
Panels/discussions: A huge array of interactive sessions, discussions and masterclasses await Great Escape attendees. Some of the highlights include Everything you Need to Know about Music Rights in 2014, Building Your Fan Business, Talent Scouting in Emerging Markets, Standing out in a Crowded Festival Bill and Getting More from Lyrics & Score. On the Saturday, the TGE:DIY strand will take over with an informative series of panels aimed towards the grassroots sector so be sure to check these out!
Emerging artists to watch:
Annie Eve – Annie delicately blends the magic of Bon Iver with the raw sensibilities of the likes of Kurt Cobain and Regina Spektor.
Antimatter People – Taking influences from classical music, rock, hip hop beats, and film composition, Antimatter People have developed an accomplished sound for a band so early on in their career, hence why we deemed them Spotlight worthy in June last year.
Blessa – Having been crowned Spotlight champions by our panel of music industry judges last year, their conflating mix of 1990's and early 2000's influences like My Bloody Valentine, Cocteau Twins, Interpol and Yeah Yeah Yeahs is an instant hit.
GO WOLF – Artful pop music that is simple, sensual and powerful and that's what struck us when we were first introduced to them last year.
Rhodes – Captivating audiences with his haunting vocals and ethereal guitar, Rhodes has already supported the likes of Rufus Wainwright, Nick Mulvey and Laura Marling.
View The Great Escape's full festival programme here, bursting with new music and industry masterclasses.
---
Tags
music industry conference, music industry event, music business convention, music industry panels, the great escape, liverpool sound city, live at leeds, focus wales