Meet the unsigned bands headed for Glastonbury!
Blog by Louise Dodgson under Live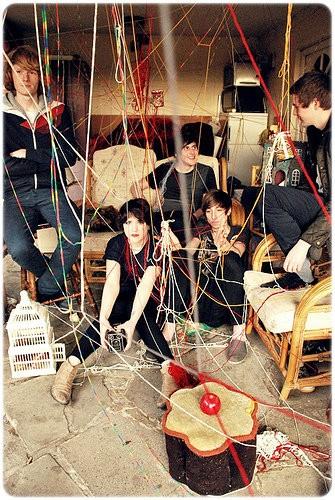 It's really not long now until the highlight of most people's festival calendar comes around...that's right, Glastonbury! And whilst everyone is chatting about Gorillaz replacing U2 in their headline slot, we decided to focus on some of the unsigned acts that have made it through masses of competition to play at the festival.

Let's Buy Happiness

How long have you been together?
We started out in January 2009.

So, have you played any major festival slots previously?
This would be our first major, although we are playing a North East festival called Evolution where there are some really good bands on, so really looking forward to that!

What do you hope to achieve from making the final stages of the Glasto competition?
The biggest thing for us is to keep progressing and developing our music. Not to jump onto success but to get a good name and then hopefully go independent. I think it gives us a big opportunity to keep moving and keep improving with our music.

Is there one particular highlight of your career as a band so far you can share with us?
It has to be playing BBC Maida Vale session which was amazing. One of the best feelings of our lives, not to mention our career.

Do you have any words of advice for bands hoping to get a major festival slot or entering similar competitions for unsigned slots?
Keep playing your music everywhere. Good promotion always helps. Before you enter competitions like this make sure you have a nice bundle of tracks and keep your MySpace looking sharp as this is your shop window essentially.

www.myspace.com/letsbuyhappinessuk

Tiger Shadow

How long have you been together?
We formed in August 2008.


Have you played any other major festival slots before?
Our first gigs were at the Leeds & Reading Festivals for BBC Introducing after entering our first couple of collaborations into a competition by Sandman Magazine. We've also played an acoustic spot at the Big Chill last year on the Solar Aid Stage.

What do you hope to achieve from making the final stages of the Glasto competition?
To show that we can put on a good show if the festivals want to give us a shot!

Do you have any words of advice for artists hoping to get a major festival slot?
Be true to yourself and do the music because you love it. This will always shine through over any efforts to try and impress or tailor your sound to what you think other people want to hear…

www.myspace.com/tigershadow

Bunny Come


Have you played any major festival slots previously, or was this your first taster?
We have only been playing gigs since November last year so we didn't actually exist in the last cycle.

What do these slots at Glastonbury mean to your band?
It means that we can call our parents and not feel guilty about still being musicians. It also means that all the jocks at school that used to beat us up are now trying to be mates with us. And it means that we get to throw a welly-full of mud at Bono.

What do you hope to achieve from this festival slot. Are there any doors in particular you hope it will open for you?
I think if we can put on a great show for the people who come to see us then we'll be happy. We'll see what happens after that. The most important thing for us is putting on a good show.

Do you have any words of advice for bands/artists hoping to get a major festival slot or entering similar competitions for unsigned slots?
Yes! When you hire a van to get to the gig, make sure you don't over-estimate its load capacity. Also, don't run over the festival organiser as he trundles down the road on his bicycle. And think of interesting stories to keep the driver awake on the way home. Disgusting, rude or offensive stories may devalue you in the eyes of your travel companions, but the relief of arriving home alive will surely compensate for this.

www.myspace.com/bunnycome

---
Tags
glastonbury, glastonbury emerging talent competition, unsigned bands, unsigned festival slots, unsigned stage